30-days Mortality and prognostic factors in patients with aortic balloon occlusion and conventional aortic cross clamp in ruptured abdominal aortic aneurysm
Rungrujee Kaweewan

Surgical Department, Nakornping Hospital ,Chiang Mai ,Thailand

Kritsada Phrueksawatnon

Surgical Department, Nakornping Hospital ,Chiang Mai ,Thailand
Keywords:
ruptured abdominal aortic aneurysm, aortic balloon occlusion, aortic crossclamp, open aortic repair, aneurysmorrhaphy
Abstract
Abstract
Background : In modern era of endovascular treatment, An aortic balloon occlusion (ABO) is an alternative method to proximal aortic control in open repair of ruptured abdominal aortic aneurysm. The aim of this study was to evaluate morality and prognostic factors of rupture abdominal aortic aneurysm (rAAA) patients and compare between ABO and conventional aortic cross clamp (CAC) method.
Material and Methods : A retrospective study of patients with rAAA who performed open abdominal aortic aneurysm (AAA) repair in Nakornping hospital between April 2017 and June 2020 were review from medical database. Primary outcome was mortality rate between ABO and CAC technique to control ongoing bleeding before open AAA repair. Secondary outcome was prognostic factors that effected to mortality rate of open AAA repair procedure in patients with rAAA .
Results : 24 patients of rAAA who performed open AAA repair were included in study. Aortic balloon occlusion was perform in 6 patients (25%) and 18 patients (75%) in conventional aortic cross clamping. Mortality rate of CAC was higher than ABO group (16.67 % vs 61.11%, Risk ratio (RR) = 3.6 times, 95% confidence interval (CI) = -0.293 – 0.468, P-value = 0.059). The strong prognostic factors effecting mortality of open AAA repair in patients with rAAA was post-operative acute kidney injury (AKI) (RR = 1.46, 95%CI = 0.17 – 0.93, P-value = 0.007). The potential prognostics factors including intra-operative blood loss and patients who need cardio-pulmonary resuscitation (CPR) (P-value = 0.062 and 0.093, respectively). The incidence of acute limb ischemia (ALI) after open AAA repair in patients with rAAA tend to be high in ABO group (50% vs 5.5%, 95%CI = -0.99 – 0.29, P-value = 0.268).
Conclusions : Mortality rate in patients with open AAA repair to treated rAAA may decreased by alternative ABO technique when compared with CAC. However, most common complication of ABO patients was ALI due to ipsilateral common femoral artery insertion by large profile balloon and non-heparinization. The further study with prospective, large randomization study design should be evaluated.
Downloads
Download data is not yet available.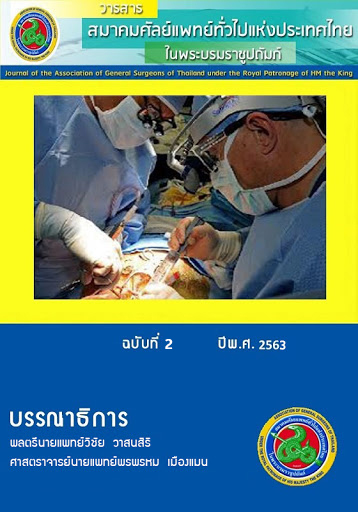 How to Cite
Kaweewan, R., & Phrueksawatnon, K. (2021). 30-days Mortality and prognostic factors in patients with aortic balloon occlusion and conventional aortic cross clamp in ruptured abdominal aortic aneurysm. Journal of the Association of General Surgeons of Thailand under the Royal of Patronage of HM the King , 5(2), 12-17. Retrieved from https://he02.tci-thaijo.org/index.php/agstjournal/article/view/247841
Section
Original research (research article)