A Comparative study between 60 mg Etoricoxib per-oral and 100 mg indomethacin rectally in post-endoscopic retrograde cholangio-pancreatography pancreatitis prevention
Suphakarn Techapongsatorn

Department of Surgery, Faculty of Medicine Vajira Hospital, Navamindrahiraj University

Natikorn Phuwtong

Department of Surgery, Faculty of Medicine Vajira Hospital, Navamindrahiraj University

Wisit Kasetsermwiriya

Department of Surgery, Faculty of Medicine Vajira Hospital, Navamindrahiraj University

Amarit Tansawet

Department of Surgery, Faculty of Medicine Vajira Hospital, Navamindrahiraj University

Issaree Laopiamthong

Department of Surgery, Faculty of Medicine Vajira Hospital, Navamindrahiraj University
Keywords:
Post-ERCP pancreatitis, Prevention, Indomethacin, Etoricoxib
Abstract
Background : Endoscopic Retrograde Cholangio-Pancreatography (ERCP) is a diagnostic and therapeutic procedure for biliary and pancreatic ductal disease. One of post-ERCP complication is post-ERCP pancreatitis, the incidence is 10% and cause of prolong hospital stay, financial burden and in case of develop severe pancreatitis it may increase burden to patients. Recent study show the effectiveness of NSAIDs use for post-ERCP pancreatitis prevention especially 100 mg Indomethacin rectally. This outcome use as the research to routine practice in Surgical department Vajira hospital. With the interesting in COX-2 inhibitor that same mechanism pathway with NSAIDs and reduce the gastric complication for the patient.
Objective: To compare post-ERCP pancreatitis prevention effectiveness using 60 mg Etoricoxib per-oral and 100 mg indomethacin rectally.
Material and Methods: Retrospective study designs evaluated the patients who underwent ERCP at Vajira hospital from January 2012- December 2013. The demographic data indicate ERCP, endoscopic time, ERCP procedure, post-ERCP complication, and post-ERCP pancreatitis recorded.
Result: One hundred and fifty patients who underwent ERCP included 70 cases that received 60 mg Etoricoxib per-oral and 80 cases that received 100 mg indomethacin rectally before ERCP. Post-ERCP pancreatitis incidence was 6.67% (10/150), 4 and 6 cases in Etoricoxib and Indomethacin groups, respectively. All cases were mild pancreatitis and full recovery without mortality. 
Conclusion: Etoricoxib is safe and can provide PEP prevention as effective as standard indomethacin rectally, but still required future large-scale randomized controlled trials.
Downloads
Download data is not yet available.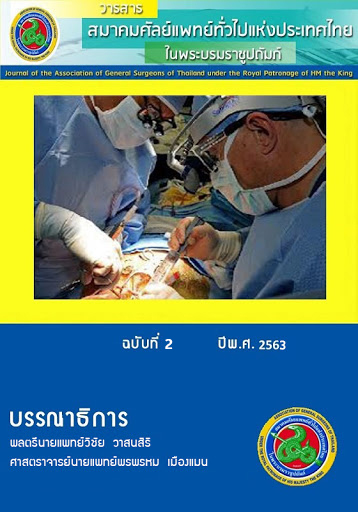 How to Cite
Techapongsatorn, S., Phuwtong, N., Kasetsermwiriya, W., Tansawet, A., & Laopiamthong, I. (2021). A Comparative study between 60 mg Etoricoxib per-oral and 100 mg indomethacin rectally in post-endoscopic retrograde cholangio-pancreatography pancreatitis prevention. Journal of the Association of General Surgeons of Thailand under the Royal of Patronage of HM the King , 5(2), 26-30. Retrieved from https://he02.tci-thaijo.org/index.php/agstjournal/article/view/247976
Section
Original research (research article)