สารบัญ
Editor-in-Chief Journal of the Association of General Surgeons of Thailand under the Royal of Patronage of HM the King
Abstract
สารบัญ
1.         กองบรรณาธิการ
i-ii
2.         คำนำ วารสารฉบับที่  2  ปี 2563
    วิชัย วาสนสิริ
คำนำ
3.         ศัลยศาสตร์ปริทัศน์
   ชุมศักดิ์ พฤกษาพงษ์
1-2
4.          Perception and attitude about laparotomy wound closure among thai surgeons: A survey study
Thanita Akethanin, Hathaiwan Moungthard, Suphakarn Techapongsatorn, Amarit Tansawet
3-24
5.         30-days mortality and prognostic factors in patients with aortic balloon occlusion and conventional aortic cross clamp in ruptured abdominal aortic aneurysm.            
Rungrujee Kaweewan, Kritsada Phrueksawatnon
25-38
6.         Surgical outcome and prognostic factors of amputation in patients with below-the-knee (BTK) and below-the-ankle (BTA) arteries bypass surgery in Nakornping hospital, Thailand
            Kritsada Phrueksawatnon, Rungrujee Kaweewan
39-53
7.         A comparative study between 60 mg Etoricoxib per-oral and 100 mg indomethacin rectally in post-endoscopic retrograde cholangiopancreatography pancreatitis prevention
Suphakarn Techapongsatorn, Natikorn Phuwtong, Wisit Kasetsermwiriya, Amarit Tansawet, Issaree Laopiamthong
54-64
8.         Effectiveness on laparoscopic cholecystectomy for patients with acute calculous cholecystitis, KALASIN HOSPITAL
Thanomsin Kanmali
65-78
Downloads
Download data is not yet available.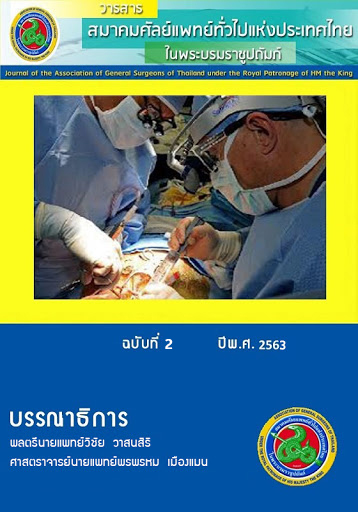 How to Cite
Journal of the Association of General Surgeons of Thailand under the Royal of Patronage of HM the King , E.- in-C. (2021). สารบัญ. Journal of the Association of General Surgeons of Thailand under the Royal of Patronage of HM the King , 5(2), สารบัญ. Retrieved from https://he02.tci-thaijo.org/index.php/agstjournal/article/view/249180