Post-ERCP Pancreatitis in patient undergo Needle-knife Sphincterotomy versus Transpancreatic Sphincterotomy
Keywords:
Endoscopic Retrograde Cholangiopancreatography, Needle-knife sphincterotomy, Transpancreatic sphincterotomy, post-ERCP pancreatitis
Abstract
Background. Endoscopic Retrograde Cholangiopancreatography (ERCP) is widely used in pancreaticobiliary diseases for diagnostic and therapeutic purposes. In patients with difficult biliary cannulation is increase the risk of adverse effects such as post-ERCP pancreatitis, bleeding, perforation, and cholangitis. Needle-knife sphincterotomy(NKS)  and Transpancreatic sphincterotomy(TPS) are technique for patients with difficult cannulation.
Objectives. Compare the adverse event rate of TPS and NKS.
Materials and Methods. The study was carried out as retrospective analyzed the medical records, from January 2015 to December 2019.The study population consisted of OPD and IPD patients who had indication for required ERCP.
Results. There were 86 (38 male, 48 female) patients underwent ERCP. Subjects were divided into 2 groups: 36 in NKS and 50 in TPS. Mean age 56.3 yrs in NKS group and 56.9 yrs in TPS group (p = 0.864). Success canulation rate was 91.7% for NKS versus 96.0% for TPS (p = 0.645). Post-ERCP pancreatitis was 0% for NKS versus 2.0% for TPS (p = 0.393). Other outcome measures were equivalent.
Conclusion. NKS and TPS were no differences in adverse event rate.
Downloads
Download data is not yet available.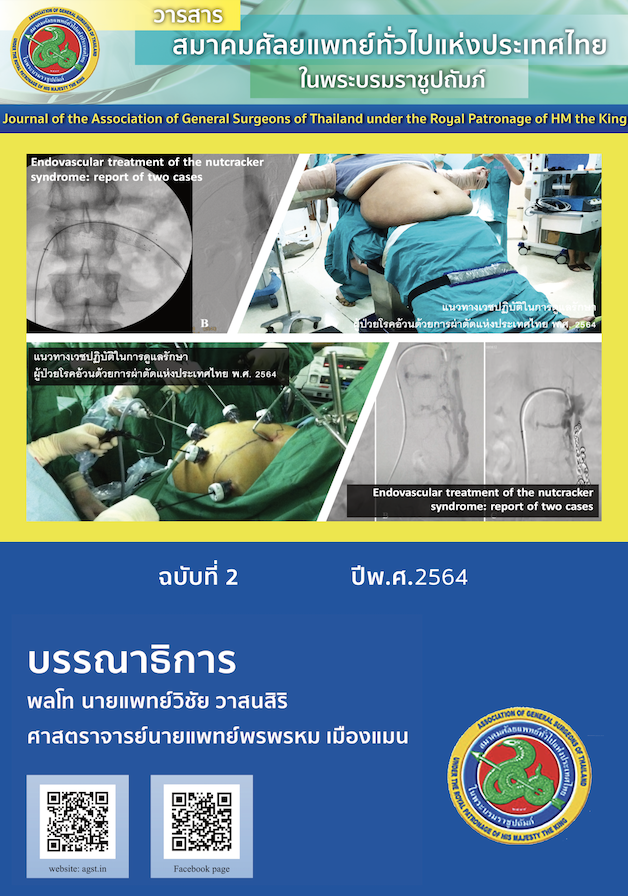 Downloads
How to Cite
Sothanapaisan, K., & Suwitchakul, C. (2021). Post-ERCP Pancreatitis in patient undergo Needle-knife Sphincterotomy versus Transpancreatic Sphincterotomy . Journal of the Association of General Surgeons of Thailand under the Royal of Patronage of HM the King, 6(2), 35–42. Retrieved from https://he02.tci-thaijo.org/index.php/agstjournal/article/view/252804
Section
Original research (research article)