The safety of open gastrostomy using the modified bumper gastrostomy catheter compared with the conventional gastropexy in malignancy patients.
Abstract
Background: Open gastrostomy tube is a safe, low cost, available technique for enhancing nutrition in advance form of malignancy patients who limit ability to feed from oral route directly. However, the variation of technique for open gastrostomy were present with different outcomes and complications. The gastropexy in open gastrostomy need to extend the upper midline incision to securely fasten of stomach to left side anterior abdominal wall together. Aim of study was to present and evaluate the safety of a new technical variant which is simple, fast, low cost via a small midline incision replacing the conventional gastropexy in patients admitted to gastrostomy.
Material and Methods: The retrospective analytic study was performed in the patients who underwent open gastrostomy to evaluate the outcomes between using the conventional gastropexy and a new technical variant to fasten the stomach by modified bumper gastrostomy catheter, which consists of the rubber tube cover in the Foley's catheter. Demographic data, diagnosis, operative time, and all complications of were analyzed by multivariate analysis. 
Result: Sixty-nine consecutive open gastrostomy performed in Chulabhorn Hospital between January 2018 and June 2021 were studied. All of patients presenting the advance malignancy, 63.7% of which categorized in the head and neck cancer. 34.7% were esophageal cancer. Forty-nine patients were undergoing conventional gastropexy. Twenty patients were undergoing the modified bumper gastrostomy technique. The most common complication is catheter occlusion, leakage, and aspiration (8.7%, 7.2% and 7.2% respectively). The operative time of modified bumper gastrostomy groups was shorter than conventional gastropexy groups (27.95 +/- 8.44 vs 35.06 +/- 8.94, mean difference = 7.11 minutes, P = 0.003). The primary outcome, dislodgement catheter was 6.12% and 5% in conventional gastropexy and modified bumper gastrostomy groups, respectively (Relative risk (RR) = 0.68, [95% confidence interval (CI) 0.05-8.56]; P = 0.763). 3-months follow up secondary outcomes of peristomal irritation, content leakage, catheter occlusion, granulation, aspiration, and surgical site infection were comparable between both groups. Bleeding, requiring exploration due to early inadvertent tube extrusion or removal, and buried bumper syndrome were not present in study.
Conclusion: The modified bumper gastrostomy catheter in open gastrostomy procedure replacing conventional gastropexy is safe and available via small upper midline incision without the increasing risk of dislodgement of catheter and other local complication. Early inadvertent tube extrusion or removal, requiring reoperation were not present in our study. In limit resource situation, the low cost and high available of modified bumper gastrostomy catheter can performed in malignancy patients who required open gastrostomy procedure.
Downloads
Download data is not yet available.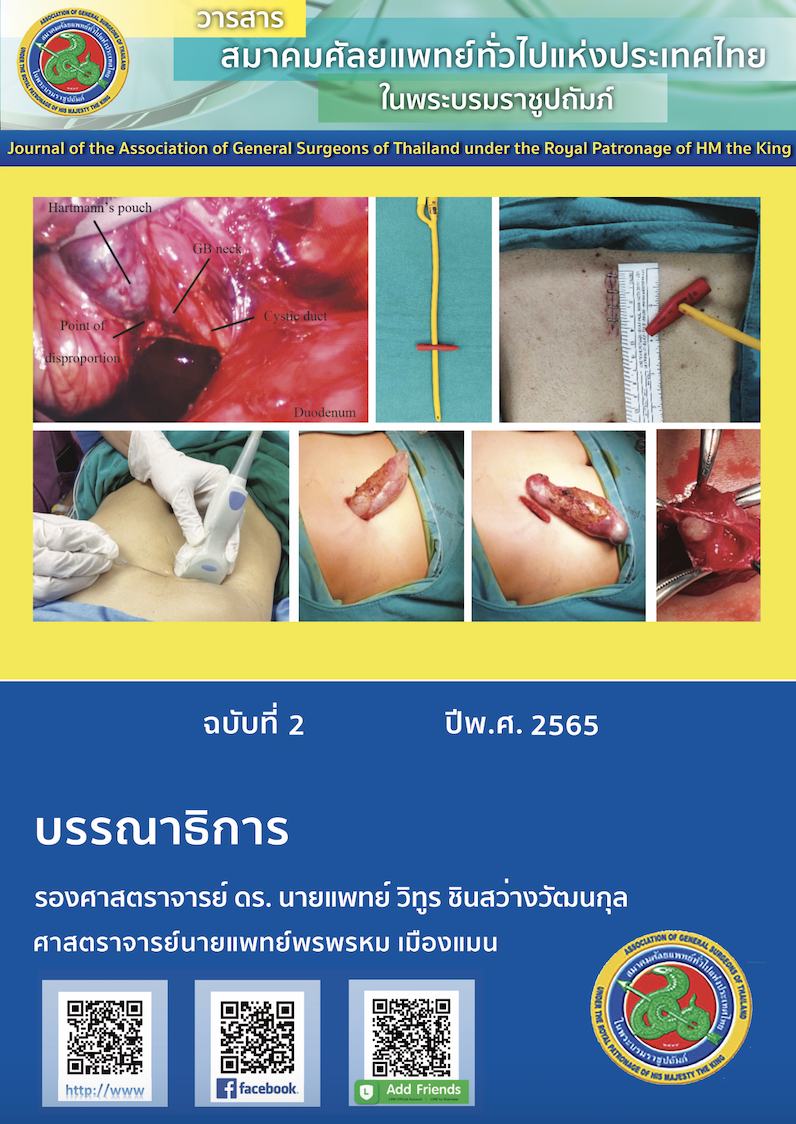 Downloads
How to Cite
Tangkullayanone, W., Boonyapibal, A., & Chatthamrak, P. (2022). The safety of open gastrostomy using the modified bumper gastrostomy catheter compared with the conventional gastropexy in malignancy patients . Journal of the Association of General Surgeons of Thailand under the Royal of Patronage of HM the King, 7(2), 67–76. Retrieved from https://he02.tci-thaijo.org/index.php/agstjournal/article/view/256228
Section
Original research (research article)