The Outcome of Non-Operative Management in High Grade Renal Trauma and related factor
Abstract
Background : Non-operative management (NM) is initially approach in renal trauma.  Surgical exploration required in high-grade (grade IV, V), however the success rate challenging NM are increasing in recently reported.
Objectives : To review non-operative management strategy outcome in renal trauma and evaluative associated failure factors.
Materials and Methods :  Retrospectively reviewed renal trauma patients between January 2008 – December 2015 included patients's demographics,  injury mechanism, clinical characteristics, laboratory and imaging data. The outcome of management were recorded and analysis the relating factors.
Results : 107 renal trauma patients included in this study. 63.6% are Low-grade and high-grade renal trauma founded 36.4% respectively. NM success rate at 82.2% in low-grade and 61.5% in high-grade group. Univariate analysis revealed hypotension, tachycardia, low hemoglobin (< 10 mg/dl) at presented, high grade renal trauma and finding sings on computed tomography (CT) such as peri- renal hematoma ≥ 3.5 cm, parenchymal infarction and intravascular extravasation were associated with failure non-operated. However, high grade renal trauma is the only failure predictor of NM on multivariate analysis (odd ratio (OR) 13.01, 95% confidence interval (CI) 2.33 – 72.62; P = 0.003).
Conclusions : Most of  renal trauma are highly success with conservative treatment. Although high-grade injury is the strongest non-operation failure factor, however, these management still feasible in clinically stable with acceptable outcome and challenging.
Keywords: non-operative management strategy, renal trauma, kidney injury, high-grade renal trauma
Downloads
Download data is not yet available.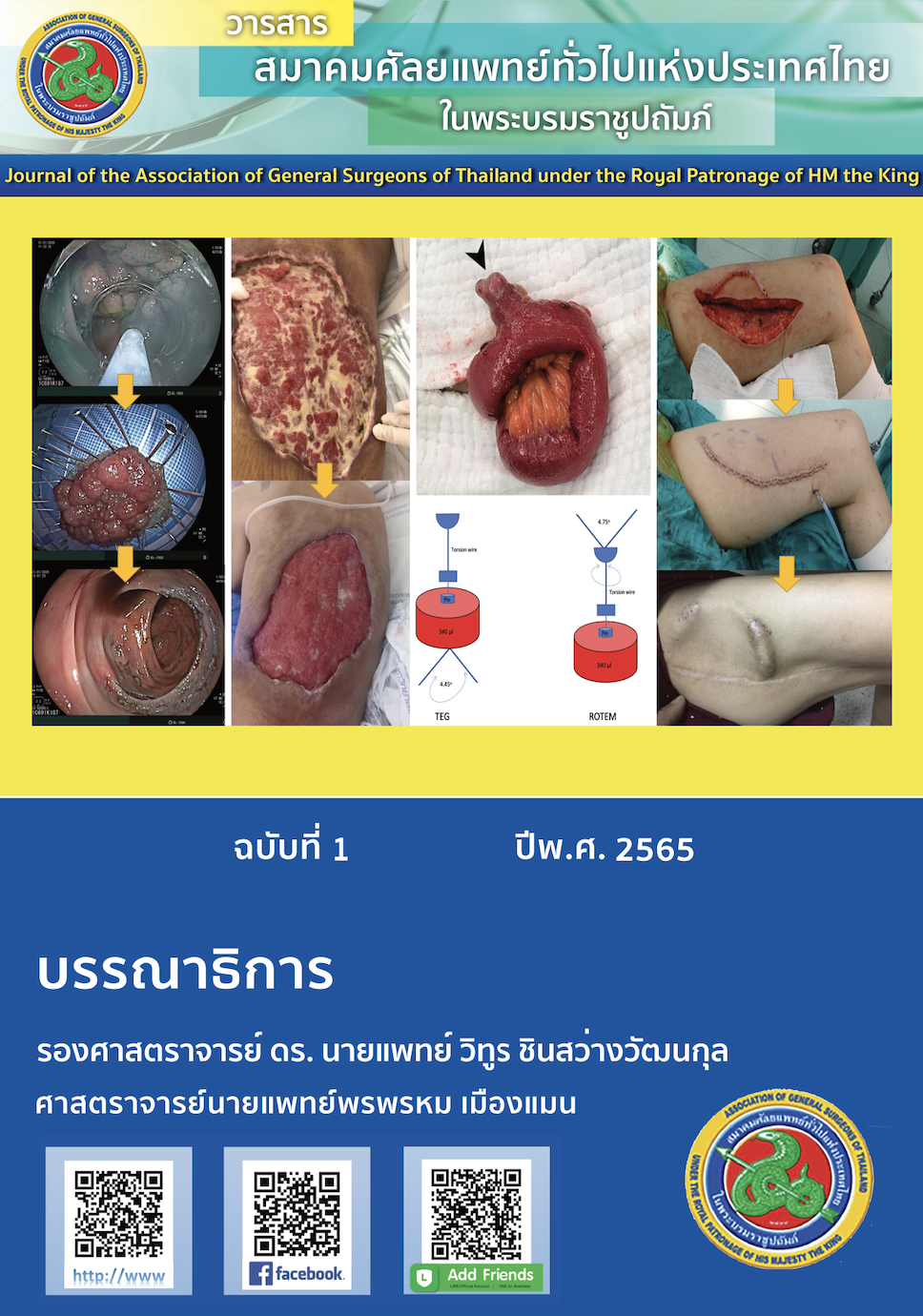 Downloads
How to Cite
Orapan, T., Luangphattarawong, S., & Jaseanchiun, W. (2022). The Outcome of Non-Operative Management in High Grade Renal Trauma and related factor. Journal of the Association of General Surgeons of Thailand under the Royal of Patronage of HM the King, 7(1). Retrieved from https://he02.tci-thaijo.org/index.php/agstjournal/article/view/256440
Section
Original research (research article)