The assessment of exposure index on the pediatric chest digital radiography
Keywords:
Exposure index, digital radiography, pediatric chest
Abstract
Background: Exposure index (EI) is the dose indicator value in digital radiography that radiological technologist used for patient dose monitoring and providing dose optimization, which each manufacturer specified the EI value differently. Objective: To create exposure chart for pediatric chest radiography in order to be used as guidance for radiological technologist. Methods: Data of male and female pediatric patient undergoing PA and AP digital chest radiography aged from newborn to 17 years old with weight and height according to Thai child standard were collected at Samitivej Srinakarin Hospital from September to December 2019. The total collecting data were 214 pediatric patients, which consisted of gender, age, weight, height, exposure parameters; kVp, mAs, SID, AEC, grid, and EI value. All data were compared with exposure index that each manufacturer specified. Results: It was found that most pediatric patients undergoing chest radiography have EI value within the range specified by the manufacturer (EI 100 – 300), except for chest radiography in AP upright projection 25% with the value out of the range. Conclusion: This study shows the importance of EI value which indicate the image quality and help the staff to be aware of patient dose. This leads to the exposure chart to be established as guideline for dose optimization for the working staff.
Downloads
Download data is not yet available.
References
บรรจง เขื่อนแก้ว, วิชัย วิชชาธรตระกูล, เอมอร ไม้เรียง, ปนัสดา อวิคุณประเสิรฐ, คฑายุทธ นิกาพฤกษ์. การประเมินค่าดัชนีชี้วัดปริมาณรังสีในการถ่ายภาพทรวงอกท่า PA จากระบบการสร้างภาพรังสีด้วยคอมพิวเตอร์ของผู้ป่วยที่รับบริการในโรงพยาบาลศรีนครินทร์มหาวิทยาลัยขอนแก่น. วารสารเทคนิคการแพทย์เชียงใหม่ 2557; 47(1): 23 – 29.
Seibert JA, Morin RL. The standardized exposure index for digital radiography: an opportunity for optimization of radiation dose to the pediatric population. 2011; 41: 573-81.
เพชรากร หาญพานิชย์. มารู้จักค่า EI กันดีไหม. [อินเตอร์เน็ต] 2557 [เข้าถึงเมื่อ 10 ธ.ค. 2562].เข้าถึงได้จาก https://www.gotoknow.org/posts/551192
Onpabha Pewluang, Petcharakorn Hanpanich. Survey of s-values from digital chest x-ray examinations at srinagarind hospital. Srinagarind Med J 2013; 28(4): 198.
จงวัฒน์ ชีวกุล.Exposure technique factors.[อินเตอร์เน็ต]2561 [เข้าถึงเมื่อ 20 ธ.ค. 2562]เข้าถึงได้จาก https://meded.psu.ac.th/binlaApp/radio2/365-211/xray/index3.html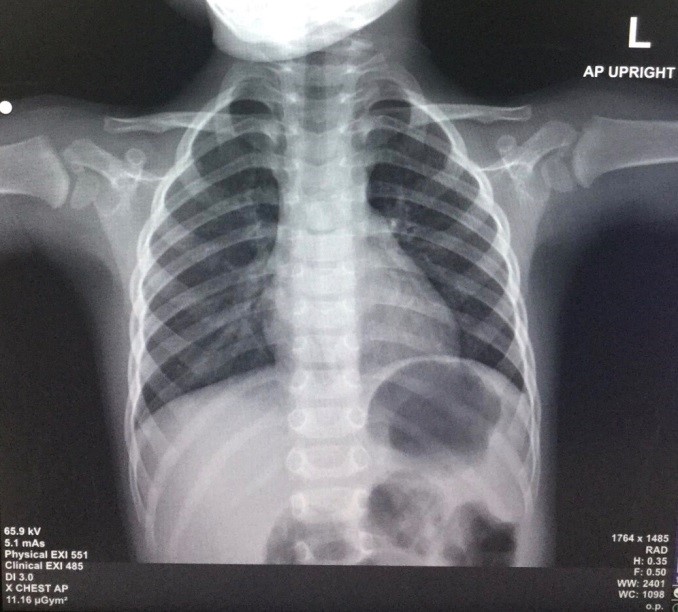 Downloads
How to Cite
1.
Mhoya P, Saengphet N, Tamdon S, Saengphet S, Siriwiladluk T, Sanoesan V. The assessment of exposure index on the pediatric chest digital radiography. Thai J Rad Tech [Internet]. 2021 Feb. 1 [cited 2023 Jan. 28];45(1):28-33. Available from: https://he02.tci-thaijo.org/index.php/tjrt/article/view/248315
Section
Original articles
License
บทความที่ได้รับการตีพิมพ์เป็นลิขสิทธิ์ของสมาคมรังสีเทคนิคแห่งประเทศไทย (The Thai Society of Radiological Technologists)
ข้อความที่ปรากฏในบทความแต่ละเรื่องในวารสารวิชาการเล่มนี้เป็นความคิดเห็นส่วนตัวของผู้เขียนแต่ละท่านไม่เกี่ยวข้องกับสมาคมรังสีเทคนิคแห่งประเทศไทยและบุคคลากรท่านอื่น ๆในสมาคม ฯ แต่อย่างใด ความรับผิดชอบองค์ประกอบทั้งหมดของบทความแต่ละเรื่องเป็นของผู้เขียนแต่ละท่าน หากมีความผิดพลาดใดๆ ผู้เขียนแต่ละท่านจะรับผิดชอบบทความของตนเองแต่ผู้เดียว