Differentiation of vascular patterns in hepatic hemangioma using superb microvascular imaging (SMI) technology of ultrasound at Chulabhorn Hospital
Keywords:
Hemangioma, Superb microvascular imaging (SMI), Vascular pattern, Liver ultrasonography
Abstract
Superb Microvascular Imaging (SMI) is an innovative ultrasound Doppler technique that allows visualization of micro-slow flow vessel. This technique provides highly detailed vascularity in tumor. Purpose: This study aimed to explore SMI role in characterizing vascular patterns of hepatic hemangioma in ultrasound. Methods: Twenty patients with 29 hepatic lesions in the size range of 0.8 – 3.5 cm were included in this retrospective study. All lesions were confirmed with computed tomography and/or magnetic resonance imaging and were evaluated vascular patterns by SMI. Lesions were classified as benign tumors (hemangioma and inflammation) and malignant tumors (hepatocellular carcinoma and metastasis). Fisher's exact test was used to compare the frequencies of the SMI patterns between benign and malignant tumors. Results: According to the vascular patterns on SMI, 19 hemangiomas exhibited five patterns, including nodular rim, non-specific, nodular rim with dot-like, staining and no signal were 31.58%, 26.32%, 21.05%, 5.26%, 1.79%, respectively. Two cases of inflammation exhibited nodular rim and no signal patterns were 50% and 50%, respectively. Seven metastases exhibited non-specific and no signal patterns were 85.71% and 14.29%, respectively. Hepatocellular carcinoma (HCC) exhibited a staining pattern. The SMI vascular patterns of HCC and metastatic lesions were statistically significant difference from those of hemangioma (p<0.05). Conclusion: SMI is able to provide useful information for significantly differential diagnosis of HCC and metastatic lesions from hemangiomas.
Downloads
Download data is not yet available.
References
ราวิน วงษ์สถาปนาเลิศ. Liver disease. ศูนย์แพทยศาสตรศึกษาชั้นคลินิก โรงพยาบาลเจริญกรุงประชารักษ์ สานักการแพทย์ กรุงเทพมหานคร [อินเทอร์เน็ต]. [เข้าถึงเมื่อ 31 สิงหาคม 2563]. เข้าถึงได้จาก: http://www.ckphosp.go.th/diapo.1.0.4/diapo/งาน/แพทยศาสตร์ศึกษา/กง.ศัลยกรรม/Liver disease.pdf.
ธาดา ยงค์ประดิษฐ์. สิ่งที่ควรรู้เกี่ยวกับเนื้องอกปานที่ตับและบทบาทของศัลยแพทย์ในการรักษา. วชิรเวชสารและวารสารเวชศาสตร์เขตเมือง [อินเทอร์เน็ต]. 2561 [เข้าถึงเมื่อ 14 กรกฎาคม 2563]; 62:57-64. เข้าถึงได้จาก: https://he02.tci-thaijo.org/index.php/VMED/article/download/209300/144976/.
Naganuma H, Ishida H, Ogawa M, Suzuki K. Visualization of draining vein in focal nodular hyperplasia by superb microvascular imaging: report of two cases. J Med Ultrasonic (2001). 2017;44(4):323-8.
Jiang ZZ, Huang YH, Shen HL, Liu XT. Clinical Applications of Superb Microvascular Imaging in the Liver, Breast, Thyroid, Skeletal Muscle, and Carotid Plaques. J Ultrasound Med. 2019;38(11):2811-20.
Park AY, Seo BK. Up-to-date Doppler techniques for breast tumor vascularity: Superb Microvascular Imaging and contrast-enhanced ultrasound. Ultrasonography 2018; 37:98–106.
Zhan J, Diao XH, Jin JM, Chen L, Chen Y. Superb Microvascular Imaging—a new vascular detecting ultrasonographic technique for avascular breast masses: a preliminary study. Eur J Radiol 2016; 85: 915–921.
Hata J. Seeing the Unseen New Techniques in Vascular Imaging: Superb Micro-Vascular Imaging [Internet]. 2014 [cited 2020 May 1]. Available from: https://us.medical.canon/download/aplio-500-wp-smi-seeing-the-unseen.
Ma Y, Li G, Li J, Ren WD. The Diagnostic Value of Superb Microvascular Imaging (SMI) in Detecting Blood Flow Signals of Breast Lesions: A Preliminary Study Comparing SMI to Color Doppler Flow Imaging. Medicine (Baltimore) 2015; 94: e1502.
Lee DH, Lee JY, Han JK. Superb microvascular imaging technology for ultrasound examinations: Initial experiences for hepatic tumors. Eur J Radiol. 2016;85(11):2090-5.
He MN, Lv K, Jiang YX, Jiang TA. Application of superb microvascular imaging in focal liver lesions. World J Gastroenterol. 2017;23(43):7765-75.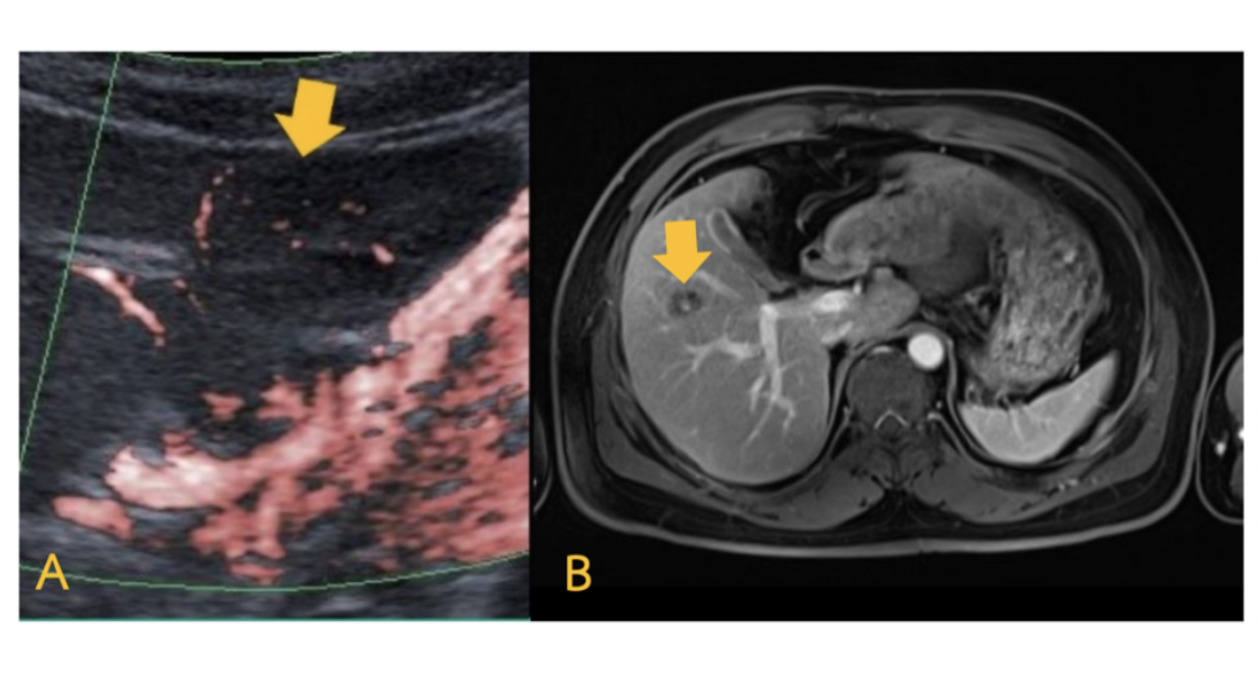 Downloads
How to Cite
1.
Chaiwongkot N, Jomsak T, Thabsangthong T, Tangruangkiat S, Siripongsakun S, Hiranrat P. Differentiation of vascular patterns in hepatic hemangioma using superb microvascular imaging (SMI) technology of ultrasound at Chulabhorn Hospital. Thai J Rad Tech [Internet]. 2021 Nov. 29 [cited 2022 Oct. 1];46(1):43-51. Available from: https://he02.tci-thaijo.org/index.php/tjrt/article/view/251543
Section
Original articles
License
บทความที่ได้รับการตีพิมพ์เป็นลิขสิทธิ์ของสมาคมรังสีเทคนิคแห่งประเทศไทย (The Thai Society of Radiological Technologists)
ข้อความที่ปรากฏในบทความแต่ละเรื่องในวารสารวิชาการเล่มนี้เป็นความคิดเห็นส่วนตัวของผู้เขียนแต่ละท่านไม่เกี่ยวข้องกับสมาคมรังสีเทคนิคแห่งประเทศไทยและบุคคลากรท่านอื่น ๆในสมาคม ฯ แต่อย่างใด ความรับผิดชอบองค์ประกอบทั้งหมดของบทความแต่ละเรื่องเป็นของผู้เขียนแต่ละท่าน หากมีความผิดพลาดใดๆ ผู้เขียนแต่ละท่านจะรับผิดชอบบทความของตนเองแต่ผู้เดียว