Effect of the Cognitive Ergonomics Training to Increase Awareness of Safe Work Practices Among Street Sweepers on Musculoskeletal Discomfort in Chiang Rai Province
Keywords:
Cognitive Ergonomics Training, Awareness of Safe Work Practices, Among Street Sweepers
Abstract
The aimed was to evaluate the effect of the cognitive ergonomics training to increase awareness of safe work practices among street sweepers on musculoskeletal discomfort. This quasi-experimental study was conducted among 68 voluntary street sweepers who were having musculoskeletal discomfort score ≥ 4 in Chiang Rai province, Thailand (intervention, n=34; control, n=34). Face to face interviewed were used musculoskeletal discomfort and awareness of safe work practice questionnaire. Rapid Entire Body Assessment (REBA) measured to assess the body posture for movement, action, coupling and repetition. Musculoskeletal discomfort score was investigated by Physiotherapist. Data analysis included descriptive statistics, Chi-square test, Independent T-test, and repeated measure ANOVA. No difference of awareness score between the intervention and the control group. The mean score of the awareness of cognitive ergonomics training showed the difference from exit model, 1st , 2nd , 3rd, and 4th follow-up with statistical significance at p<.001. The finding suggested that the cognitive ergonomics training was appropriated to increase awareness safe work practice, prevent muscle injury and soreness that associated with repetitive movement and awkward posture in street sweepers.
Downloads
Download data is not yet available.
References
ปริศนา โหลสกุล, ชวพรพรรณ จันทร์ประสิทธิ์, ธานี แก้ว ธรรมานุกูล. "ภาวะสุขภาพและพฤติกรรมเสริมสุขภาพของพนักงานกวาดถนนจังหวัดสงขลา," วารสารวิชาการสาธารณสุข. 16 (2550) : 400-8.

สุรีรัตน์ ธีระวณิชตระกูล, พรชัย สิทธิศรัณย์กุล. ความชุกและปัจจัยที่เกี่ยวข้องกับอาการผิดปรกติของระบบกล้ามเนื้อและกระดูกโครงร่างในพนักงานกวาดถนน กรุงเทพมหานคร. ภาควิชาเวชศาสตร์ป้องกันและสังคม คณะแพทยศาสตร์จุฬาลงกรณ์ มหาวิทยาลัยธรรมศาสตร์เวชสาร 14, 1 (มกราคม-มีนาคม 2557) : 89-100.

Amick III BC, Robertson MM, DeRango K, Bazzani L, Moore A, Rooney T, et al. "Effect of office ergonomics intervention on reducing musculoskeletal symptoms," Spine.28,24 (2003) : 2706-11.

Chaffin D, Andersson G, Martin B. Occupational Biomechanics. 4th ed. Wiley-Interscience, 2006.

Clark D. Reduceing injuries, claims, and cost. In stenders MJ, ed Ergonomics and the management of musculoskeletal disoeders St Louis: Butterworth Heinemann, 2004.

Da Silva C, Hoppe A, Ravanello M, Mello N."Medical wastes management in the south of Brazil," Waste management. 25(6):600-5.

Das R, Pradhan S, Mandal S, Ali KM, Maiti S, Ghosh D. "Impact Of Health Awareness Intervention Among The Women Sweepers Working Under The Midnapore Municipality Of West Bengal, India," Bangladesh Journal of Medical Science. 12, 1(2013) : 49-54.

European Agency for Safety and Health at Work. FACTS 71 Introduction to work-related musculoskeletal disorders, 2007. Available from: http://osha.europa.eu/publications/factsheets/71

International Labor Organization. The Baseline Survey of the Occupational Safety and health Conditions of Solid Waste Primary Collectors and Street Sweepers in Addis Ababa. March, 2007.

Korhan O. Work-Related Musculoskeletal Discomfort in the Shoulder due to Computer Use- A Systems Approach, Dr. Isabel L. Nunes (Ed.). Department of Industrial Engineering, Eastern Mediterranean University, 2012.

Krajewski J, Tarkowski S, Cyprowski M, Szarapinska-Kwaszewska J, Dudkiewicz B. "Occupational exposure to organic dust associated with municipal waste collection and management," International journal of occupational medicine and environmental health.15, 3 (2002) : 289-301.

Mekhora K, Liston C, Nanthavanij S, Cole JH. "The effect of ergonomic intervention on discomfort in computer users with tension neck syndrome," International Journal of Industrial Ergonomics. 26, 3 (2000) : 367-79.

Mehrdad R, Majlessi-Nasr M, Aminian O, Malekahmadi SSF."Musculoskeletal disorders among municipal solid waste workers," Acta Medica Iranica.46,3 (2008) : 233-8.

NIOSH. Ergonomic. Guidelines for Manual Material Handling was prepared for publication by the Cal/OSHA Consultation Service, Research and Education Unit, Division of Occupational Safety and Health, California Department of Industrial Relations. DHHS (NIOSH) Publication No. 2007-131. 2007.

Seera RS. Development of a Street Sweeper Fleet Management System: University of Nevada, Las Vegas; 2005.

Toulouse G, St-Arnaud L, Delisle A, Duhalde D, Lévesque J, Marché-Paillé A, et al. Study of Interventions to Reduce Musculoskeletal Disorders and Psychological Health Problems in 911 Emergency Call Centres in the Municipal Public Security System. 2012.

Yogesh SD, Zodpey SP. Respiratory morbidity among street sweepers working at Hanumannagar Zone of Nagpur Municipal Corporation, Maharashtra. Indian journal of public health. 52,3 (2007) : 147-9.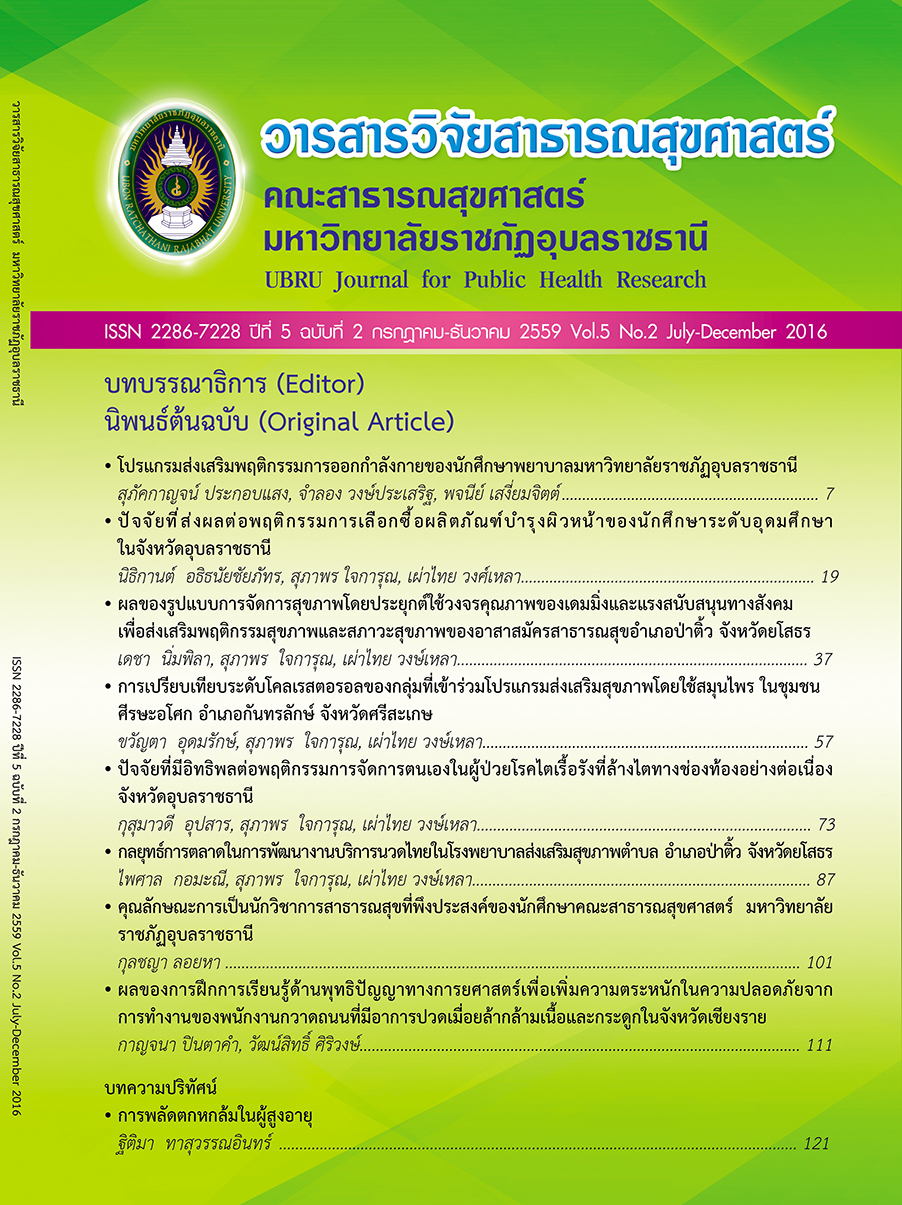 Downloads
How to Cite
ปินตาคำ ก., & ศิริวงษ์ ว. (2016). Effect of the Cognitive Ergonomics Training to Increase Awareness of Safe Work Practices Among Street Sweepers on Musculoskeletal Discomfort in Chiang Rai Province. UBRU Journal for Public Health Research, 5(2), 109–118. Retrieved from https://he02.tci-thaijo.org/index.php/ubruphjou/article/view/162417
Section
ORIGINAL ARTICLES
License
เนื้อหาและข้อมูลในบทความที่ลงตีพิมพ์ในวารสารวารสารวิจัยสาธารณสุขศาสตร์ มหาวิทยาลัยราชภัฏอุบลราชธานี ถือเป็นข้อคิดเห็นและความรับผิดชอบของผู้เขียนบทความโดยตรงซึ่งกองบรรณาธิการวารสาร ไม่จำเป็นต้องเห็นด้วย หรือร่วมรับผิดชอบใดๆ
บทความ ข้อมูล เนื้อหา รูปภาพ ฯลฯ ที่ได้รับการตีพิมพ์ในวารสารนี้ ถือเป็นลิขสิทธิ์ของวารสารฯ หากบุคคลหรือหน่วยงานใดต้องการนำทั้งหมดหรือส่วนหนึ่งส่วนใดไปเผยแพร่ต่อหรือเพื่อกระทำการใดๆ จะต้องได้รับอนุญาตเป็นลายลักอักษรณ์จากบรรณาธิการวารสารนี้ก่อนเท่านั้น