Management of pesticides of farmers at a village in Nong Kung Sub-district, Nonkhun District, Sisaket Province
Keywords:
management of pesticides, management behavior, pesticide
Abstract
Pest toxicity is caused by the use or exposure of pesticides for a long period of time. Most of the population are farmers, and the pesticides are used in the planting process. This is a cross-sectional descriptive study has aimed to study the pesticides using and management behavior of farmers at A village in Nong Kung Sub-district, Nonkhun District, Sisaket Province. There were 100 farmers participated. Interviewing questionnaire was used to collected data. Analyzed by descriptive statistic, frequency and percent.
Result found most of farmers using pesticide by themselves for 74.0%, with spraying method for 77.1%, as herbicide form (81.2%). They have an experience on skin irritation. Most of pesticide management behavior found on good level (56.3%) which consist of purchasing and using part were on good level for 74.6% and 56.3% respectively. While pesticide container disposal part was on low level for 43.7%. This research has some suggestion to the relevant agencies such as the provincial agriculture or the provincial public health. They should promote and educate about how to manage the pesticides. This may include hazards, health effects and the environment impact which caused by the incorrect pesticide management. Especially in the proper management of chemical containers. This will lead to a change in the pesticide management behavior of farmers.
Downloads
Download data is not yet available.
References
Anuthep Saelao. (2008). Factors related to the use of pesticides by vegetable farmers. Ban Khla District Chaiyaphum Province. Department of Disease Control, Ministry of Public Health.

Department of Disease Control. (2014). Network Development Program for surveillance, prevention and control of diseases and health hazards from the separation and recycling of hazardous waste in 8 provinces to reduce public health disparities. Ministry of Public Health. [Internet] accessed on August 15, 2019. Accessed from http://envocc.ddc.moph.go.th

Kittisak Jakrachai. (2012). Agricultural chemical exposure in rice farmers in Tambon Ban Mae Sai, Amphoe Mueang, Phayao Province. Master of Science Thesis. Phayao University.

Krittaya Sangpakdee. (2014). The study of farmers' use of pesticides. Amphoe Ongkharak Nakhon Nayok Province. Department of Environmental Culture and Ecotourism Srinakharinwirot University

Nuttawut Paiyapat. (2557). Effects of pesticide use among rice growers on health. And the district of Kalasin. [Environmental education]. Valaya Alongkorn Rajabhat University.

Pollution Control. (2013). Guidelines for hazardous waste management in the community. Hazardous Waste Division, Bureau of Waste Management and Hazardous Substances [Internet]. Accessed on November 2, 2016. Accessible from http://www.pcd.go.th

Sisaket Provincial Agricultural Office (2015). Department of Agriculture. [Internet]. Accessed on August 7, 2016. Accessible from http://www.sisaket.doae.go.th

Suwit Wanasri (2009). Agricultural chemicals and health of farmers in Phetchabun province. Phetchabun Rajabhat University

Thailand Pesticide Alert Network. (2014) Pesticide Impact on Thai Health [Internet] Accessed on August 5, 2016. Accessed from http://www.thaipan.org

Worachet Khobjai (2010). Preventive Chemical Behavior. Pesticide and Cholinesterase Level in the Blood of Upstream Farmers: A Case Study of the Hmong Hill Tribe Payao Province. Journal of Health Science Research. 4 (2): 36-40.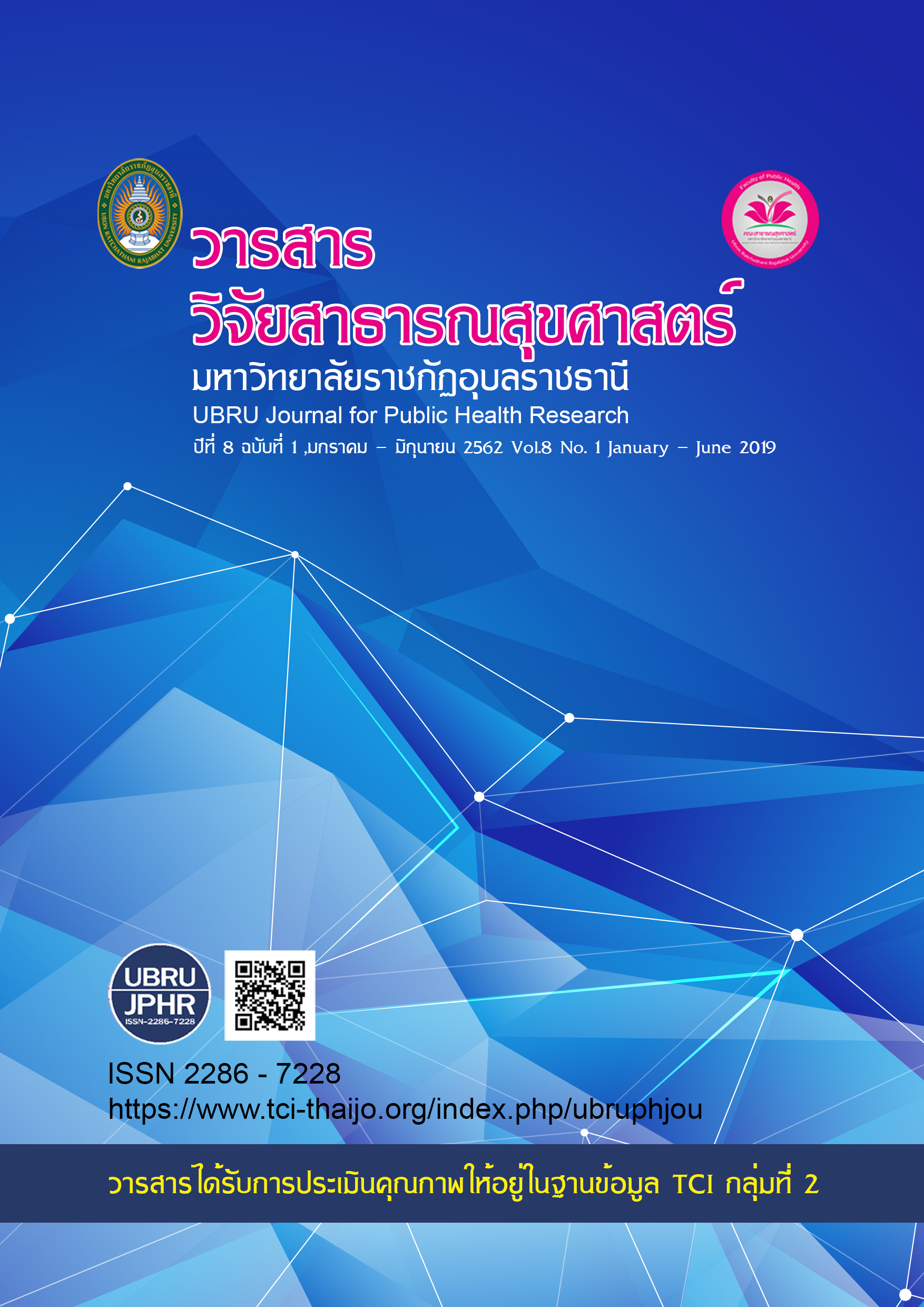 Downloads
How to Cite
Tippila, J., Tothong, T., & Nganchamung, T. (2019). Management of pesticides of farmers at a village in Nong Kung Sub-district, Nonkhun District, Sisaket Province. UBRU Journal for Public Health Research, 8(1), 1–7. Retrieved from https://he02.tci-thaijo.org/index.php/ubruphjou/article/view/211514
Section
ORIGINAL ARTICLES
License
เนื้อหาและข้อมูลในบทความที่ลงตีพิมพ์ในวารสารวารสารวิจัยสาธารณสุขศาสตร์ มหาวิทยาลัยราชภัฏอุบลราชธานี ถือเป็นข้อคิดเห็นและความรับผิดชอบของผู้เขียนบทความโดยตรงซึ่งกองบรรณาธิการวารสาร ไม่จำเป็นต้องเห็นด้วย หรือร่วมรับผิดชอบใดๆ
บทความ ข้อมูล เนื้อหา รูปภาพ ฯลฯ ที่ได้รับการตีพิมพ์ในวารสารนี้ ถือเป็นลิขสิทธิ์ของวารสารฯ หากบุคคลหรือหน่วยงานใดต้องการนำทั้งหมดหรือส่วนหนึ่งส่วนใดไปเผยแพร่ต่อหรือเพื่อกระทำการใดๆ จะต้องได้รับอนุญาตเป็นลายลักอักษรณ์จากบรรณาธิการวารสารนี้ก่อนเท่านั้น