Oral health knowledge, attitude and practices in parents of preschool child in Warinchamrab Municipality, Ubon Ratchathani Province
Keywords:
dental caries, oral health care, parents
Abstract
Dental health is a major problem in many countries. In order to better understand the dental health of preschool children in municipality areas, this study was conducted to assess the knowledge, attitudes and practices of parents in the oral health care of preschool children in the Warinchamrab municipality of Ubonratchathani Provinces. It also investigated the relationship between personal characteristics, knowledge, attitude and parental behavior in the oral health of preschool children. The samples were 151 parents. Data was collected by questionnaires. Multivariable logistic regression was used to study the relationship between knowledge, attitude and behavior of the parents.
Results: More than 99.3% of parents knew that brushing should be done two times a day. Only 64.2 percent of parents knew that they should check their children's teeth once a week. Regarding attitude: parents had a good attitude at 70.9 percent. They understood that their behavior is a good example for children to care for their teeth (95.4%). Nevertheless, 39.7% of parents thought that brushing teeth alone is enough for good oral health. Behavior about taking care of their child was good at 56.3 percent. They replaced the toothbrush when it was worn out (91.4%) but about 21.2% still let their children eat snacks. The result from multivariable logistic regression showed that parents with good knowledge and attitude tend to behave better by a factor of 4.28 compared to those who have poor knowledge and attitude which was statistically significant (ORadj=4.28 95%CI 1.61-11.40) when controlled for age and sex. 
Conclusion: Knowledge and attitudes of parents are important for good oral health care of preschool children. Therefore relevant agencies should focus on promoting parental knowledge and attitudes which lead to good oral health and prevent future cases of dental health problems in preschool children.
Downloads
Download data is not yet available.
References
Bureau of Dental Health, Department of Health, Ministry of Public Health. (2013). Report of the 7th national oral health survey in Thailand from year 2008-2012. Nonthaburi: Ministry of Public Health.

Bureau of Dental Health, Department of Health. (2007). Situation of oral health 2007. [Cited 2018 July 20]. Available from: https://dental2.anamai.moph.go.th/ewt_dl_link.php?nid=1855

Jitaram, P., Makboon, K. (2014). Dental care behavior of the caregivers of children aged 3-5 years. Thai Dental Nurse Journal. 25(1): 26-41.

Koopatishart, W. (2013). Tooth decay and factors related to tooth decay of Thai children in lowland hell tribe children in Samoeng District, Chiangmai Province. Lanna Public Health Journal. 9(2): 137-150.

Mahawan, T. (2006). Dental health care behavior of parents of 2-3 year old children at Saraphi District, Chiang Mai Province. Master Education (Health Promotion). Chiang Mai University.

Ouijirakul, L., Chatrchaiwiwatana, S., Uengchusak, C. and Siritapetawee, M. (2013). Association between child care behaviors and early childhood caries in Sakaew Province. Thai Dental Public Health Journal. 18(2): 23-32.

Peltzer, K. and Mongkolchati, A. (2015). Severe early childhood caries and social determinants in three-year-old children from Northern Thailand: a birth cohort study. BMC Oral Health. 15, 108 doi: 10.1186/s12903-015-0093-8

Peltzer, K., Mongkolchati, A., Satchaiyan, G., Rajchagool, S. and Pimpak, T. (2014). Socio behavioral factors associated with caries increment: a longitudinal study from 24 to 36 months old children in Thailand. Int J Environ Res Public Health. 17;11(10),10838-50.

Piwsawang, S., Ampai, P., Kumthong, C., Pradidsilapachot, V., and Srimakutphun, N. (2017). The dietary habits that affect the oral health of preschool children at Ban Tanab Child Development Center, Tambon Thung Kula, Tha Tum District, Surin province. Research and Development Journal Suan Sunandha Rajabhat University. 9(3): 20-30.

Preedee, W. (2008.) Dental health care behavior of parents of 2-3 year old children at Wat Koktong child care center, Kut wa sub-district, Kuchinarai district, Kalasin Province. Master of Public Health Khonkaen University.

Raktao, U. and Wongwech, C. (2015). Knowledge, attitude and practice of parents/guardians regarding oral health care of preschool children. The Southern College Network Journal of Nursing and Public Health. 2(1): 52-64.

Sopa, T., Na Chiangmai, N. and Chawapong, W. (2013). Factors related to the caries status in preschool children in the child development center Chiang Dao District, Chiangmai Province. Pikanasan. 9(2): 81-95.

Wongkongkathep, S., Prasertsom, P., Rattarungsima, K., Rityoo, A. (2007). Sweet food consumption behavior of Thai children under 5 years and relationship to caries and obesity problems. Journal of Dental Association of Thailand. 57(1): 1-12.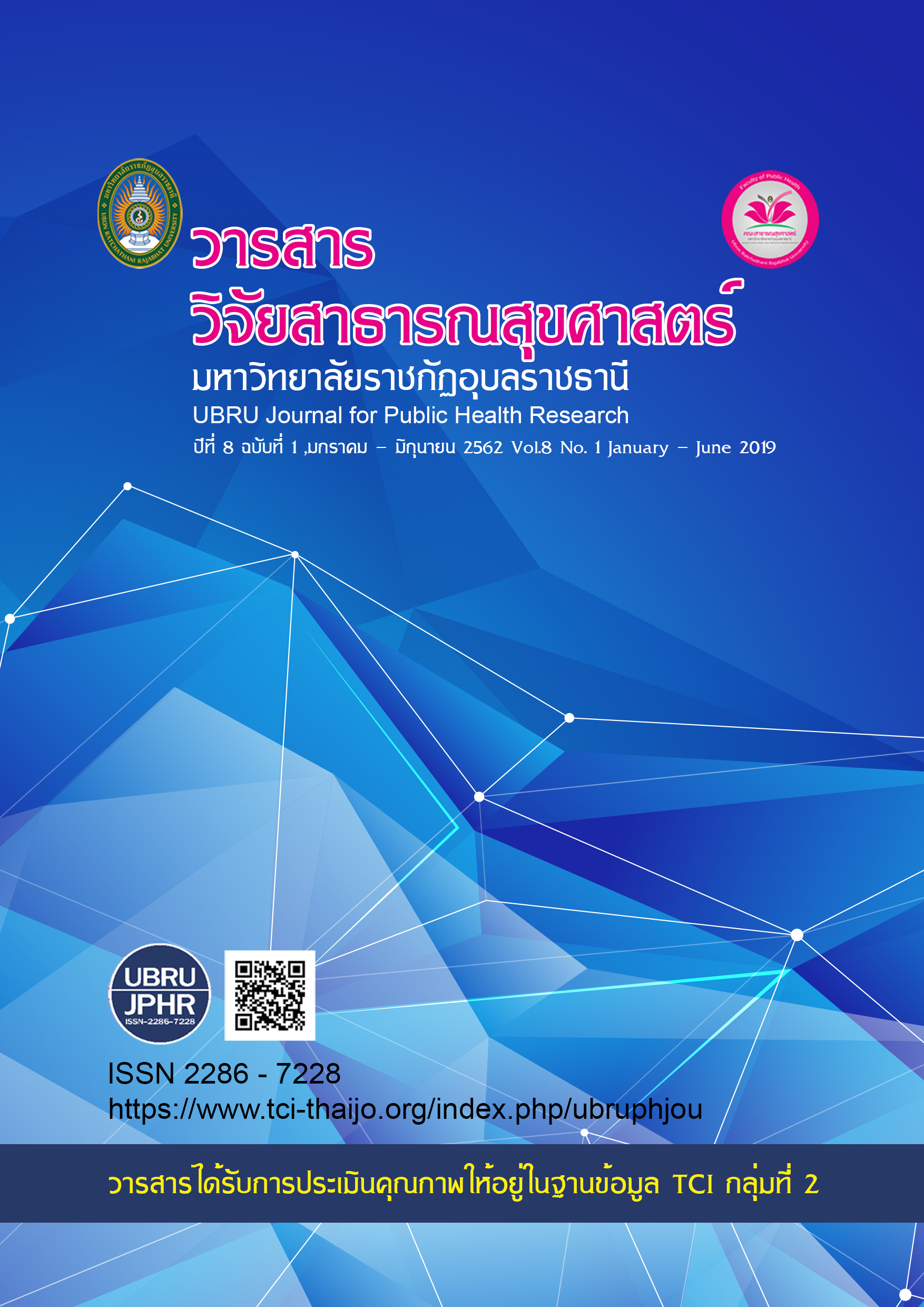 Downloads
How to Cite
Rangjob, T., Suebsamran, P., & Limpiteeprakan, P. (2019). Oral health knowledge, attitude and practices in parents of preschool child in Warinchamrab Municipality, Ubon Ratchathani Province. UBRU Journal for Public Health Research, 8(1), 17–27. Retrieved from https://he02.tci-thaijo.org/index.php/ubruphjou/article/view/211515
Section
ORIGINAL ARTICLES
License
เนื้อหาและข้อมูลในบทความที่ลงตีพิมพ์ในวารสารวารสารวิจัยสาธารณสุขศาสตร์ มหาวิทยาลัยราชภัฏอุบลราชธานี ถือเป็นข้อคิดเห็นและความรับผิดชอบของผู้เขียนบทความโดยตรงซึ่งกองบรรณาธิการวารสาร ไม่จำเป็นต้องเห็นด้วย หรือร่วมรับผิดชอบใดๆ
บทความ ข้อมูล เนื้อหา รูปภาพ ฯลฯ ที่ได้รับการตีพิมพ์ในวารสารนี้ ถือเป็นลิขสิทธิ์ของวารสารฯ หากบุคคลหรือหน่วยงานใดต้องการนำทั้งหมดหรือส่วนหนึ่งส่วนใดไปเผยแพร่ต่อหรือเพื่อกระทำการใดๆ จะต้องได้รับอนุญาตเป็นลายลักอักษรณ์จากบรรณาธิการวารสารนี้ก่อนเท่านั้น