Development of the transfer emergency patients with Critical Model Natan Hospital in Natan District, Ubon Ratchathani Province
Keywords:
model, transfer, emergency patients with critical
Abstract
Natan Hospital away from Sunpasittiprasong Hospital 105 kilometers, the Model transfer & referral is advanced and basic from the data for year 2015-2016, transfer the emergency patients with critical 432 and 400 patients. The care quality was 87.31% and 92.5% (standard more than 98%), there were 3 deaths during transfer, Transfer was found  that  the equipment on  hospital Ambulance is not  enough and  not  ready to use in percentage of 12.25, there is no form to forward the guidelines explicitly, then study this to develop  and evaluation of the development  of  critical care and transmission  the patient emergency critical of Natan Hospital. This Action research The purpose is to study this to develop  and evaluation of the development  of the Transfer Emergency Patients with Critical Model Natan Hospital , Ubon Ratchathani Province with apply of Stetler Model purposive sampling is nurse , medicine emergency 30 persons, during study from February 2017-December 2017, Quantitative and qualitative data were collected using mixed methods, Quantitative data were analyzed with descriptive statistics and paired t-test ; and content analysis was performed for quantitative data obtained from literature review and observations, The content validity was verified by 5 nursing professors and validity using Cronbach's alpha coefficient.
              The study result was found that the two-cycle ,the  Emergency patients with critical model was form of Mobile ICU (Mobile ICU) by form including (1) The training of Nursing care for Emergency patients with critical (2)Specify team of Mobile ICU assignments(3) Indicator to use ambulance and nursing (4)Provided equipment and ambulance for 3 Mobile ICU, including Real Time Telemedicine for monitor (5)Transfer center (6) Define procedures for Transfer for 3 phases emergency patients were: 1)prepare transfer 2)Care of patients during transfer3)post-transfer, Mobile ICU was used for the transfer of emergency patients critical 450 cases. It was found quality care was 98.50% (before develop 92.5%) having experienced nurse team and trained the care of critical patients, care and transfer of the patients in the condition of stable and the most of safety not die during transfer. Individual and relative satisfied to the form was percentage of 97.14 when compared to different of mean scores knowledge and skill transfer before and after develop, was found that the mean scores of knowledge and skills after development were significantly higher than before development at .05 level suggestion is to develop guidelines for care of specific critical patients for better practices and good outcomes in the future
Downloads
Download data is not yet available.
References
Accident-Emergency Department Natal Hospital. (2016). Annual Report 2016. Ubon Ratchathani: Accident-Emergency.

Atherton, J. S. (2013). Learning and Teaching; Experiential Learning [On-line: UK] ;. [Retrieved September 3,2016]. Retrieved form http: //www.learningandteaching.info/learning /experience.htm .

Danudade Chamchuri. (2016). Role and Performance of emergency nurses in advancing into the ASEAN community. [Retrieved September 2 ,]. Retrieved form https://www.bcn.ac.th/web/2011/Attachment/.

ICU Hub Center Sunpasitthiprasong Hospital. (2016). Annual Report Outcome of referral for ICU Hub Center. Ubon Ratchathani : ICU Hub Center Sunpasitthiprasong Hospital.

Institute of Hospital Quality Certification (Public Organization). (2015). Hospital Standard & Health Services Royal Thai Chakri Dynasty 60th Anniversary Edition. Bangkok: Deonebook Company Limited.

Kemmis, S., & McTaggart, R. (1988). The action research planner. 3rd ed. Victoria, Australia: Deakin University Press.

Kemmis, S., McTaggart, R., & Retallick, J. (2004). The action research planner. 2nded. Revised. Aga Khan University, Institute for Educational Development, Karachi.

Nantiya Rattanasakul and Krittaya Dangsuwan. (2016). Development of Caring System for Patient with Life-threatening in Emergency Department, Naradhiwasrajanakrindra Hospital. Journal of Naradhiwasrajanakrindra University. 8(2): 2-15.

National Institute of Emergency Medicine. (2014). Emergency Operations for Interfaculty Emergency Patient Transfer. Bangkok : Alimate Printing Co., Ltd.

Sankar, M., Bailey, R., & Williams, B. (2005). Doing action research. Community Eco-nomic Development Action Research (CEDAR) Project . New Zealand : Department of Labour.

So, S.N., Ong, C.W., Wong, L.Y., Chung, J..M., & Graham, C.A. (2015). Is the Modified Early Warning Score able to enhance clinical observation to detect deteriorating patients earlier in an Accident at Emergency Department?. Australasian Emergency Nursing Journal, 18:24-32 .

Stetler, C.B. (2010) .Chapter 3: Stetler Model. In J. Rycroft-Malone & T. Bucknall (Eds.) Evidence-based Practice Series. Models and frameworks for implementing evidence-based practice: Linking evidence to action. Oxford: Wiley-Blackwell.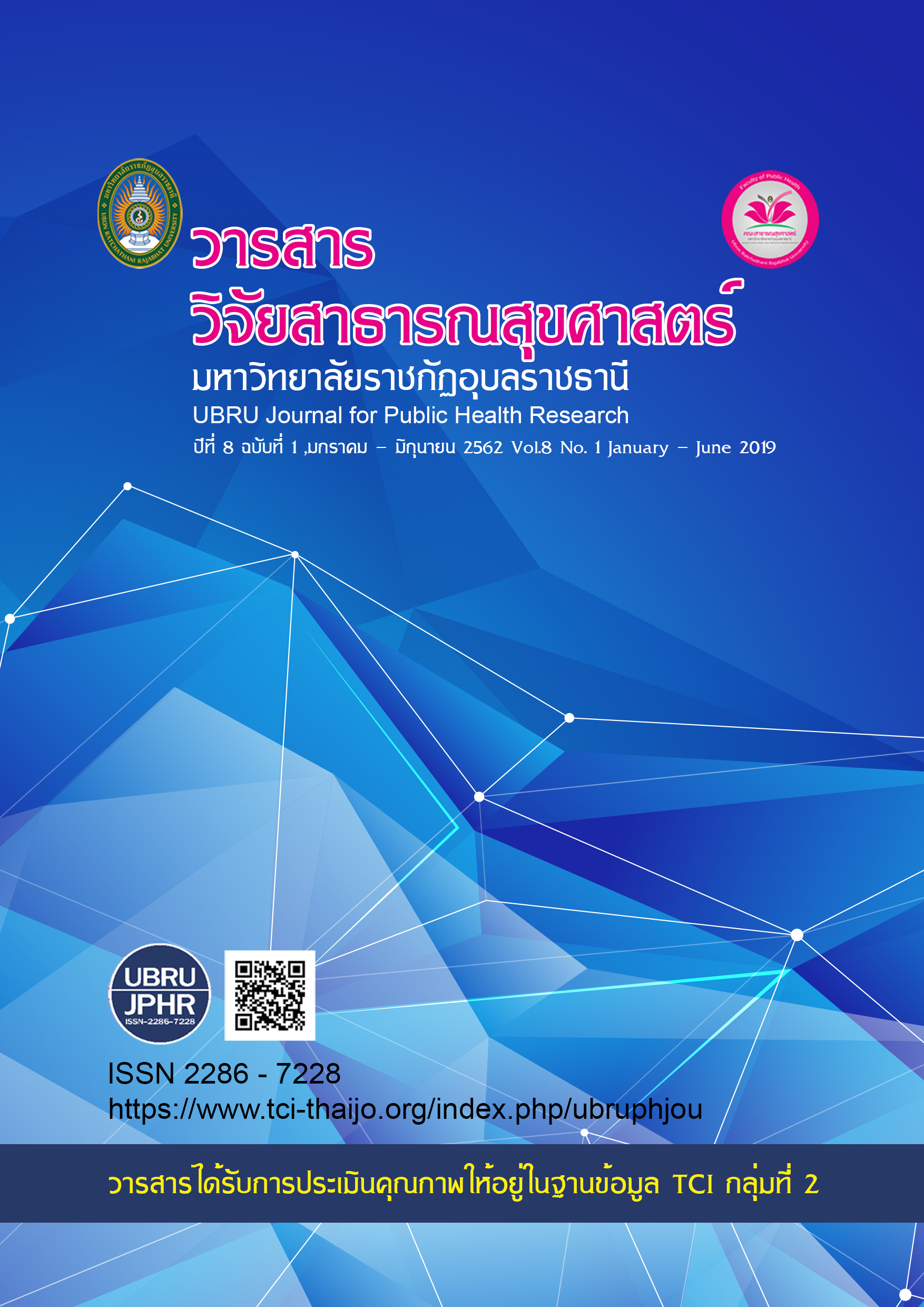 Downloads
How to Cite
Pitichokphokin, J., Amorasin, P., Sasaeng, S., & Chinnakatam, S. (2019). Development of the transfer emergency patients with Critical Model Natan Hospital in Natan District, Ubon Ratchathani Province. UBRU Journal for Public Health Research, 8(1), 110–122. Retrieved from https://he02.tci-thaijo.org/index.php/ubruphjou/article/view/211530
Section
ORIGINAL ARTICLES
License
เนื้อหาและข้อมูลในบทความที่ลงตีพิมพ์ในวารสารวารสารวิจัยสาธารณสุขศาสตร์ มหาวิทยาลัยราชภัฏอุบลราชธานี ถือเป็นข้อคิดเห็นและความรับผิดชอบของผู้เขียนบทความโดยตรงซึ่งกองบรรณาธิการวารสาร ไม่จำเป็นต้องเห็นด้วย หรือร่วมรับผิดชอบใดๆ
บทความ ข้อมูล เนื้อหา รูปภาพ ฯลฯ ที่ได้รับการตีพิมพ์ในวารสารนี้ ถือเป็นลิขสิทธิ์ของวารสารฯ หากบุคคลหรือหน่วยงานใดต้องการนำทั้งหมดหรือส่วนหนึ่งส่วนใดไปเผยแพร่ต่อหรือเพื่อกระทำการใดๆ จะต้องได้รับอนุญาตเป็นลายลักอักษรณ์จากบรรณาธิการวารสารนี้ก่อนเท่านั้น