Consumption behavior water bucket of people in Baan nom, Moo 1, Nom Sub-district, Atsamat District, Roi-Et Province
Arunra Puncha Glingasorn

Public health Program, Faculty of Liberal arts and Science, Roi Et Rajabhat University

Porntipa Panjarit

Public health Program, Faculty of Liberal arts and Science, Roi Et Rajabhat University

Petcharut Sirisuwan

Public health Program, Faculty of Liberal arts and Science, Roi Et Rajabhat University
Keywords:
consumption behavior, water bucket
Abstract
Thais prefer to use water bucket In formal language is Bottled water, Because of the convenience. According to the survey of drinking water sources of the Bureau of Food and Water Sanitation between 2013 and 2014 found The top 3 sources of drinking water in 2013 is Bottled water, water and rain water 31.88%, 23.56% and 17.43%, in 2014 found 30.79%, 20.75% and15.93%  (Ministry of Public Health,2016) . Most consumers believe that bottled water is a clean drinking water had Good quality compared to other sources.
Thailand has carried out a 20-liter tank between  2011 to 2013 found that not pass the benchmark 76.47 %, 72.64% and 78.1%. pass the benchmark 23.53 %, 27.36 % and 21.9%. Indicator not pass standard is Color, pH and bacteria (Bureau of Food and Water Sanitation,2015). Roi-Et province had 252 closed-water production plant. In 2015 Roi-Et had been Surveillance by collecting samples for analysis 90 sample. Found 53 samples were fallen(58.9%) the chemical fall criterion  was 12 samples and fell to 45 coliforms. (Roi Et Provincial Health Office,2016). Reports of the Bureau of Epidemiology report, in 2014, between January and March all over the country, diarrhea, dysentery, are caused by poor drinking water 253,967 case and 2 deaths. Compared to the same period in 2013. The number of patients with diarrhea in 2014 increased from 15% in 2013. (Ministry of Public Health,2015). Prevent such problems. The Ministry of Public Health has the policy to keep all Thai people safe drinking water. To reduce the illness of people from gastrointestinal diseases to see results Especially in the summer. Many areas lack water for drinking water. The government urged all provincial health offices to Surveillance  the quality of drinking water, Public relations gives people the knowledge to drink clean water. And assigned the Department of Health to Surveillance  and develop safety standards for drinking water supplies. To build confidence in the people.( Thai Health Promotion Foundation,2015)
Bann nom,Moo1,Nom sub-district,Atsamat district,Roi et province it was a very crowded community. The opportunity to keep the rainwater to drink is very little until no rainwater to drink. Because of the unfavorable environment, the house roof has dirt. Rust or rain gutter with dust and dirt. There are burning incinerators in the village, so people are convinced that the rain is not clean as before. The people's livelihoods have changed dramatically from the past: nowadays, the people have turned their attention to health, so they turn to drinking water in closed containers, because most people believe that drinking water. Clean, good quality, safe. Compared to drinking water from other sources and It is also comfortable to live. There are one of drinking water plants in the area, most of which are consumed regularly. For this reason, the researcher is interested to study the  Consumption Behavior water bucket of people in Bann Nom,Moo 1 ,Nom Sub-district,Roi Et Province. The results of this research will be used. In order to be a good way to educate and promote the right behavior of drinking water in tanks, the people are safe from the dangers of pathogens that may be contaminated with water. In order to bring safety to the body of consumers.
Downloads
Download data is not yet available.
References
Anurak Wuttikem and Prapan Tammawongsa. (2013) . Consumption behavior of bottled water of people in Kaemung district, Saraphi district, Chiang Mai province. Master of Business Administration Chai Mai University.

Arun jirawutkul. (2008). Biostatistics for Health Science Research. 3nd . khonkaen.

Best John W. (1977). Research in Education. 3 nd ed. Englewood Cliffs, N.J. : Prentice-Hall.

Bloom, B.S. (1971). Handbook on Formative and Summative of Student Learning. New York : Mc Graw Hill.

Bureau of Food and Water Sanitation. (2009). Questionnaire on network development and volunteer program on water quality in community and household. Retrieve 25 September,2014, Form http://webcache.googleusercontent.com/search?q=cache: buVoJJeYbTIJ:foodsan.anamai.moph.go.th/download/D_Water/ArSaSaMak.

Bureau of Food and Water Sanitation. (2013). Water quality in Thailand 2008-2013. Retrieve 10 September, 2014, From https://www.m-society.go.th/ewt_news.

Ministry of Public Health. (2016). Environmental Health Status of Thailand 2014. Technology Promotion Association (Thailand-Japan).

Nom Sub district Administration. Baan Nom Development Plan ,Moo 1. Roi et.

Phuvadol Timanee (2007). Consumption behavior of bottled water of people in Kaemung district, Saraphi district, Chiang Mai province. Master of Economics (M.Econ.) Chaimai University.

Prewara phunprommin and Kricit Sutamoung. (2014). THE EFFECT OF PACKAGING ON THE DECISION OF BUYING DRINKING WATER IN BANGKOK. Journal of Business Administration . 1(2).January – June 2014.

Roi Et Provincial Health Office. Annual Report of the Ministry of Public Health 2014. Roi Et.

Sasithorn Mungkung. (2008) . A study of drinking water consumption in Dusit district. Master of Economics (M.Econ.) University of the Thai Chamber of Commerce.

Somkti Chowwape. (2011). Factors Affecting Glass-Drinking Water Disappearance among Chiang Mai University Students: A Comparative Case Study of Glass-Drinking Water and Nestle Drinking Water. Master of Business Administration Chai Mai University.

Thai Health Promotion Foundation. (2015). "Thai patients drink water is not clean.". Retrieve 5 September, 2016, From http://www.thaihealth.or.th/Content/27904.html.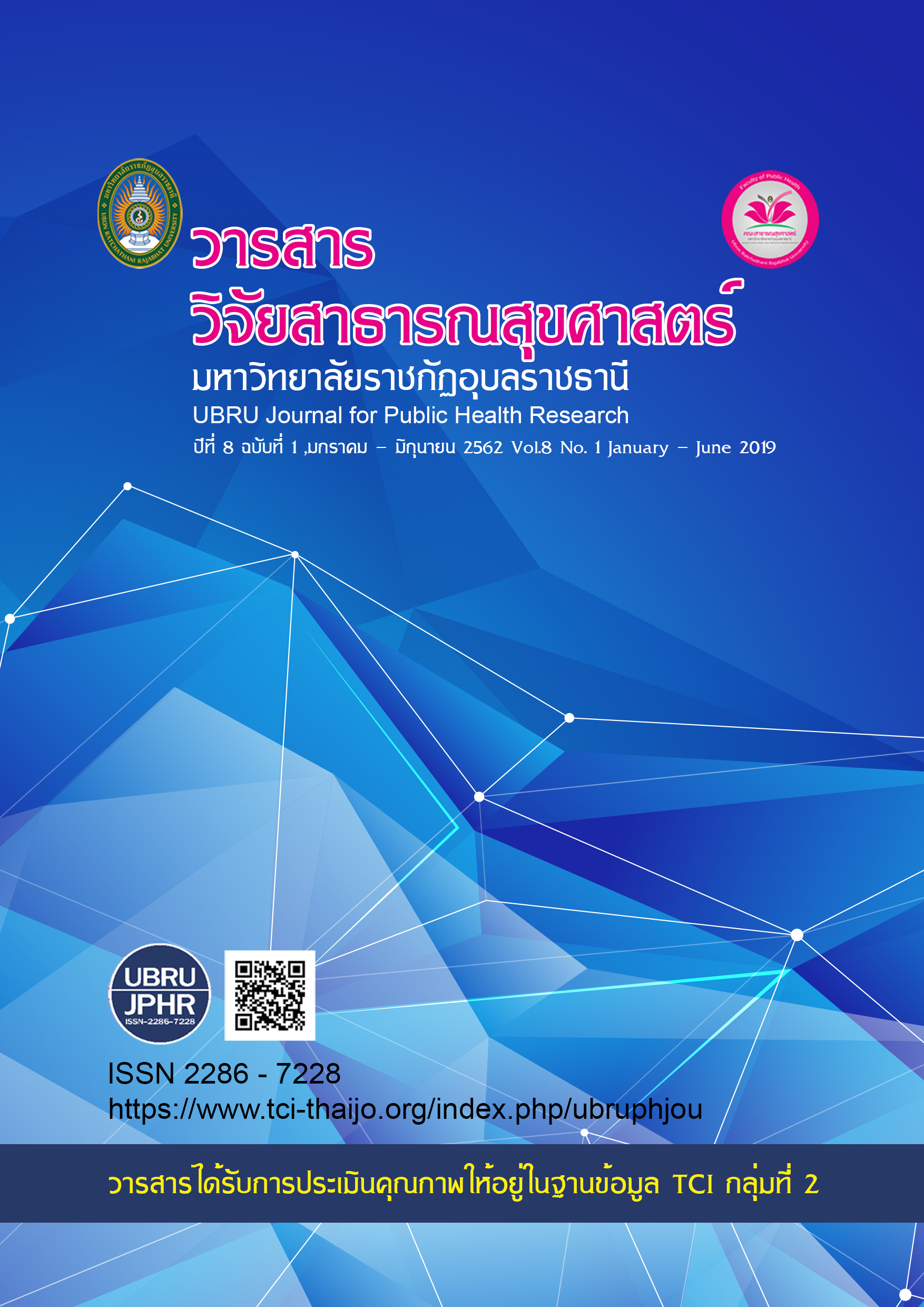 How to Cite
Glingasorn, A. P., Panjarit, P., & Sirisuwan, P. (2019). Consumption behavior water bucket of people in Baan nom, Moo 1, Nom Sub-district, Atsamat District, Roi-Et Province. UBRU Journal for Public Health Research, 8(1), 174-178. Retrieved from https://he02.tci-thaijo.org/index.php/ubruphjou/article/view/211537
Section
ORIGINAL ARTICLES
Copyright (c) 2019 คณะสาธารณสุขศาสตร์ มหาวิทยาลัยราชภัฏอุบลราชธานี
This work is licensed under a Creative Commons Attribution-NonCommercial-NoDerivatives 4.0 International License.
เนื้อหาและข้อมูลในบทความที่ลงตีพิมพ์ในวารสารวารสารวิจัยสาธารณสุขศาสตร์ มหาวิทยาลัยราชภัฏอุบลราชธานี ถือเป็นข้อคิดเห็นและความรับผิดชอบของผู้เขียนบทความโดยตรงซึ่งกองบรรณาธิการวารสาร ไม่จำเป็นต้องเห็นด้วย หรือร่วมรับผิดชอบใดๆ
บทความ ข้อมูล เนื้อหา รูปภาพ ฯลฯ ที่ได้รับการตีพิมพ์ในวารสารโรคผิวหนัง ถือเป็นลิขสิทธิ์ของวารสารฯ หากบุคคลหรือหน่วยงานใดต้องการนำทั้งหมดหรือส่วนหนึ่งส่วนใดไปเผยแพร่ต่อหรือเพื่อกระทำการใดๆ จะต้องได้รับอนุญาตเป็นลายลักอักษรณ์จากบรรณาธิการวารสารโรคผิวหนังก่อนเท่านั้น