The Effect of Rational Emotional Behavior Therapy Program for Control of Re-craving Heroin Use Disorder Patients in ThanyarakPattani Hospital
Keywords:
Rational Emotional Behavior Therapy, Craving, Heroin, Psycho-bio-social program
Abstract
The purpose of this quasi-experimental, two-groups pre-test and post-test study was to 1. Compare craving control inreturning to use heroin in heroin clients between before and after in one group receiving Rational Emotional Behavior Therapy Counseling program (REBT-Counseling) and in the other group receiving conventional program (psychobiosocial therapy)2. Compare craving control in returning to use heroin between the REBT-Counseling group and conventional program group. All clients were getting methadone treatment more than one month and being on OPD rehabilitation program in Thanyarak Pattani Hospital between March 1st and May 31th 2014. The sample comprised 24 persons with heroin dependence who sought treatment at the psychiatric clinic and met the selection criteria. The research used purposive sampling method. Data consists of two parts. The first part is for collecting for general information: sex, age, marital status, home town, education, occupation, income, narcotic history. The socond part is for craving questions. Data were analysed using frequency distribution, percentage, median, minimum and maximum. Comparison of re-craving control used T-Test statisties using T- Test. After REBT-Counseling,heroin clients had significantly less craving than before (p=0.001), also after conventional program heroin clients had significatly less craving than before (p=0.001) REBT-Counseling group had significantly less craving than the conventional group (p<0.001) Compare before and after counseling both REBT-Counseling, and conventional program can help heroin client to reduce craving significantly than before participition to the program. Also REBT-Counseling can reduce craving significantly than the conventional program group.
Downloads
Download data is not yet available.
References
Number and percentage of drug users, fiscal year 2010-2012 [Intrenet]. Pathumthani: Princess Mother National Institute on Drug Abuse Treatment; 2011 [cited 2011 Sep 28].
Available from: http://www.thanyarak.go.th/thai/index. php?option=com_content&task=category&sectionid= 2&id=9&Itemid=53.
Thanyarak Pattani Hospital. Thanyarak Pattani Hospital Medical Record; 2012.
Phattharakorn U. Opioids. In: Wirachai V, Panjabut C, Kimsoongnern N, Lakkhanaphichat L, Phattharakorn U, editors. Textbook of addiction medicine. Bangkok: The War Veterans Organization of Thailand under Royal Patronage of His Majesty the King; 2005. p. 316-338.
Saengchanchai P. Principles of assessment and access to substance abuse patients and interviews and Treatment for motivation. In: Saengchanchai P, Nettrakam P, Hiranwiwatkul N, editors. Textbook of addictionpsychiatry. Bangkok: ONCB; 2006. p. 77-163.
Hanphattanachaikun K. Recurrent drug and substance abuse in patients admitted to Thanyarak Institute and the Regional Drug Dependence Center in 4 regions. Research Report Khon Kaen Drug Dependence Treatment Center: Khon Kaen; 2007.
Thanyarak Institute. Textbook treatment for drug addicts; 2003.
Bevan, The effect of mindfulness training on drug craving is moderated by level of negative effect. A doctoral project in clinical psychology, Marywood University; 2010.
Wannakam R. The Effect of Mindfulness Meditation Practice Group by Hand Movement on Drug Desire of Addicts Patients in Thanyarak Hospital, Pattani. [Thesis]. Songkhla: Prince of Songkla University; 2014.
Suprida B. The effect of group counseling according to the actual consideration concept on Self-esteem and mental health care behaviors of amphetamine addicts. Chiang Mai University, Chiang Mai; 2003.
ChongRak M. Theory Basic counseling and psychotherapy. Bangkok: Technology Promotion Association (ThailandJapan); 2006.
Ohsen Group counseling. New York: Hoit, Rinebart and Winston; 1988.
Ellis A. Reason and emotion in psychotherapy: Revised and updated. New York: Birch Lane Press; 1994.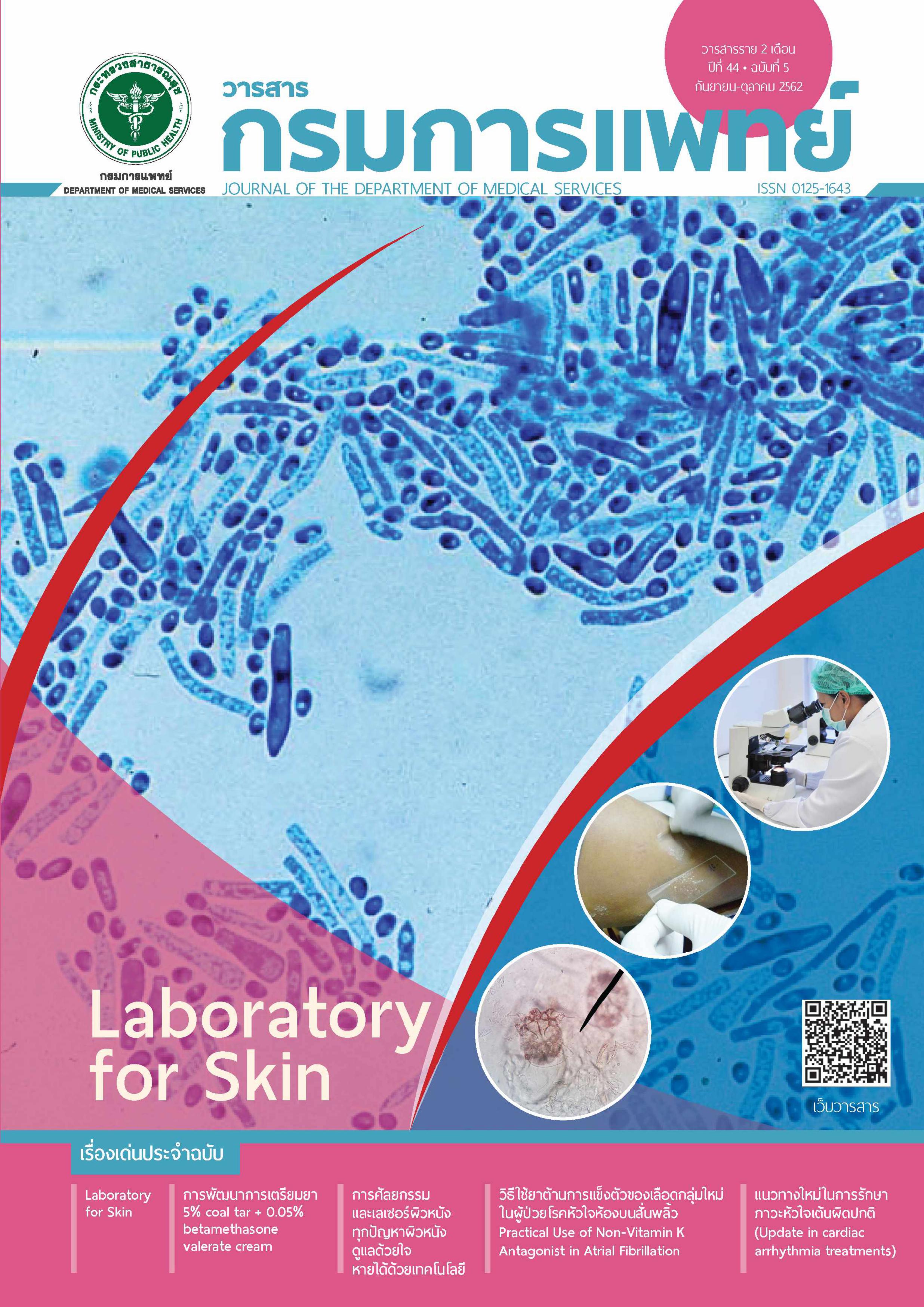 Downloads
How to Cite
1.
Moonjuntee T, Waejuna A, Chaiyakul N. The Effect of Rational Emotional Behavior Therapy Program for Control of Re-craving Heroin Use Disorder Patients in ThanyarakPattani Hospital. j dept med ser [Internet]. 2019 Oct. 1 [cited 2022 Sep. 28];44(5):145-9. Available from: https://he02.tci-thaijo.org/index.php/JDMS/article/view/246667
License
บทความที่ได้รับการตีพิมพ์เป็นลิขสิทธิ์ของกรมการแพทย์ กระทรวงสาธารณสุข
ข้อความและข้อคิดเห็นต่างๆ เป็นของผู้เขียนบทความ ไม่ใช่ความเห็นของกองบรรณาธิการหรือของวารสารกรมการแพทย์