Achalasia
Abstract
คำว่า Achalasia ได้รับอิทธิพลจากภาษากรีก แปลว่า ไม่ยืดหยุ่น หรือ ไม่คลายตัว คำนิยามของโรค Achalasia คือ ภาวะที่หูรูดส่วนล่างของหลอดอาหารไม่สามารถคลายตัวได้ในขณะที่ไม่มี Peristalsis โดยทั่วไปผู้ป่วยส่วนใหญ่ของ Achalasia มักได้รับการรักษาเหมือนภาวะกรดไหลย้อนด้วยยาลดกรด 6-8 สัปดาห์ หลังจากนั้นถ้าอาการไม่ดีขึ้น หรือ ถ้ามีอาการกลืนลำบากที่สงสัยพยาธิสภาพที่หลอดอาหารตั้งแต่แรก จะได้รับการส่องกล้องหลอดอาหาร กระเพาะอาหาร และลำไส้เล็กส่วนต้น (Esophagogastroduodenoscopy) เพื่อหาการอุดตัน หรือรอยโรคจากการอักเสบ เมื่อไม่พบภาวะดังกล่าว ยิ่งเพิ่มความน่าจะเป็นของโรค Achalasia ยิ่งโดยเฉพาะในผู้ป่วยที่มีประวัติกลืนลำบากของเหลวร่วมด้วยแต่ต้น ในปัจจุบันการวินิจฉัยหลัก คือ High resolution esophageal manometry
Downloads
Download data is not yet available.
References
Farrukh A, De Caestecker J, Mayberry JF. An epidemiological study of achalasia among the South Asian population of Leicester, 1986-2005. Dysphagia 2008; 23: 161-4.
Birgisson S, Richter JE. Achalasia in Iceland, 1952-2002: an epidemiologic study. Dig Dis Sci 2007; 52: 1855-60.
Sadowski DC, Ackah F, Jiang B, Svenson LW. Achalasia: incidence, prevalence and survival: a population-based study. Neurogastroenterol Motil 2010; 22: e256-e61.
Enestvedt BK, Williams JL, Sonnenberg A. Epidemiology and practice patterns of achalasia in a large multi-centre database. Aliment Pharmacol Ther 2011; 33: 1209-14.
Johnston BT, Colcher A, Li Q, Gideon RM, Castell JA, Castell DO. Repetitive proximal esophageal contractions: a new manometric finding and a possible further link between Parkinson's disease and achalasia. Dysphagia 2001; 16: 186-9.
Zárate N, Mearin F, Gil-Vernet JM, Camarasa F, Malagelada JR. Achalasia and Down's syndrome: coincidental association or something else? Am J Gastroenterol 1999; 94: 1674-7.
Jung KW, Yoon IJ, Kim H, Chung JW, Choi KS, Choi KD, et al. Genetic evaluation of ALADIN gene in early-onset achalasia and alacrima patients. J Neurogastroenterol Motil 2011; 17: 169-73.
Goldblum JR, Whyte RI, Orringer MB, Appelman HD.
Achalasia: a morphologic study of 42 resected specimens. Am J Surg Pathol 1994; 18: 327-37
Boeckxstaens GE. Achalasia: virus-induced euthanasiaof neurons? Am J Gastroenterol 2008; 103: 1610-2.
Booy JD, Takata J, Tomlinson G, Urbach DR. The prevalence of autoimmune disease in patients with esophageal achalasia. Dis Esophagus 2012; 25: 209-13.
Kraichely RE, Farrugia G, Pittock SJ, Castell DO, Lennon VA. Neural autoantibody profile of primary achalasia. Dig Dis Sci 2010; 55: 307-11.
De Oliveira RB, Rezende Filho J, Dantas RO, Iazigi N. The spectrum of esophageal motor disorders in Chagas' disease. Am J Gastroenterol 1995; 90: 1119-24.
Tsuboi K, Hoshino M, Srinivasan A, Yano F, Hinder RA, Demeester TR, et al. Insights gained from symptom evaluation of esophageal motility disorders: a review of 4,215 patients. Digestion 2012; 85: 236-42.
Sinan H, Tatum RP, Soares RV, Martin AV, Pellegrini CA, Oelschlager BK. Prevalence of respiratory symptoms in patients with achalasia. Dis Esophagus 2011; 24: 224-8.
Ng KY, Li KF, Lok KH, Lai L, Ng CH, Li KK, et al. Ten-year review of epidemiology, clinical features, and treatment outcome of achalasia in a regional hospital in Hong Kong. Hong Kong Med J 2010; 16: 362-6.
Gupta M, Ghoshal UC, Jindal S, Misra A, Nath A, Saraswat VA. Respiratory dysfunction is common patients with achalasia and improves after pneumatic dilation. Dig Dis Sci 2014; 59: 744-52.
Schechter RB, Lemme EMO, Novais P, Biccas B. Achalasia in the elderly patient: a comparative study. Arq Gastroenterol 2011; 48: 19-23.
RakitaSS, Villadolid D, Kalipersad C, Thometz D, Rosemurgy A. BMI affects presenting symptoms of achalasia and outcome after Heller myotomy. Surg Endosc 2007; 21: 258-64.
Mikaeli J, Farrokhi F, Bishehsari F, Mahdavinia M, Malekzadeh R. Gender effect on clinical features of achalasia: a prospective study. BMC Gastroenterol 2006; 6: 12. doi: 10.1186/1471-230X-6-12
Lee BH, Shim KY, Hong SJ, Bok GH, Cho JH, Lee TH, et al. Peroral endoscopic myotomy for treatment of achalasia: Initial results of a Korean Study. Clin Endosc 2013; 46: 161–7.
Gore RM, Levine MS. High Yield Imaging Gastrointestinal E-Book (HIGH YIELD in Radiology. 1st ed, WB Saunders, St. Louise, 2010.
Fox M, Hebbard G, Janiak P, Brasseur JG, Ghosh S, Thumshirn M, et al. High-resolution manometry predicts the success of oesophageal bolus transport and identifies clinically important abnormalities not detected by conventional manometry. Neurogastroenterol Motil 2004; 16: 533-42.
Pandolfino JE, Kahrilas PJ: American Gastroenterological Association. American Gastroenterological Association medical position statement: Clinical use of esophageal manometry. Gastroenterol 2005; 128: 207-8.
Pasricha PJ, Rai R, Ravich WJ, Hendrix TR, Kalloo AN. Botulinum toxin for achalasia: long-term outcome and predictors of response. Gastroenterol 1996; 110: 1410-5.
Boeckxstaens GE, Annese V, desVarannes SB, Chaussade S, Costantini M, Cuttitta A, et al. Pneumatic dilation versus laparoscopic Heller's myotomy for idiopathic achalasia. N Engl J Med 2011; 364: 1807-16.
Kostic S, Johnsson E, Kjellin A, Ruth M, Lönroth H, Andersson M, et al. Health economic evaluation of therapeutic strategies in patients with idiopathic achalasia: results of a randomized trial comparing pneumatic dilatation with laparoscopic cardiomyotomy. Surg Endosc 2007; 21: 1184-9.
Novais PA, Lemme EMO. 24-h pH monitoring patterns and clinical response after achalasia treatment with pneumatic dilation or laparoscopic Heller myotomy. Aliment Pharmacol Ther 2010; 32: 1257-65.
Gelfond M, Rozen P, Gilat T. Isosorbide dinitrate and nifedipine treatment of achalasia: a clinical, manometric and radionuclide evaluation. Gastroenterol 1982; 83: 963-9.
Bortolotti M, Mari C, Lopilato C, Porrazzo G, Miglioli M. Effects of sildenafil on esophageal motility of patients with idiopathic achalasia. Gastroenterology 2000; 118:253-57.
Annese V, Bassotti G, Coccia G. GISMAD Achalasia Study Group. A multicentre randomised study of intrasphincteric botulinum toxin in patients with oesophageal achalasia. Gut 2000; 46:597-600.
Vaezi MF, Richter JE, Wilcox CM. Botulinum toxin versus pneumatic dilatation in the treatment of achalasia: a randomised trial. Gut 1999;44:231-9.
Zaninotto G, Annese V, Costantini M. Randomized controlled trial of botulinum toxin versus laparoscopic heller myotomy for esophageal achalasia. Ann Surg 2004; 239:364-70.
Smith CD, Stival A, Howell DL, Swafford V. Endoscopic therapy for achalasia before Heller myotomy results in worse outcomes than Heller myotomy alone. Ann Surg 2006; 243:579-84.
Lynch KL, Pandolfino JE, Howden CW, Kahrilas PJ. Major complications of pneumatic dilation and Heller myotomy for achalasia: single-center experience and systematic review of the literature. Am J Gastroenterol 2012;107:1817-25.
Campos GM, Vittinghoff E, Rabl C. Endoscopic and surgical treatments for achalasia: a systematic review and meta-analysis. Ann Surg 2009; 249:45-57.
Inoue H, Minami H, Kobayashi Y.Peroral endoscopic myotomy (POEM) for esophageal achalasia. Endoscopy 2010; 42:265-71.
Inoue H, Kudo S-E. Per-oralendoscopic myotomy (POEM) for 43 consecutive cases of esophageal achalasia [in Japanese]. Nihon Rinsho 2010; 68:1749-52.
Matthew JR, Wigle DA, Gostout CJ, Wong Kee Song LM, Blackmon SH. A novel strategy to initiate a peroral endoscopic myotomy program. European Journal of Cardio-Thoracic Surgery 2017; 52: 686–91.
Swanström LL, Rieder E, Dunst CM. A stepwise approach and early clinical experience in peroral endoscopic myotomy for the treatment of achalasia and esophageal motility disorders. J Am Coll Surg 2011; 213:751-6.
Von Renteln D, Inoue H, Minami H. Peroral endoscopic myotomy for the treatment of achalasia: a prospective single center study. Am J Gastroenterol 2012; 107:411-7.
Rohof WO, Salvador R, Annese V. Outcomes of treatment for achalasia depend on manometric subtype.
Gastroenterology 2013; 144 :718-25.
Vaezi MF, Pandolfino JE, Vela MF. ACG clinical guideline: diagnosis and management of achalasia. Am J Gastroenterol 2013;108:1238-49.
Leeuwenburgh I, Scholten P, Alderliesten J. Long-term esophageal cancer risk in patients with primary achalasia: a prospective study. Am J Gastroenterol 2010; 105:2144-9.
Ravi K, Geno DM, Katzka DA. Esophageal cancer screening in achalasia: is there a consensus? [published online March 6, 2014]. Dis Esophagus. doi:10.1111/dote.12196.
Zaninotto G, Costantini M, Rizzetto C. Four hundred laparoscopicmyotomies for esophageal achalasia: a single centre experience. Ann Surg 2008; 248:986-93.
Bonatti H, Hinder RA, Klocker J. Long-term results of laparoscopic Hellermyotomy with partial fundoplication for the treatment of achalasia. Am J Surg 2005; 190:874-8.
Zaninotto G, Portale G, Costantini M. Long-term results (6-10 years) of laparoscopic fundoplication. J Gastrointest Surg 2007; 11:1138- 45.
Costantini M, Zaninotto G, Guirroli E. The laparoscopic Heller-Dor operation remains an effective treatment for esophageal achalasia at a minimum 6-year follow-up. Surg Endosc 2005; 19:345-51.
Eckardt VF, Hoischen T, Bernhard G. Life expectancy, complications, and causes of death in patients with achalasia: results of a 33-year follow-up investigation. Eur J Gastroenterol Hepatol 2008; 20:956-60.
Persson J, Johnsson E, Kostic S, Lundell L, Smedh U. Treatment of achalasia with laparoscopic myotomy or pneumatic dilatation: long-term results of a prospective, randomized study. World J Surg 2015; 39: 713-20.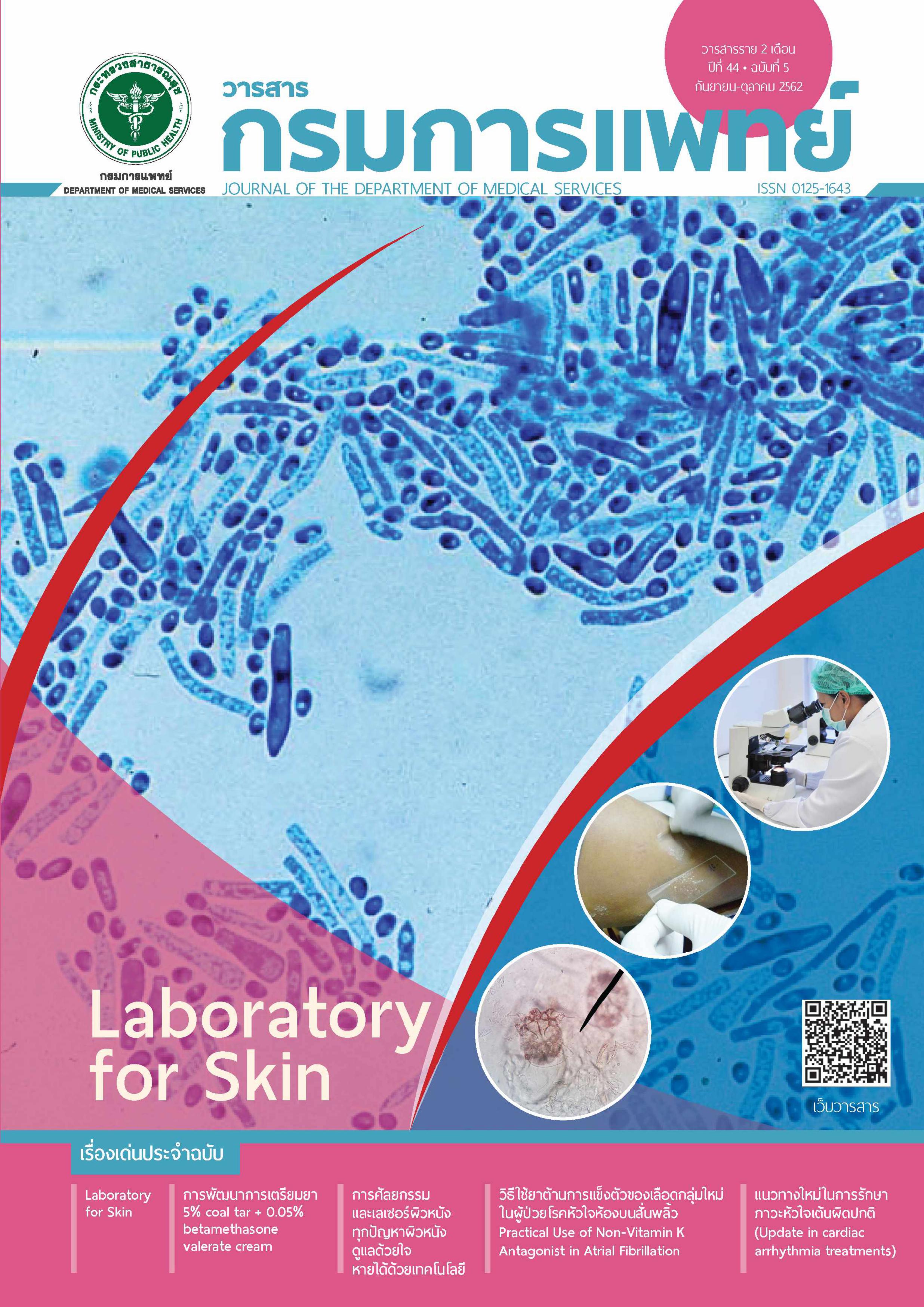 Downloads
How to Cite
1.
Sanglutong L, Insiripong S, Chumsungnern T. Achalasia . j dept med ser [Internet]. 2019 Oct. 1 [cited 2022 Oct. 7];44(5):182-8. Available from: https://he02.tci-thaijo.org/index.php/JDMS/article/view/246674
License
บทความที่ได้รับการตีพิมพ์เป็นลิขสิทธิ์ของกรมการแพทย์ กระทรวงสาธารณสุข
ข้อความและข้อคิดเห็นต่างๆ เป็นของผู้เขียนบทความ ไม่ใช่ความเห็นของกองบรรณาธิการหรือของวารสารกรมการแพทย์