The Study of Postoperative Bleeding in Dental Osteotomy with Continued Aspirin Therapy
Keywords:
Aspirin, Oral surgery, Postoperation bleeding
Abstract
The retrospective study was made in Lerdsin hospital by collecting data of 46 patients who regulary took antiplatelet drugs and came to the dental department for dental osteotomy during 2012 to 2016. The purpose is whether prolonged bleeding would be seen among them. Are there any difference between ages, sex, location of surgical area and dosage of drug? The result showed 2 percent of whole samples revealed prolonged bleeding. No any difference neither variations.
Downloads
Download data is not yet available.
References
Sibon I, Orgogozo JM. Antiplatelet drug discontinuation is a risk factor for ischemic stroke.NEUROLOGY 2004; 62:1187-9.
หลักเกณฑ์และหลักฐานเชิงประจักษ์ ในการพัฒนาบัญชียาหลักแห่งชาติ พ.ศ. 2551. บทที่ 4 Antiplatelet drugs. หน้า 1-20.
Oral HealthTopics.Anticoagulant and Antiplatelet. Medications and Dental Procedures. Center for Science Information, ADAScience Institute. October 22, 2015
Brennan Mt, Wynn R, Miller C. Aspirin and bleeding in dentistry: An update and recommendations. Oral Surg Oral Med Oral Pathal Oral Radiol Endod 2007; 104:316-23.
Vasudeva P, Goel A, Sengottayan V, Sankhwar S, Dalela D. Antiplatelet drugs and the perioperative period : What every urologist needs to know. Indian J Urol 2009; 25:296-30110.
HanKen H, Tieck F, Kluwe L, Smeets R, Heiland M, Precht C, et al. Lack of evidence for increased postoperative bleeding risk for dental ostectomy with continued aspirin theraphy. Oral Surg Oral Med Oral Pathol Oral Radiol 2015; 119:17-19.
Bajkin BV, Urosevic IM, Stankov KM, Petrovic BB, Bajkin IA. Dental extractions and risk of bleeding in patients and risk of bleeding in patients taking single and dual antiplatelet treatment. Br J Oral Maxillofac Surg 2015; 53:39-43.
Madan GA, Madan SG, Madan G, Madan AD. Minor oral surgery without stopping daily law-dose aspirin theraphy: a study of 51 patients. J oral Maxillofac Surg 2005; 63:1262-5.
Lockhart PB, Gibson J, Pond SH, Leitch J. Dentle management considerations for the patient with an acquired coagulopathy. Part 1: coagulopathies from systemic disease. Br Dent J 2003; 195:439-45.
Dental Surgery In Patients Using Antiplatelet Medication and Oral Anticoagulants. North West Medicines Information Centre, March 2004; 1-4.
Krisbnan B, Shenoy NA, Alexander M. Exodontia and Antiplatelet therapy. J Oral Maxillofac Surg 2008; 66: 2063-6.
"TIA (ภาวะสมองขาดเลือดชั่วคราว)".2559 (ระบบออนไลน์). แหล่งที่มา : URL ; https://www.pobpad.com/tia
Maulaz AB. Bezerra DC, Michel P, Bogousslavsky J. Effect of discontinuing aspirin therapy on the risd of brain ischemix stroke. Arch Intern Med 2005; 62:1217-20.
Management of Dental Patients Taking Anticoagulants or Antiplatelet Drugs. Dental Clinical Guidance Scottish Dental Clinical Effectiveness Programme Dundee Dental Education Centre, Frankland building, Small's Wynd, Dundee, August 2015
Pototski M, Amenabar JM. Dental management of patients receiving anticoagulation or antiplatelet treatment. J Oral Science 2007; 49: 253-8.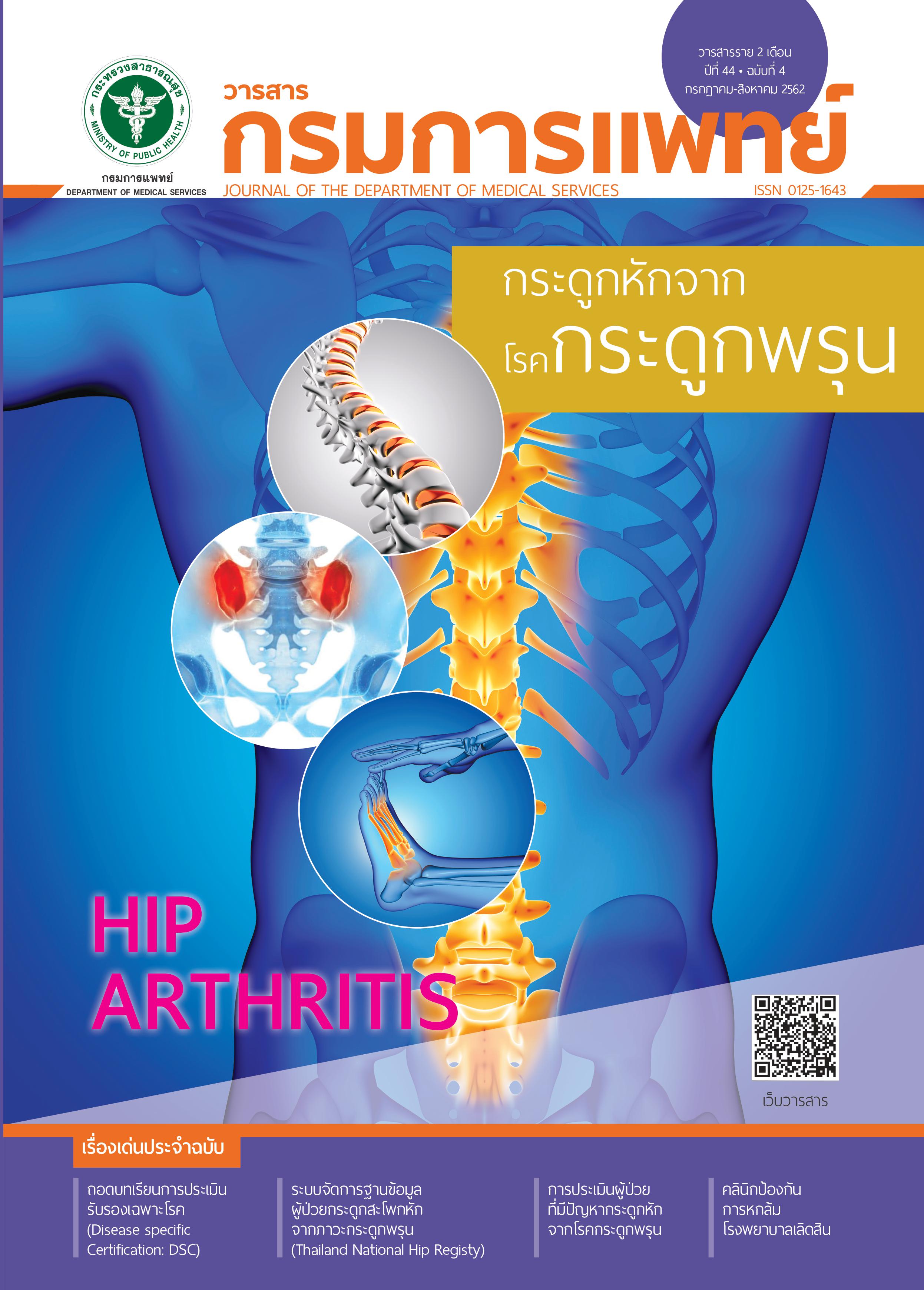 Downloads
How to Cite
1.
ดนัย แก้วกำเนิด ท.บ. The Study of Postoperative Bleeding in Dental Osteotomy with Continued Aspirin Therapy. j dept med ser [Internet]. 2019 Aug. 1 [cited 2022 Aug. 19];44(4):80-3. Available from: https://he02.tci-thaijo.org/index.php/JDMS/article/view/246693
License
บทความที่ได้รับการตีพิมพ์เป็นลิขสิทธิ์ของกรมการแพทย์ กระทรวงสาธารณสุข
ข้อความและข้อคิดเห็นต่างๆ เป็นของผู้เขียนบทความ ไม่ใช่ความเห็นของกองบรรณาธิการหรือของวารสารกรมการแพทย์