Effects of the Self-Efficacy Enhancement Program on Fall Prevention among the Elderly in Autong District, Suphanburi Province.
Keywords:
Self-efficacy, Fall prevention, Elderly
Abstract
This Quasi-Experimental research aimed to study the effects of self-efficacy enhancement program on the prevention of falls among elderly. The samples of 57 were divided into 2 groups; an experimental group of 28 samples and a comparison group of 29 samples. The effects were evaluated before and after trial. The experimental group received the program created by applying self-efficacy theory. Activities in the program included lectures, group activities, demonstration, practice, and learning from the models conducted 7 weeks. Data was collected using questionnaires. General data was analyzed using descriptive statistics including frequency, percentage, mean, and standard deviation while Paired Sample t-test and Independent t-test were used for a comparison at a statistical significance level of 0.05. After trial, the experimental group had an average score of self-efficacy, outcome expectation and prevention of fall higher than before trial and the comparison group significantly (p <0.001).
Downloads
Download data is not yet available.
References
National Statistical Office Ministry of Information and Communication Technology. The 2014 Survey of the older persons in Thailand. Bangkok : Text and Journal Publication Co., Ltd ; 2014.
Sarapun A, Sirisopon N, Kainaka P, Onsiri S, Outayanik B, Threrawachjarenchai S, et al. Factors Ralated to a Fall Prevention Behaviors of Elderly. Journal of The Royal Thai Army Nurses. 2017; 18 : 215-22.
World Health Organization (WHO). WHO Global Report on Falls Prevention in Older Age. Geneva: (n.p.). 2007.
Foundation of Thai Gerontology Research and Development institute. Guideline to preventing falls in the elderly. Bangkok : Foundation of Thai Gerontology Research and Development institute; 2013.
Thongcharoen V, editore. Science and Arts, Nursing of the Elderly. 2th ed. Bangkok : Faculty of Nursing Mahidol University; 2015.
Wayo W, Jitramontree N, Wirojratana V. The Effect of Multifactorial Fall Prevention Program on Fall Prevention Behavior among Community - Dwelling Older Adults. Journal of Nursing and Health Care. 2017; 35 : 26-33.
Wongsawang N, Jeenkhowkhum D, Boonsiri C, Melarplont S, Somboonsit J, Khamthana P, et al. Home Environmental Risks for Falls and Indecent of Falls in Older Adults. Veridian E–Journal, Silpakorn University. 2017; 10 : 2492-60.
Khanork Si. Effectiveness of Multifactorial Intervention for Preventing Falls Programme in Elderly Visiting Aging Clinic. (master's thesis). Gerontological Nursing, Graduate School. Khon Kaen University; 2010.
Herwaldt LA, Pottinger JM. Preventing falls in the elderly. The American Geriatrics Society. 2003; 8 : 1175-77.
Bandura A. Self-efficacy: The exercise of control. New York: W.H. Freeman and company; 1997.
Tansakul S. Behavioral theory Guidelines for operation in health education and health promotion work. Journal of Health Education. 2007; 30 : 1-15.
Daniel, W.W. Biostatistics A foundation for analysis in the health sciences. New York: Wiley & Sons; 1995.
Areerak WA. Effects of a fall Preventive Behavior Promotion Program on Perceived Self-Efficacy, Outcome Expectation in Performance and Fall Preventive Behavior Among Community-Dwelling Older Adults at Risk of Falling. (master's thesis). Gerontological Nursing, Faculty of Nursing. Mueang Chon Buri : Burapha University; 2011.
Wimolphan P, Pitchalard K. Effect of a Fall Prevention Program on Falls among Elderly People. Nursing Journal of the Ministry of Public Health. 2014; 23 : 98-109.
Tasuwanin T, Tappakit K. Effects of a Falling Prevention Program for Elderly. Journal of Nursing and Health Care. 2017; 35 : 186-95.
Kijpreedarborisuthi B. Techniques for creating data collection tools for research. 7th ed. Bangkok : Si Anan Printing Co., Ltd ; 2010.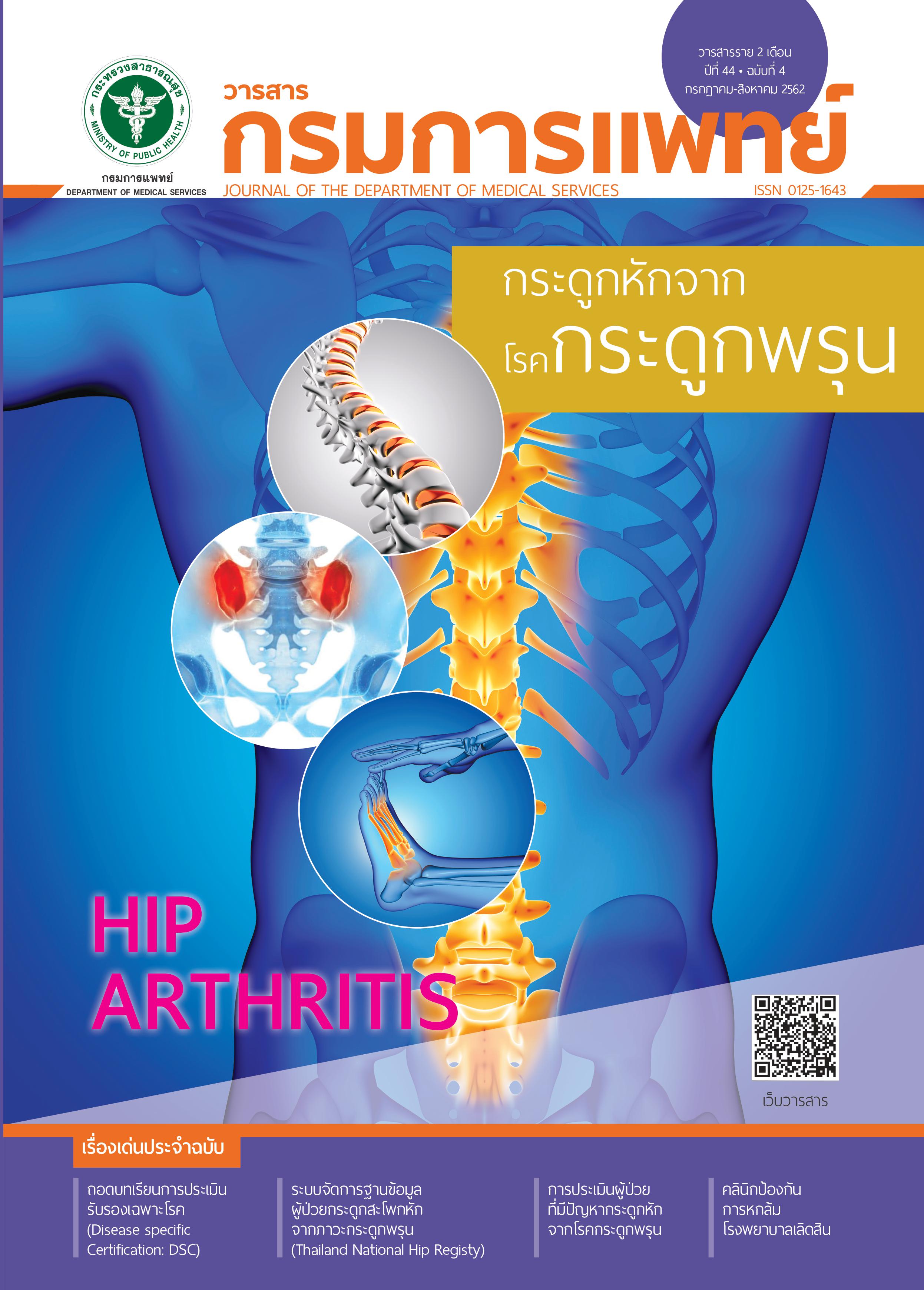 Downloads
How to Cite
1.
ธนพงษ์ เทศนิยม, นิภา มหารัชพงษ์ ปร.ด., บุญธรรม กิจปรีดาบริสุทธิ์ ปร.ด., ศศิธร สกุลกิม ศศ.ม. Effects of the Self-Efficacy Enhancement Program on Fall Prevention among the Elderly in Autong District, Suphanburi Province. j dept med ser [Internet]. 2019 Aug. 1 [cited 2022 Aug. 19];44(4):90-5. Available from: https://he02.tci-thaijo.org/index.php/JDMS/article/view/246706
License
บทความที่ได้รับการตีพิมพ์เป็นลิขสิทธิ์ของกรมการแพทย์ กระทรวงสาธารณสุข
ข้อความและข้อคิดเห็นต่างๆ เป็นของผู้เขียนบทความ ไม่ใช่ความเห็นของกองบรรณาธิการหรือของวารสารกรมการแพทย์