Effect of Guidelines of Quality and Safety at Epilepsy Monitoring Unit in Prasat Neurological Institute
Keywords:
Guidelines, Quality and safety, Epilepsy, Epilepsy monitoring unit
Abstract
This research study aimed to: 1) develop guidelines of quality and safety at Epilepsy Monitoring Unit. 2)evaluate knowledge and the satisfaction in the use of guidelines of quality and safety in Epilepsy Monitoring Unit. Using the framework the model PDCA 4 steps 1) Planning 2) Do 3) Check and 4) Act. Targets: 46 registered nurses who have willing to sample and have experience working with epilepsy patients for more than one year were selected criteria for this study at Prasat Neurological Institute. Methods tools used in this study were 1) a report on the risk / adverse event of quality and safety in Epilepsy Monitoring Unit, 2) interviewing nurses 3) the assessment guidelines of quality and safety in Epilepsy Monitoring Unit and collect data to measure knowledge, evaluation of the practice and questionnaires used to assess satisfaction which were all the tools to examine by content validity index and reliability. Data was analyzed by content analysis, frequency, percentage, mean, standard deviation and paired t-test. The results showed that 1) nurses got post learning score higher than pre learning significant p<0.05. 2) all most of nurses using practice guidelines quality and safety100% 3) The nurses have satisfaction in guidelines quality and safety model and have willing to take action to overall high level (

= 4.48,SD.= 0.59)
Downloads
Download data is not yet available.
References
Lowcharoenkul, C. Seizure and Epilepsy. In Internal Medicine. 4th ed. Bangkok: Chulalongkorn University; 2011 (in Thai)
Pati S, Kumaraswamy VM, Deep A, Chung SS, Plueger M, Kiyota G, et al. Characteristics of falls in the epilepsy monitoring unit: a retrospective study. Epilepsy & Behavior 2013; 29:1-3.
Shafer PO, Buelow J, Ficker DM, Pugh MJ, Kanner AM, Dean P, et al. Risk of adverse events on epilepsy monitoring units: a survey of epilepsy professionals. Epilepsy & Behavior 2011; 20: 502-5.
Craciun L, Alving J, Gardella E, Terney D, Meritam P, Cacic Hribljan M, et al. Do patients need to stay in bed all day in the Epilepsy Monitoring Unit? Safety data from a non-restrictive setting Seizure 2017; 49:13-16. doi: 10.1016/j.seizure.2017.05.006. Epub 2017
Spanaki MV, McCloskey C, Remedio V, Budzyn D, Guanio J, Monrae T, et al. Developing a culture of safety in the epilepsy monitoring unit: a retrospective study of safety. Epilepsy Behav 2012; 25: 185-8.
Sauro KM, Wiebe N, Macrodimitris S. Wiebe S, Lukmanji S, Jette N. Quality and safety in adult epilepsy monitoring units: A systematic review and meta-analysis. Epilepsia 2016; 57:1754-70.
Chaleoykitti S, Kamprow P, Promdet S. Patient Safety and Quality of Nursing Service. Journal of The Royal Thai Army Nurses 2014; 15: 66-70.
Jormsri P, Klunklin A, Tunmukayakul O, Srisuphan W. Perception of Nursing Principles among Nurses in Thailand. 2010; 25: 27-36.
Noppornprom C. Quality and Safety research report in the epilepsy diagnostic unit Institute of Neurological. Bangkok: Institute of Nrurological; 2016.
Atkinson M, Hari K, Schaefer K, Shah A. Improving safety outcomes in the epilepsy monitoring unit. Seizure 2012; 21: 124-7.
Naneporm W. Effects of paticipative problem-solving among nurses on preventive practices of ventilators-associated pneumonia in neonatal intensive care units. Chaingmai: Chaingmai University; 2001.
Phunawakul S, Reungsri N, Montarak O, Kongros J. The Development of Clinical Nursing Practice Guideline for Patients with Surgery from Traumatic Brain Injury in Phichit Hospital. Journal of the Department of Medical Service. 2017; 42: 102-7.
Gordon JR. Organization behaviors. 5th ed. NJ: Prentice-Hall; 1996.
Krisbunchoo M, Yansukon N, Kaitsirikamol K. The effectiveness of using clinical nursing practice guideline for intrahospital transportation of critically ill patients in traumatic Department, Siriraj hospital. Academic Conference Project 2009 Department of Nursing Siriraj Hospital, About a good nursing. (in Thai)
Ha M, Sanseree R, Tianuam K. Effective of Clinical Nursing Practice Guideline on Nursing Care of Heroin Patient in Detoxification and Rehabilitation Period in Three Southern Border Provinces. Thanyarak Pattani Hospital Institute for Treatment and Rehabilitation Institute Boromarajonani National Drug Addiction Department of Medical Services; 2015.
Swansburg C. Management and leadership for nurse manager. 3rd ed. Massachusetts: Jones and Bartlett; 2002.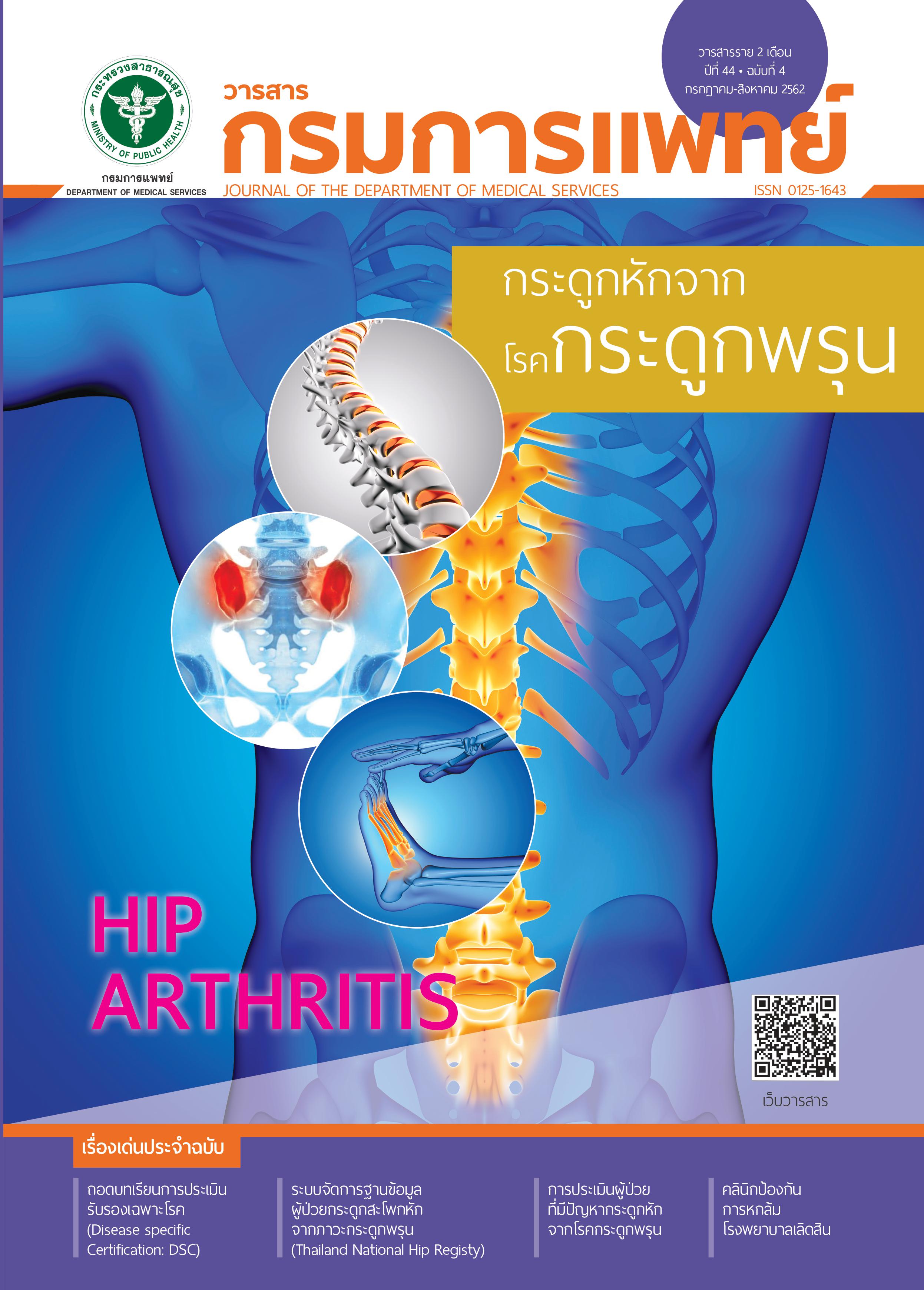 Downloads
How to Cite
1.
สายสมร บริสุทธิ์ พย.บ, พย.ม ภัชราภร บุญรักษ์ พย.บ, พย.ม จันทร์เพ็ญ นพพรพรหม พย.บ, ศศ.ม. Effect of Guidelines of Quality and Safety at Epilepsy Monitoring Unit in Prasat Neurological Institute. j dept med ser [Internet]. 2019 Aug. 1 [cited 2022 Aug. 10];44(4):137-43. Available from: https://he02.tci-thaijo.org/index.php/JDMS/article/view/246726
License
บทความที่ได้รับการตีพิมพ์เป็นลิขสิทธิ์ของกรมการแพทย์ กระทรวงสาธารณสุข
ข้อความและข้อคิดเห็นต่างๆ เป็นของผู้เขียนบทความ ไม่ใช่ความเห็นของกองบรรณาธิการหรือของวารสารกรมการแพทย์