Dental Consideration of Exposed Maxillary Bone Secondary to Mucormycosis in Acute Lymphoblastic Leukemia: Case Report
Abstract
Mucormycosis is an invasive fungal infection which arises due to immune compromised state of individuals.1 It is the second most common mucormycosis after aspergillosis caused by actinomucor, rhizopus, rhizomucor, and mucor species. The most important risk factor for mucormycosis development is malignant hematological disorders, bone marrow transplantation and prolonged corticosteroid administration in immunocompromised patient.2 Predisposing factors also includes malnutrition, prematurity, HIV infection and diabetes mellitus.3 The characteristics of mucor species infection is rapid vascular invasion followed by vascular thrombosis and tissue necrosis.4 The patients of leukemia having impaired immunity are more prone for mucormycosis infection.5 Usually, mucormycosis presents as an acute infection and manifests as rhinocerebral, pulmonary, gastrointestinal, cutaneous or disseminated forms.6 Immunosuppressive condition of the body rise the chance of opportunistic fungal infection.3 Uncontrolled invasive fungal infection can cause destruction of surrounding tissues and bone and, can cause exposure to external environment.5 Exposed maxillary bone can occur due to trauma, bacterial infection leading to osteomyelitis, viral infection like herpes zoster, fungal infection such as mucormycosis, and malignancies. Exposed maxillary bone may cause oro-antral communication and fistula which is an unusual communication between the oral cavity and the maxillary sinus. The aim is report a case of exposed maxillary bone due to mucormycosis in a nine year old child of acute lymphoblastic leukemia (ALL) for the dental consideration.
Downloads
Download data is not yet available.
References
Leonardis FD, Perillo T, Giudice G, Favia G, Santoro N. Recurrent rhino-ocular-cerebral mucormycosis in a leukemic child: a case report and review of pediatric literature. Pediatric Reports 2015; 7:59-38.
Gupta A, Jain S, Agrawal C, Kapoor G. Successful outcome of mucormycosis in two children on induction therapy for acute lymphoblastic leukemia. Indian J Med Paediatr Oncol. 2013; 34:313-6.
Bhattacharya JB, Kaushal S, Aggarwal SK. Esophageal mucormycosis in an immunocompetent child: A rare presentation. Biomed Journal. 2016; 39:155-7.
Pana ZD, Seidel D, Skiada A, Groll AH, Pettrikkos G, Cornelia OA. Invasive mucormycosis in children: an epidemiologic study in European and non-European countries based on two registries. BMC Infect Dis. 2016; 10; 16:667.
Nicolatou-Galitis O, Sachanas S, Drogari-Apiranthitou M, Moschogiannis M, Galiti D, Yiakoumis I, et al. Mucormycosis presenting with dental pain and palatal ulcer in a patient with chronic myelomonocytic leukaemia: case report and literature review. JMM 2015; 1-8.
Sneha LM, Ravikumar R, Scott JX, Swaminathan R. Disseminated fatal mucormycosis in a relapsed acute lymphoblastic leukemia child. Community 18 Acquired Infection. 2017; 4, 17-9.
Klimko NN, Khostelidi SN, Klimko NN, Volkova AG, Popova MO, Kolbin AS, et al. Mucormycosis in haematological patients: case report and results of prospective study in Saint Petersburg. Russia. Mycoses. 2014; 573: 91-6.
Papadogeorgakis N, Parara E, Petsinis V, Vourlak C. A Case of Successfully Treated Rhinocerebral Mucormycosis: Dental Implications. Inter J Dent. 2010; 27321.
Samanta DR, Senapati NS, Sharma PK, Shruti BS, Paty PB. Hard palate perforation in acute lymphoblastic leukemia due to mucormycosis – a case report. Indian J Hematol Blood Transfus. 2009; 25:36–9.
Akhrass FA, Debiane L, Abdallah L, Best L, Mulanovich V, Rolston K, et al. Palatal mucormycosis in patients with hematologic malignancy and stem cell transplantation. Medical Mycology. 2011; 400-5.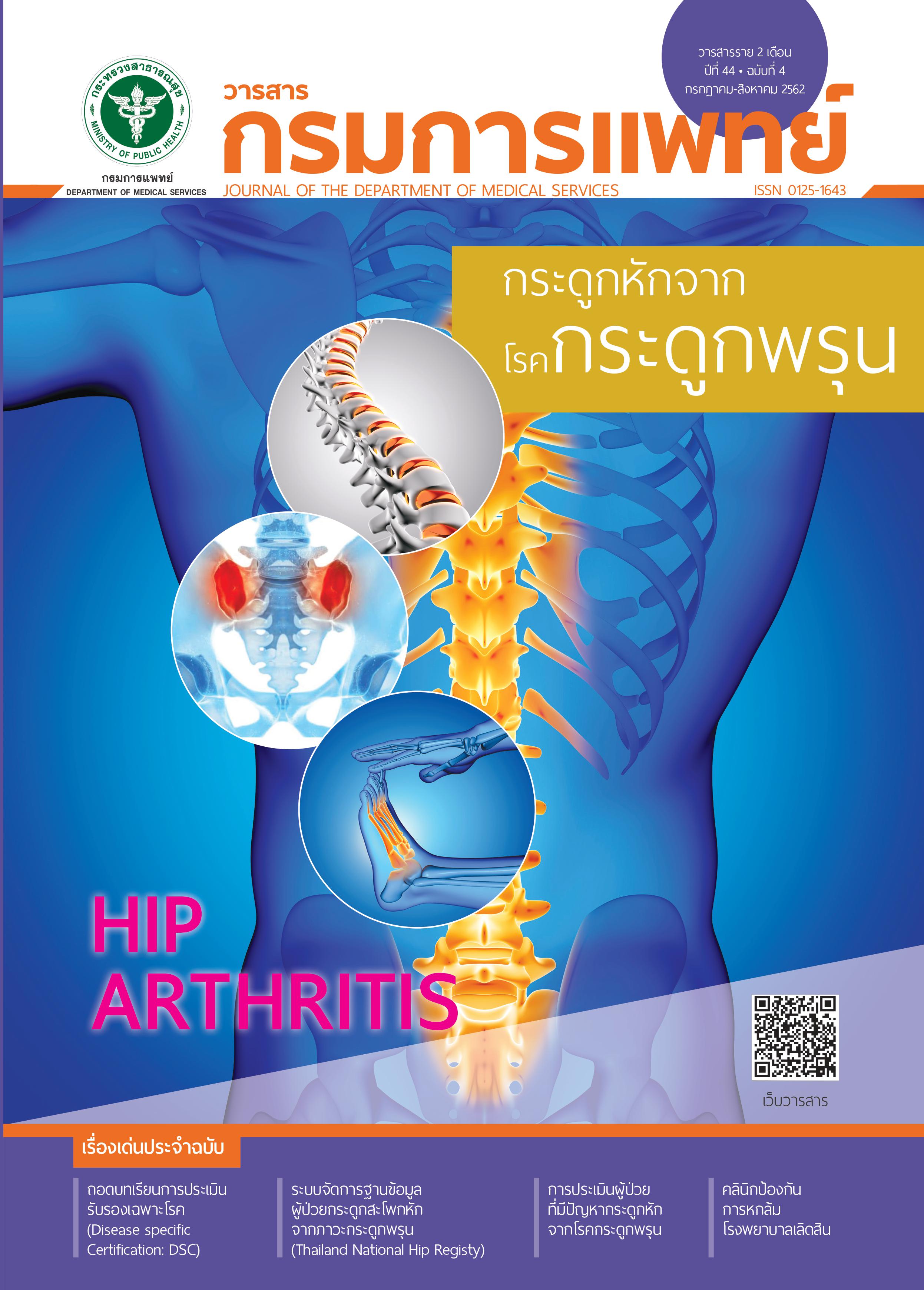 Downloads
How to Cite
1.
สิริสรรค์ จริยพงศ์ไพบูลย์ ทบ., Khandakar Nuruzzaman ทบ., นาฏยพร จรัลเรืองธีรกุล พ.บ. Dental Consideration of Exposed Maxillary Bone Secondary to Mucormycosis in Acute Lymphoblastic Leukemia: Case Report. j dept med ser [Internet]. 2019 Aug. 1 [cited 2022 Aug. 19];44(4):152-4. Available from: https://he02.tci-thaijo.org/index.php/JDMS/article/view/246729
License
บทความที่ได้รับการตีพิมพ์เป็นลิขสิทธิ์ของกรมการแพทย์ กระทรวงสาธารณสุข
ข้อความและข้อคิดเห็นต่างๆ เป็นของผู้เขียนบทความ ไม่ใช่ความเห็นของกองบรรณาธิการหรือของวารสารกรมการแพทย์