negative automatic thoughts associated with Depressive symptoms in Caregivers of Children with attention Deficit and Hyperactivity Disorder at Child and adolescent Psychiatry Clinic, Queen sirikit national Institute of Child Health
Keywords:
Parenting children with ADHD, ADHD, Parental depression, Negative automatic thoughts, Depression
Downloads
Download data is not yet available.
References
ชาญวิทย์ พรนภดล. โรคซน- สมาธิสั้น. ใน วินัดดา ปิยะศิลป์ และ พนม เกตุมาน, บรรณาธิการ. ตำราจิตเวชเด็กและวัยรุ่น, 209-210. กรุงเทพฯ: ธนาเพรส; 2550.
อุมาพร ตรังคสมบัติ. สร้างสมาธิให้ลูกคุณ. พิมพ์ครั้งที่4. กรุงเทพฯ: ซันต้า การพิมพ์; 2554.
Breslau N, Staruch KS, Mortimer EA. Psychological Distress in Mothers of Disabled Children. Am J Dis Child 1982; 136:682-86.
Segenreich D, Fortes D, Coutinho G, Pastura G, Mattos P. Anxiety and depression in parents of a Brazilian non-clinical sample of attention-deficit/ hyperactivity disorder (ADHD) students. Brazilian J Med Biol Res 2009; 42:465–9.
Charbonnier E, Caparos S, Trémolière B. The role of mothers' affiliate stigma and child's symptoms on the distress of mothers with ADHD children. J Ment Health 2018; 25: 1–7.
Batmaz S, Ahmet Yuncu O, Kocbiyik S. Assessing Negative Automatic Thoughts: Psychometric Properties of the Turkish Version of the Cognition Checklist. Iran J Psychiatry Behav Sci. 2015; 9:e3444.
Rana M, Sthapit S, Sharma VD. Assessment of Automatic Thoughts in Patients with Depressive Illness at a Tertiary Hospital in Nepal. J Nepal Med Assoc 2017; 56:248-255.
Kongsuk T, Supanya S, Kenbubpha K, Phimtra S, Sukhawaha S, et al. Services for depression and suicide in Thailand. WHO South-East Asia J Public Health 2017; 6:34-38.
ลัดดา แสนสีหา. ความซึมเศร้าและความคิดอัตโนมัติด้านลบของวัยรุ่นตอนปลาย. (วิทยานิพนธ์) เชียงใหม่:มหาวิทยาลัยเชียงใหม่; 2536.
Chungsirakulvit D, Reungdesh S. Validity of the Thai version of SNAP-IV for diagnosis of ADHD and ODD in children in 14th public region. Journal of Nakhon Ratchasima Rajanagarindra Psychiatric Hospital 2009; 9:11-19.
Puttisri S, Patcharee Punpanivh P, Pantungtong T, Sungprasit M. A Depression in Mothers of Children with ADHD. J Psychiatr Assoc Thailand 2006; 51:213-23.
Siripongpan A, Putthisri S. Factor Affecting Mental Health of Mothers of Patients with Attention-Deficit Hyperactive Disorder (ADHD). J Psychiatr Assoc Thailand 2016; 61:205-16.
Beck AT, Alford BA. Depression: Clinical, experimental, and theoretical aspects. 2nd ed. Pennsylvania: University of Pennsylvania Press; 2009.
Vatanasin D, Hengudomsub P, Vatanasin S, Asarath T, Chupan S. Factors Predicting Depression among Health Science Students. The Journal of Faculty of Nursing Burapha University 2015: 23:31-47.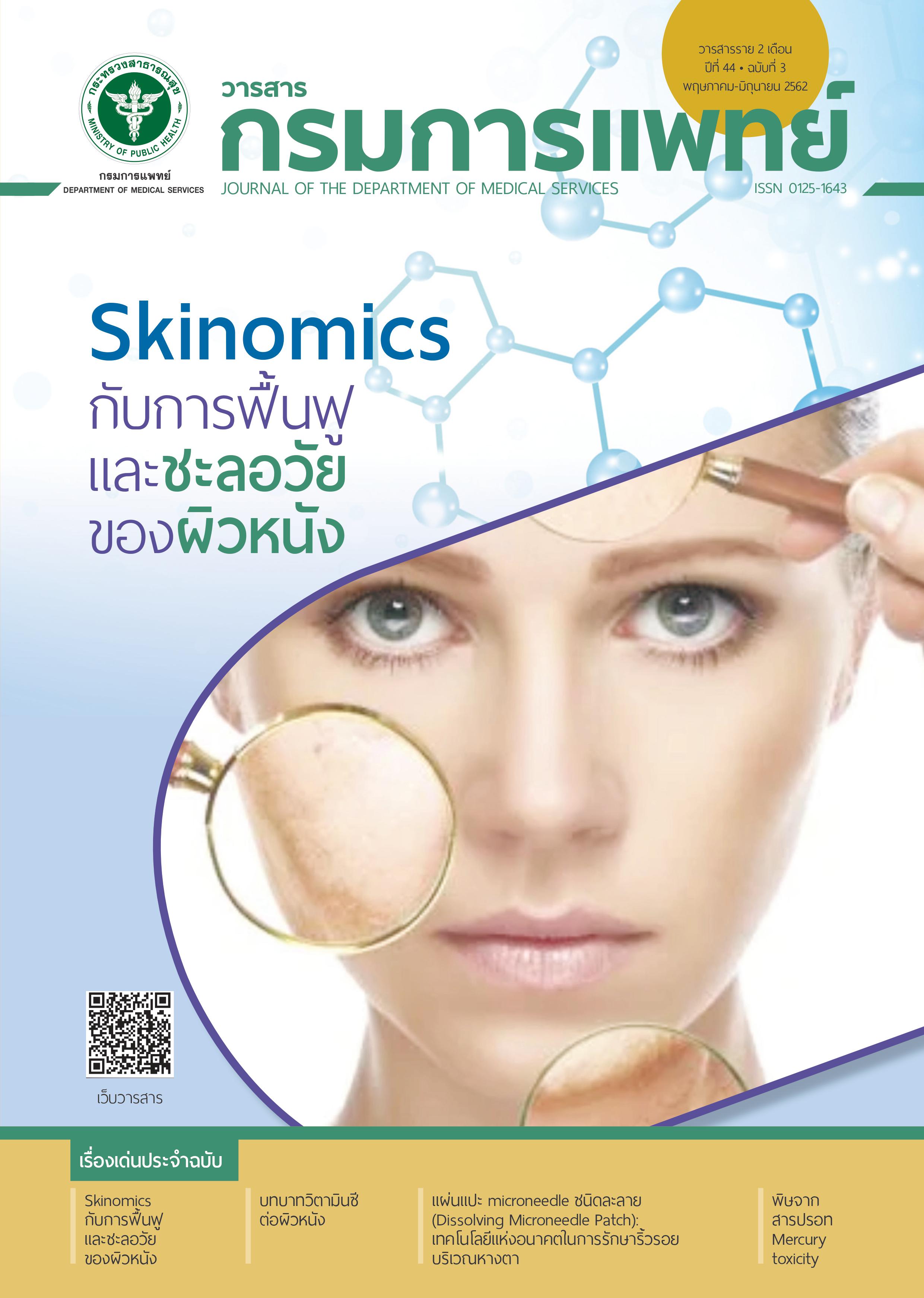 Downloads
How to Cite
1.
Wongvattanaroek P, Ularntinon S, Tangjittiporn T. negative automatic thoughts associated with Depressive symptoms in Caregivers of Children with attention Deficit and Hyperactivity Disorder at Child and adolescent Psychiatry Clinic, Queen sirikit national Institute of Child Health. j dept med ser [Internet]. 2019 Jun. 1 [cited 2022 Oct. 7];44(3):93-9. Available from: https://he02.tci-thaijo.org/index.php/JDMS/article/view/246797
License
บทความที่ได้รับการตีพิมพ์เป็นลิขสิทธิ์ของกรมการแพทย์ กระทรวงสาธารณสุข
ข้อความและข้อคิดเห็นต่างๆ เป็นของผู้เขียนบทความ ไม่ใช่ความเห็นของกองบรรณาธิการหรือของวารสารกรมการแพทย์