Predicted Death Rate in groups of Cirrhotic Patients admitted in nopparat - Rachathani Hospital, a Decade Later
Keywords:
MELD Score, Cirrhotic, Public health policy
Downloads
Download data is not yet available.
References
Kamath PS, Wiesner RH, Malinchoc M, Kremers W, Therneau TM, Kosberg CL, et al. A model to predict survival in patients with end-stage liver disease. . Hepatology 2001; 33: 464-70.
Kamath PS, Kim WR. Advanced Liver Disease Study Group. The model for end-stage liver disease (MELD). Hepatology 2007; 45: 797- 805.
Zhang JY, Zhang FK, Wang BE, Jia JD, Zhang ST. The prognostic value of end-stage liver disease model in liver cirrhosis. Zhonghua Nei Ke Zhi 2005 ; 44 : 822-4.
Dunn W, Jamil LH, Brown LS, Wiesner RH, Kim WR, Menon KV, et al. MELD accurately predicts mortality in patients with alcoholic hepatitis. Hepatology 2005 ; 41 : 353-8.
Murad SD, Kim WR, de Groen PC, Kamath PS, Malinchoc M, Valla DC, et al. Can the model for end-stage liver disease be used to predict the prognosis in patients with Budd-Chiari syndrome?. Liver Transpl 2007; 13: 867-74.
Biggins SW, Feng S. In a MELD-Based Economy , How Can We Fight Off Inflation?. Liver Transpl 2007; 13: 2-4.
Chongsrisawat V, Yoocharoen P, Theamboonlers A. Hepatitis Bseroprevalence in Thailand: 12 years after hepatitis B vaccine integration into the nationalexpanded programme on immunization. Tropical Medicine and International Health 2006; 11: 1496-502.
Thunyavinichkul P, Kitisupornpun S, Pormme N, Wasusophaphol W, Sangsawang S, Arunthong S, et al. Prevalence of Chronic hepatitis B and hepatitis C virus infection in Nongpakrang subdistrict, Chiang Mai province. J DMS 2017; 42:102-8.
Assanangkornchai S, editor. Facts and Figures: Alcohol in Thailand 2016-2018.Bangkok: Sahamit (1992); 2016.
Daengsaard E, Thammawijaya P, Sookrak N, Tongprong P, Chumpathat N, Leaungsomnapa Y. Prevalence of chronic hepatitis B virus infection, sexual risk behaviors, and hepatitis B vaccination among heterosexual men at sexually transmitted infections clinic, Bangkok, Thailand. Disease Control Journal 2019; 45: 1-13.
Sawdang K, Urwijitaroon Y. Prevalence of HIV, HBV, HCV and Syphilis Infections Among Blood Donors: Surveillance for Improvement of Blood Donor Recruitment. J Hematol Transfus Med 2012; 22:83-91.
O berk ofler CE, Du tkows ki P, Stocker R, Schuepbach RA, Stover JF, Clavien PA, et al. Model of end stage liver disease (MELD) score greater than 23 predicts length of stay in the ICU but not mortality in liver transplant recipients. Critical care 2010; 14: R117.
Cai QC, Jiang Y, Lv LZ, Hu HZ, Zhang XJ, Chen YB, et al. Operative timing of liver transplantation for patients with severe hepatitis. Hepatobiliary Pancreat Dis Int 2009; 8:479-82.
Ioannou GN, Perkins JD, Carithers RL Jr. Liver transplantation for hepatocellular carcinoma: impact of the MELD allocation system and predictors of survival. Gastroenterology 2008; 134:1342-51.
Axelrod DA, Koffron AJ, Baker T, Al-Saden P, Dixler I, McNatt G, et al. The economic impact of MELD on liver transplant centers. Am J Transplant 2005; 5: 2297-301.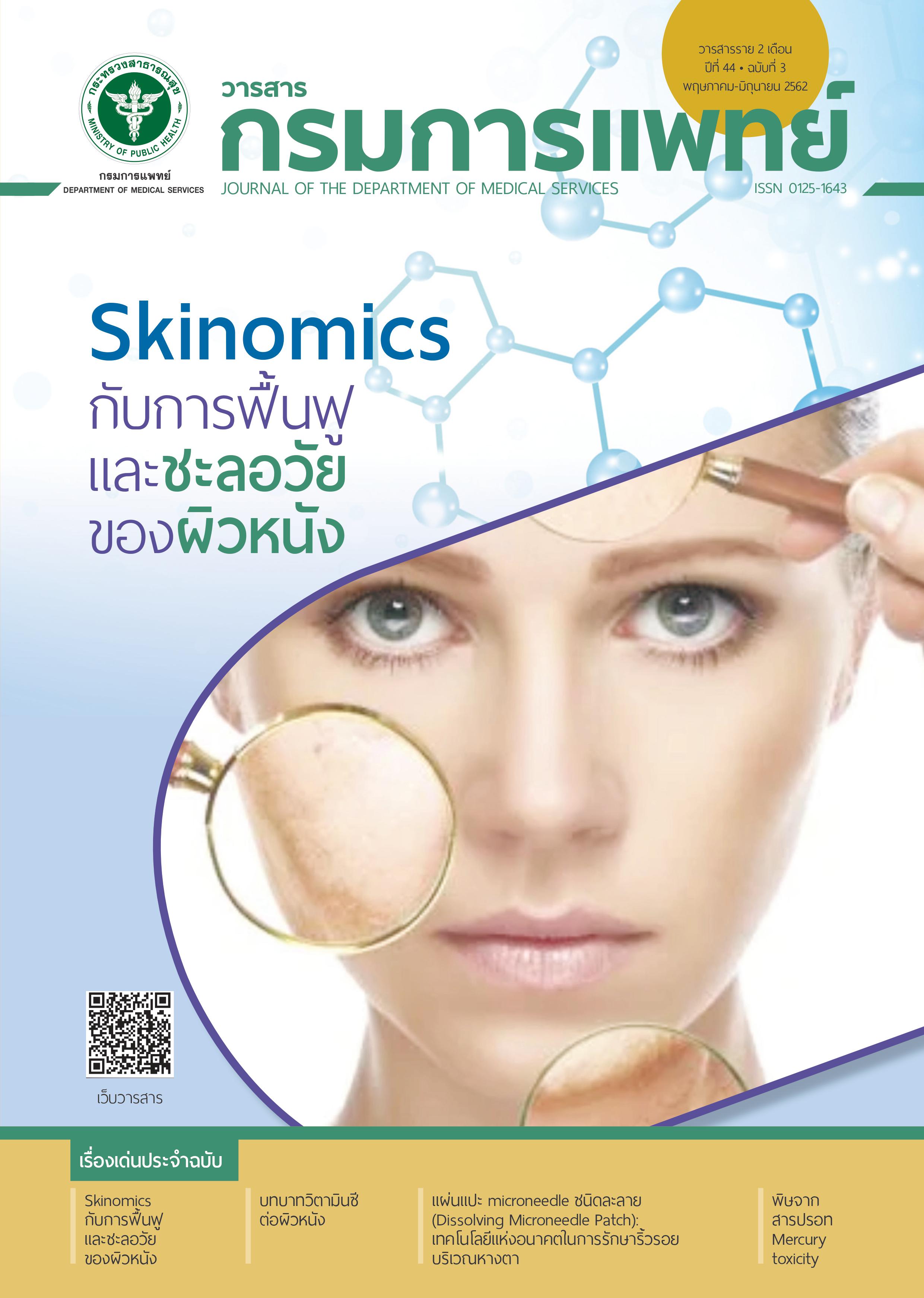 Downloads
How to Cite
1.
Leksrisakul S. Predicted Death Rate in groups of Cirrhotic Patients admitted in nopparat - Rachathani Hospital, a Decade Later. j dept med ser [Internet]. 2019 Jun. 1 [cited 2022 Sep. 29];44(3):130-2. Available from: https://he02.tci-thaijo.org/index.php/JDMS/article/view/246807
License
บทความที่ได้รับการตีพิมพ์เป็นลิขสิทธิ์ของกรมการแพทย์ กระทรวงสาธารณสุข
ข้อความและข้อคิดเห็นต่างๆ เป็นของผู้เขียนบทความ ไม่ใช่ความเห็นของกองบรรณาธิการหรือของวารสารกรมการแพทย์