Development of a Multidisciplinary Care System in Older Adult Cancer Patients Undergoing Chemotherapy Treatment
Keywords:
Cancer's older adults, Chemotherapy, Multidisciplinary, Fatigue, Exercise, Nutritional status
Downloads
Download data is not yet available.
References
Owusu C, Berger NA. Comprehensive geriatric assessment in the older cancer patient: coming of age In clinical cancer care. Clin Pract 2014; 11: 749–62.
Behrens A, Deursen JM, Rudolph KL, Schumacher B. Impact of genomic damage and ageing on stem cell function. Nat. Cell Biol 2014; 16: 201–7.
Shehata HM, Hoebe K, Chougnet CA. The aged non hematopoietic environment impairs natural killer cell maturation and function. Aging cell 2015; 14:191-9.
Stepney R. Advances in caring for the older cancer patients: a report from the 2015 conference of the International Society of Geriatric Oncology. Cancer Biol Med 2016; 13: 150-5.
National Statistical Office, Ministry of Information and Communication Technology. The 2014 survey of older persons in Thailand. Bangkok: Text and Journal Publication; 2014.
Information and Technology Division, National Cancer Institute. Hospital based cancer registry annual report 2013. Bangkok: BTS Press; 2015.
Wang X, Vrtiska TJ, Avula RT, Walters LR, Chakkera HA, Kremers WK, et al. Age, kidney function, and risk factors associate differently with cortical and medullary volumes of the kidney. Kidney Int 2014; 85: 677- 85.
Hurria A, Togawa K, Mohile SG, Owusu C, Klepin HD, Gross CP, et al. Predicting chemotherapy toxicity in older adults with cancer: a prospective multicenter study. Journal of clinical oncology 2011; 29: 3457-65.
Sprod LK, Fernandez ID, Janelsins MC, Peppone LJ, Atkins JN, Giguere J, et al. Effects of yoga on cancer-related fatigue and global side-effect burden in older cancer survivors. J Geriatr Oncol 2015; 6: 8–14.
Kingkarn Artdech. Fatigue management nursing program in adult patients with cancer: a metaanalysis. [A thesis for the degree of master nursing science program]. Bangkok: Chulalongkorn University; 2011.
Kilari D, Soto-Perez-de-Celis E, Mohile SG, Alibhai SMH, Presley CJ, Wildes TM, et al. Designing exercise clinical trials for older adults with cancer: recommendations from 2015 Cancer and Aging Research Group NCI U13 Meeting. J Geriatr Oncol 2016; 7: 293–304.
Nelson CJ, Cho C, Berk AR, Holland J, Roth AJ. Are gold standard depression measures appropriate for use in geriatric cancer patients? A systematic evaluation of self-report depression Instruments used with geriatric, cancer, and geriatric cancer samples. J Clin Oncol 2010; 28: 348-56.
Piboonarluk W, Yunibhand J, Pouwkantarakorn W, Unharasamee W. The effect of case management by advanced practice nurse on relapse in persons with schizophrenia. Thai Journal of Nursing and Midwifery Practice 2018; 5: 5-18.
Powwell S, Tahan H. Case management: a practice guide for education and practice. 3rd ed. Philadelphia: Lippincott Williams & Wilkins; 2010.
Wangnum K, Thanarojanawanich T, Chinwatanachai K, Jamprasert L, Maleehuan O, Janthakun V. Impact of the multidisciplinary education program in self-care on fatigue in lung cancer patients receiving chemotherapy. J Med Assoc Thai 2013; 96: 1-12.
Piper BF, Lindsey AM, Dodd MJ. Fatigue mechanisms in cancer patients: developing nursing theory. Oncol Nurs Forum 1987; 14: 17-23.
Angkatavanich J. Nutriton and Dietetics in Cancer. 1st ed. Bangkok: Panyamit-Printing; 2015.
Myers J, Do D, Herbert W, Ribisl P, Froelicher VF. A nomogram to predict exercise capacity from a specific activity questionnaire and clinical data. Am J Cardiol 1994; 73: 591–6.
Wongpakaran N, Wongpakaran T. Prevalence of major depressive disorders in long-term care facilities : a report from northern Thailand. Psychogeriatrics 2012; 12: 11-7.
Ratamatharathorn V, Sirilerttrakul S, Jirajarus M, Silpakit C, Maneechavakajorn J, Sailamai P, et al. Quality of life, functional assessment of cancer therapy-general (FACT-G). Journal of the Medical Association of Thailand 2001; 84: 1430-42.
Orem DE. Nursing concept of practice. 6th ed. St. Louis: Mosby; 2001.
Chock MM, Lapid MI, Atherton PJ, Kung S, Sloan JA, Richardson JW, et al. Impact of a structured multidisciplinary intervention on quality of life of older adults with advanced cancer. Int Psychogeriatr 2013; 25: 2077–86.
Hoppe S, Rainfray M, Fonck M, Hoppenreys L, Blanc JF, Ceccaldi J, et al. Functional decline in older patients with cancer receiving first-line chemotherapy. J Clin Oncol 2013; 31: 3877– 82.
Foundation of Thai Gerontology Research and Development Institute (TGRI). Situation of the Thai elderly 2016. Nakhon Pathom: Printery; 2018.
College of Population Studies, Chulalongkorn University and Foundation of Thai Gerontology Research and Development Institute (TGRI). Situation of the Thai elderly 2012. Bangkok: Phongsaphanich-chareonphol; 2012.
National Comprehensive Cancer Network. NCCN clinical practice guidelines in oncology. Older Adult Oncology Version 1.2016. USA.
Ustundag U, Zencirci AD. Factors affecting the quality of life of cancer patients undergoing chemotherapy: a questionnaire study. Asia-Pacific Journal of Oncology Nursing 2014; 2: 17-25.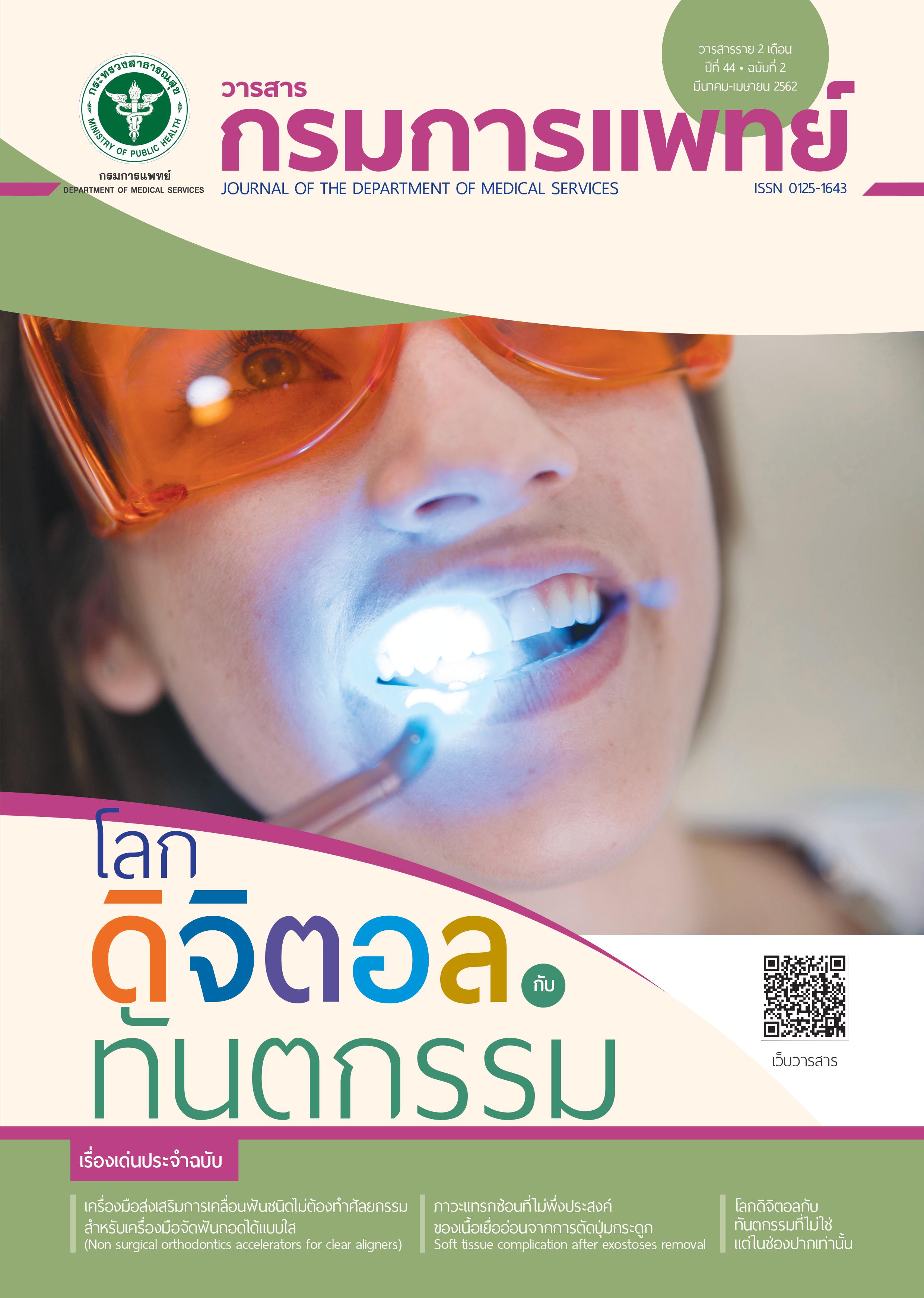 Downloads
How to Cite
1.
Wangnum K, Thanarojanawanich T, Jamprasert L, Na Bangxang J, Maneejavakajorn J. Development of a Multidisciplinary Care System in Older Adult Cancer Patients Undergoing Chemotherapy Treatment. j dept med ser [Internet]. 2019 Apr. 1 [cited 2022 Oct. 1];44(2):32-41. Available from: https://he02.tci-thaijo.org/index.php/JDMS/article/view/246820
License
บทความที่ได้รับการตีพิมพ์เป็นลิขสิทธิ์ของกรมการแพทย์ กระทรวงสาธารณสุข
ข้อความและข้อคิดเห็นต่างๆ เป็นของผู้เขียนบทความ ไม่ใช่ความเห็นของกองบรรณาธิการหรือของวารสารกรมการแพทย์