Critical Incidents in Pediatric Anesthesia at Queen Sirikit National Institute of Child Health: A Database of 44,263 Anesthetics over a 6-Year Period
Keywords:
Incidents, Critical incidents, Pediatric, Anesthesia, Complications
Downloads
Download data is not yet available.
References
Bunchungmongkol N, Somboonviboon W, Suraseranivongse S, Vasinanukorn M, Chau-in W, Hintong T. Pediatric anesthesia events: the Thai Anesthesia Incidents Study (THAI Study) database of 25,098 cases. J Med Assoc Thai 2007; 90: 2072-9.
National Coordinating Council for Medication Error [Internet]. NCC MERP Index for Categorizing Medication Errors. 2011 [cited 2016 Jan 10]. Available from: http://www.nccmerp. org/sites/default/files/indexColor 2001-06-12.pdf
Forrey RA, Pedersen CA, Schneider PJ. Interrater agreement with a standard scheme for classifying medication errors. Am J Health Syst Pharm 2007; 64:175-81.
Wan S, Siow YN, Lee SM, Ng A. Audits and critical incident reporting in paediatric anaesthesia: lessons from 75,331 anaesthetics. Singapore Med J 2013; 54: 69–74.
Tay CL, Tan GM, Ng SB. Critical incidents in paediatric anaesthesia: an audit of 10,000 anaesthetics in Singapore. Paediatr Anaesth 2001; 11:711-8.
Marcus R. Human factors in pediatric anesthesia incidents. Paediatr Anaesth 2006; 16: 242-50.
Kakavouli A, Li G, Carson MP, Sobol J, Lin C, Ohkawa S, et al. Intraoperative reported adverse events in children. Paediatr Anaesth 2009; 19:732-9.
de Graaff JC, Sarfo MC, van Wolfswinkel L, van der Werff DB, Schouten AN. Anesthesia-related critical incidents in the perioperative period in children; a proposal for an anesthesia-related reporting system for critical incidents in children. Paediatr Anaesth 2015; 25: 621-9.
Lee JH, Kim EK, Song IK, Kim EH, Kim HS, Kim CS, et al. Critical incidents, including cardiac arrest, associated with pediatric anesthesia at a tertiary teaching children's hospital. Paediatr Anaesth 2016; 26: 409-17.
Abbasi S, Khan FA, Khan S. Pediatric critical incidents reported over 15 years at a tertiary care teaching hospital of a developing country. J Anaesthesiol Clin Pharmacol 2018; 34: 78-83.
Tiret L, Nivoche Y, Hatton F, Desmonts JM, Vourc'h G. Complications related to anaesthesia in infants and children. A prospective survey of 40,240 anaesthetics. Br J Anaesth 1988; 61: 263-9.
Murat I, Constant I, Maud'huy H. Perioperative anaesthetic morbidity in children: a database of 24,165 anaesthetics over a 30-month period. Paediatr Anaesth 2004; 14:158-66.
Kehlet H, Dahl JB. Anaesthesia, surgery, and challenges in postoperative recovery. Lancet.2003; 362:1921-8.
Cohen MM, Cameron CB, Duncan PG. Pediatric anesthesia morbidity and mortality in the preoperative period. Anesth Analg 1990; 70:160-7.
Morray JP, Geiduschek JM, Caplan RA, Posner KL, Gild WM, Cheney FW. A comparison of pediatric and adult anesthesia closed malpractice claims. Anesthesiology 1993; 78: 461-7.
Van der Walt JH, Sweeney DB, Runciman WB, Webb RK. The Australian Incident Monitoring Study. Paediatric incidents in anaesthesia: an analysis of 2000 incident reports. Anaesth Intensive Care 1993; 21: 655-8.
Lipp AK, Woodcock J, Hensman B, Wilkinson K. Leg weakness is a complication of ilio-inguinal nerve block in children. Br J Anaesth 2004; 92: 273-4.
Bhananker SM, Ramamoorthy C, Geiduschek JM, Posner KL, Domino KB, Haberkern CM., et.al. Anesthesia-related cardiac arrest in children: update from the Pediatric Perioperative Cardiac Arrest Registry. Anesth Analg 2007; 105: 344-50.
Morray JP, Geiduschek JM, Ramamoorthy C, Haberkern CM, Hackel A, Caplan RA, et al. Anesthesia-related cardiac arrest in children: the initial findings of the Paediatric Perioerative Cardiac Arrest (POCA) Registry. Anesthesiology 2000; 93: 6-14.
Boonmak P, Boonmak S, Srichaipanha S, Thincheelong V. Incidence of anesthesia-associated cardiac Arrest and related factors at Srinagarind Hospital. Srinagarind Med J 2005; 20: 63-9.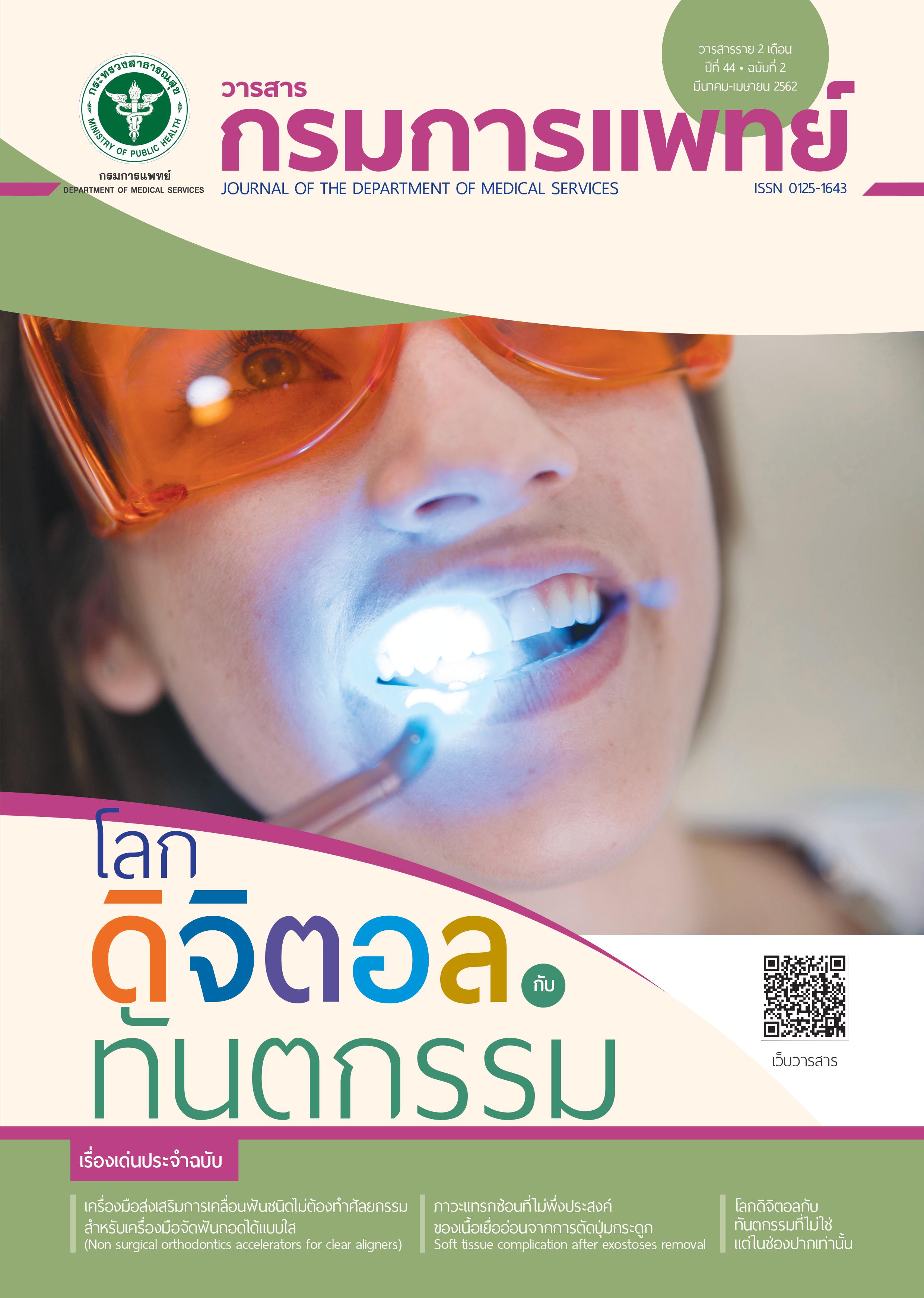 Downloads
How to Cite
1.
เดือนเพ็ญ ห่อรัตนาเรือง พ.บ., วสี ธีราทร พ.บ., ณัฐพงศ์ เลปนานนท์ พ.บ., สุชาดา กมลเพชร พย.บ., กรรณิการ์ เมากว้าง พย.บ. Critical Incidents in Pediatric Anesthesia at Queen Sirikit National Institute of Child Health: A Database of 44,263 Anesthetics over a 6-Year Period. j dept med ser [Internet]. 2019 Apr. 1 [cited 2022 Aug. 15];44(2):47-54. Available from: https://he02.tci-thaijo.org/index.php/JDMS/article/view/246825
License
บทความที่ได้รับการตีพิมพ์เป็นลิขสิทธิ์ของกรมการแพทย์ กระทรวงสาธารณสุข
ข้อความและข้อคิดเห็นต่างๆ เป็นของผู้เขียนบทความ ไม่ใช่ความเห็นของกองบรรณาธิการหรือของวารสารกรมการแพทย์