Research and Development of the Tank Toy Innovation to Stimulate Gross Motor Skills in Children Ages 3-5 Years with Suspected Developmental Delays
Keywords:
Tank toy innovation, Developmental stimulation, Suspected developmental delay, Children ages 3-5 years
Downloads
Download data is not yet available.
References
Department of Mental Health, Ministry of Public Health. Rajanagarindra Institute of Child Development. Development promotion handbook for child at birth to 5 years for parents [Internet]. 2018 [cited 2018 August 1]. Available from www.thaichilddevelopment.com/images/doc/Ebook1.pdf; 2560. [in Thai]
Nopmaneejumruslers, K. Stimulation of child development in child with developmental delay by family participation. [Internet]. 2016 [cited 2018 August 1]. Available from www. thaipediatrics.org/Media/media-20161115113345.pdf [in Thai]
Department of Health, Ministry of Public Health. Annual Report 2017 National Institute of Child Health. Bangkok: Samcharoen Panich (Bangkok); 2017.
Plakhao Health Promoting Hospital. Annual Report 2016. Mahasarakham: Hospital; 2016.
Kumraksa N, Theeranan P, Srihirunrussame S, Kuhapun B, Kedsawad A. Situation of child developmental promotion. Journal of Mental Health of Thailand 2014; 22:76-83.
Losatiantkit P, Kangkan W, Pupongpunkul K, Phampong C, Saenjai M, Prasith-thimate T, et al. Situation of Thai childhood development in 2014. Journal of Health Science 2017; 26:S199-208.
Russ SW. Play in child development and psychotherapy: toward empirically supported practice [Internet]. Mahwa (NJ): Lawrence Erlbaum Associates; 2004 [cited 2018 Aug 5]. Available from: www.fairplayforchildren.org/pdf/ 1265565423.pdf
Tejagupta C, Lehmongkol P. Children's play in Thai families:its nature and influential factors on children's development during early childhood years. Bangkok: Sukhothai Thammathirat Open University; 2015.
Dauch C, Imwalle M, Ocasio B, Metz AE. The influence of the number of toys in the environment on toddlers'play. Infant Behavior and Development 2018; 50:78-87.
Goldstein J. Play in children's development, health and well-being [Internet]. Utrecht: Utrecht University; 2012 [cited 2018 Aug 1]. Available from: https://www.ornes.nl/ wp-content/uploads/2010/08/Play-in-children-sdevelopment-health-and-well-being-feb-2012.pdf
Martin-Ruiz ML, Valero MA, Linden M, Nunez-Nagy S, Garcia AG. Foundations of a smart toy development for the early detection of motoric impairments at childhood. Int J Pediatr Res 2015;1:011
Purimayata P, Vibulchai N, Wongsahi T, Waramit W. A research and development of a set of dialysis bag-mattress innovation for pressure sore prevention in patients with fracture femur receiving leg traction. Nursing Journal of The Ministry of Public Health [Internet]. 2016 [cited 2 Sep. 2018];26(3):104-17. Available from: https://www.tci-thaijo. org/index.php/tnaph/article/view/74410
Ruangwannasak K, Kongsatien W. Toys design for skeletal muscle development of kids age between 3-5 years old. Suan Sunandha Academic & Research Review 2017; 11:31-40.
Rodchompoo T, Lueangubol K, Siwarom W. Enhancing development of 3-5 years old child by playing program according to the sufficiency economic and local wisdom in Public Health Regions 7 and 8. Journal of Health Science 2017; 26:865-74.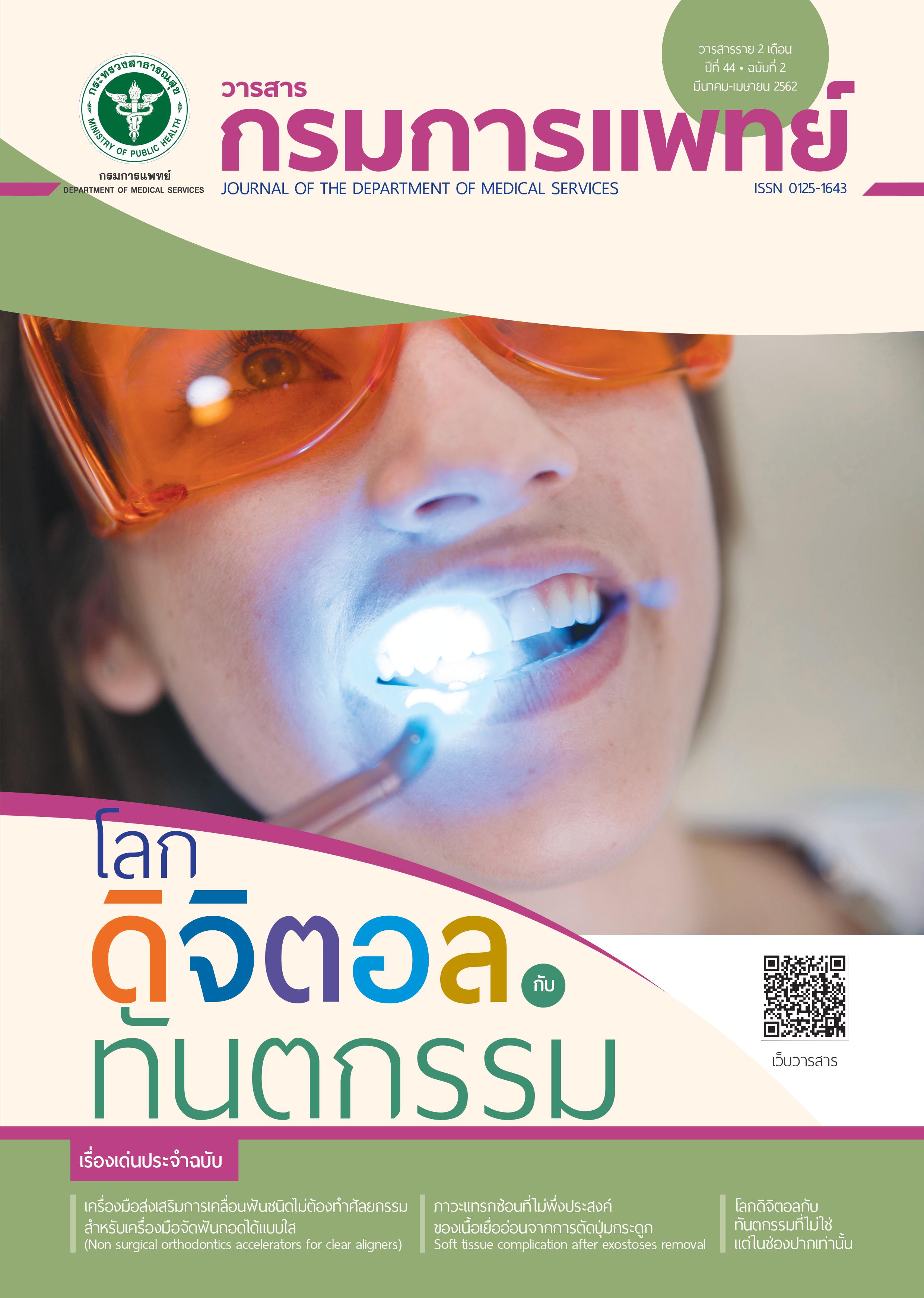 Downloads
How to Cite
1.
สุดาทิพย์ ดวงพลพรม พย.บ., นิสากร วิบูลชัย พย.ด., ศราวุธ แก้วมาตย์ ส.บ., แพงศรี แก้วมาตย์ พย.บ., ชนาภา เหง่าง่า ส.บ. Research and Development of the Tank Toy Innovation to Stimulate Gross Motor Skills in Children Ages 3-5 Years with Suspected Developmental Delays. j dept med ser [Internet]. 2019 Apr. 1 [cited 2022 Aug. 15];44(2):55-60. Available from: https://he02.tci-thaijo.org/index.php/JDMS/article/view/246826
License
บทความที่ได้รับการตีพิมพ์เป็นลิขสิทธิ์ของกรมการแพทย์ กระทรวงสาธารณสุข
ข้อความและข้อคิดเห็นต่างๆ เป็นของผู้เขียนบทความ ไม่ใช่ความเห็นของกองบรรณาธิการหรือของวารสารกรมการแพทย์