Effect of Brief Cognitive Behavior Therapy on Depression and Drinking Behavior among Alcohol Dependents Receiving Services in Thanyarak Chiangmai Hospital
Keywords:
Brief cognitive behavior therapy, Alcohol dependents, Depression, Drinking behavior
Downloads
Download data is not yet available.
References
Kuria MW, Ndetei DM, Obot IS, Khasakhala LI, Bagaka BM, Mbugua MN, Kamau J. The association between alcohol dependence and depression before and after treatment for alcohol dependence. ISRN psychiatry 2012; 26:482802.
Sindhu B. Depression and alcohol dependence: One syndrome or two? A comparison of disability, suicidal risk and coping styles. Pakistan Journey of Social and Clinical Psychology2011;9 62-5.
Pettinati HM, Dundon W. Comorbid depression and alcohol dependence new approaches to dual therapy challenges and progress. Psychiatric Time 2011; 28: 49.
Kwansanit P. Epidemiology of among patients with depression disorder, suicidal with Alcohol drinking problem. 1st Academic conference, Department of Mental Health. 3-4 July 2013; Amari Airport Hotel. Bangkok; 2013.
Phajuy A, Sriburapa N. Psychiatric comorbidity of alcohol dependence patients admitting in Chiang Mai drug dependence Treatment center. Journal Psychiatric Association Thai 2009; 63-74.
Naknaen N, Nintachai P, Sangon S. Imprementation of the Cognitive Behavior Therapy Program for Alcohol Consumer. The journal of psychiatric and mental health 2013; 16-29.
Thapinta D, Skulphan S, Kittrattanapaiboon P. Cognitive Behavior Counseling on Depression among Alcohol Dependent receiving service in primary and secondary hospital. The Journal of Psychiatric Nursing and Mental Health 2016; 38-49.
Beck JS. Cognitive Therapy: Basic and Beyond. New York: The Guilford Press; 1995.
Beck JS. Cognitive behavior therapy: Basics and beyond (2nded.). New York: The Guilford Press; 2011.
Thapinta D, Skulphan S, Kittrattanapaiboon P. Brief Cognitive Behavioral Therapy for Depression among Patients with Alcohol Dependence in District Hospitals and Provincial Hospitals, Thailand. Oral Presenter at International Conference Optimizing Healthcare Quality Teamwork in Education, Research and Practice: 22-24 June 2016; Chiang Mai; 2016.
Polit D, Hungler B. Nursing research: Strategies for a natural sociology. Philadelphia: Lippincott; 1987.
Lotrakul M, Sumrithe S, Saipanish R. Reliability and validity of the Thai version of the PHQ-9. BMC Psychiatry; 2008. Available from Internet, https://www.ncbi.nlm.nih.gov/pmc/ articles/PMC2443128/pdf/1471-244X-8-46.pdf.
Grove SK, Burns N, Gray JR. The practice of nursing research. Appraisal, synthesis and generation of evidence (7th ed.). St Louis: Elsevier Saunders; 2013.
Thongkham A. Effect of Cognitive Behavior Therapy with Antidepressant among persons with severe depression. Bulletin of Suan Prung 2012; 5-11.
Pulpipat S. Effect of Cognitive Behavior Therapy Oriented Program for Decreasing Depression Disorder in Drug Addicts. Graduate school, Srinakharinwirot University. Sripatum Chonburi Journal 2012; 123-31.
Westbrook D, Kennerly H, Kirk J. Cognitive Behavior Therapy: Skill and Application. Los Angles: SAGE Publication; 2007.
Saengduenchai K. The Effect of Cognitive-Behavior Therapy Program, with social support, on readiness for prevention of early relapse and non-relapse of alcohol use disorder patients. Graduate school, Srinakarinwirot University; 2010.
Jainun J. Effect of Cognitive Behavior Therapy on Alcohol Drinking Behaviors among person with Alcohol Dependence. Graduate school, Chiang Mai University; 2008.
Chaisong S, Phakdeesethakul K, Thammarungsee T. Alcohol Report 2011. Center for Alcohol Studies. Provincial. (1st edition). The graphic system Publishing. Nontaburi; 2011.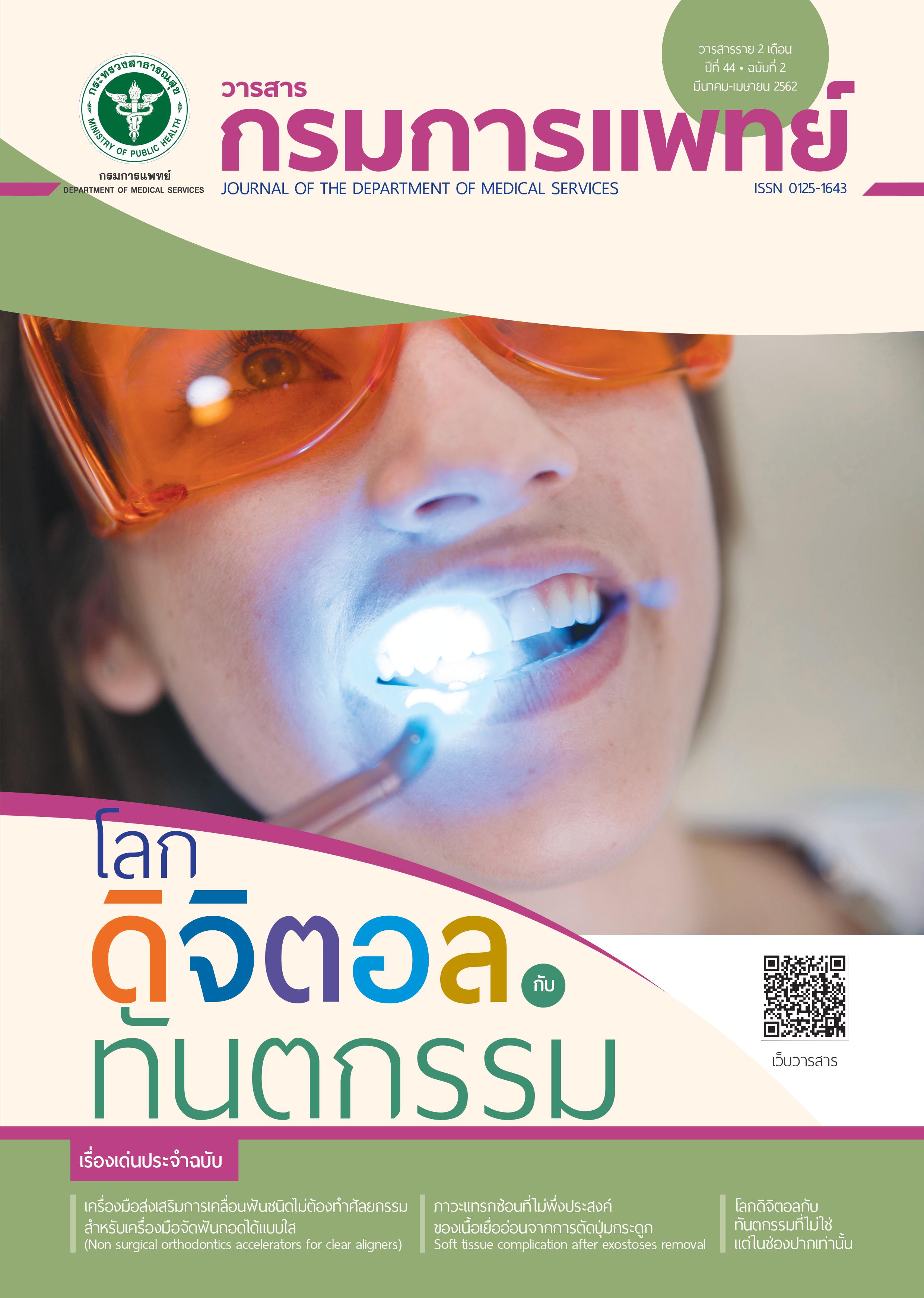 Downloads
How to Cite
1.
Rungsiwaroj N, Phajuy A, Srithammachart L. Effect of Brief Cognitive Behavior Therapy on Depression and Drinking Behavior among Alcohol Dependents Receiving Services in Thanyarak Chiangmai Hospital. j dept med ser [Internet]. 2019 Apr. 1 [cited 2022 Sep. 26];44(2):67-73. Available from: https://he02.tci-thaijo.org/index.php/JDMS/article/view/246842
License
บทความที่ได้รับการตีพิมพ์เป็นลิขสิทธิ์ของกรมการแพทย์ กระทรวงสาธารณสุข
ข้อความและข้อคิดเห็นต่างๆ เป็นของผู้เขียนบทความ ไม่ใช่ความเห็นของกองบรรณาธิการหรือของวารสารกรมการแพทย์