The Family Preparedness and Associated Factors with Their Preparedness of Caring Pediatric Palliative Patient at Queen Sirikit National Institute of Child Health
Keywords:
Family preparedness, Pediatric palliative care
Downloads
Download data is not yet available.
References
WHO. [Internet]. Geneva: World Health Organization; 1998 [cited 2018 Jun 7] Available from: http://www.who.int/ cancer/palliative/definition/en.
Raina P, O'Donnell M, Rosenbaum P, Brehaut J, Walter SD, Russell D, et al. The health and well-being of caregivers of children with cerebral palsy. Pediatrics 2005; 115:e626-36.
Jones BL. The challenge of quality care for family caregivers in pediatric cancer care. Semin Oncol Nurs 2012; 28:213-20.
Khanjari S, Oskouie F, Eshaghian Dorche A, Haghani H. Quality of life in parent of children with leukemia and its related factors. Iran J of Nurs 2013; 26:1-0.
Rubira EA, Marcon SR, Belasco AG, Gaíva MA, Espinosa MM. Burden and quality of life of caregivers of children and adolescents with chemotherapy treatment for cancer. Acta Paulista de Enfermagem 2012; 25:567-73.
Seow H, Bainbridge D. A review of the essential components of quality palliative care in the home. J Palliat Med 2018; 21:S-37.
Koonnarong O, Thaniwatananont P, Kitrungrote L. Caregiving Preparedness, Family Relationships and Role Strain among Caregivers of Muslim Stroke Patients. Princess of Naradhivas University Journal 2011; 4: 14-27.
Archbold PG, Stewart BJ, Greenlick MR, Harvath T. Mutuality and preparedness as predictors of caregiver role strain. Res Nurse Health 1990; 13:375-84.
Funk L, Stajduhar K, Toye C, Aoun S, Grande G, Todd C. Part 2: home-based family caregiving at the end of life: a comprehensive review of published qualitative research (1998–2008). Palliat Med 2010; 24: 594–607.
Hudson P, Payne S (eds). Family carers in palliative care. Oxford: Oxford University Press; 2009.
Henriksson A, Arestedt K. Exploring factors and caregiver outcomes associated with feelings of preparedness for caregiving in family caregivers in palliative care: a correlational, cross-sectional study. Palliat Med 2013; 27:639-46.
Ergh TC, Rapport LJ, Coleman RD, Hanks RA. Predictors of caregiver and family functioning following traumatic brain injury: social support moderates caregiver distress. J Head Trauma Rehabil 2002; 17: 155–74.
Hudson PL, Thomas K, Trauer T, Remedios C, Clarke D. Psychological and social profile of family caregivers on commencement of palliative care. J Pain Symptom Manage 2011; 41:522-34.
Srisupat B. Factors affecting the readiness of caregivers in caring for the elderly before discharge. [Thesis in Geriatric Nursing ], Khon Kaen; Khon Kaen University; 2009.
Srithares W. The factors influencing caregiver role strain of cerebrovascular disease patients' wives [Thesis Master Degree of nursing science], Nakornpathom; Mahidol University; 2003.
Schumacher KL, Stewart BJ, Archbold PG, Caparro M, Mutale F, Agrawal S, et al. Effects of caregiving demand, mutuality, and preparedness on family caregiver outcomes during cancer treatment. Oncol Nurs Forum 2008; 35: 49–56.
Huang HL, Kuo LM, Chen YS, Liang J, Huang HL, Chiu YC, et al. A home-based training program improves caregivers' skills and dementia patients' aggressive behaviors: a randomized controlled trial. Am J Geriatr Psychiatry 2013; 21:1060–70.
Chompikul J, Suthisukon P, Sueluerm K, Dammee D. Relationship in Thai Families. ASEAN institute of Health development. Nakhonprathom 1999. p.109.
Archbold PG, Stewart BJ. Family caregiving inventory. Unpublished manuscript, Oregon Health Sciences University, School of nursing, Department of Family Nursing, Portland; 1986.
Wirojratana V. Development of the Thai family care inventory [dissertation]. Portland, OR: Oregon Health and Science University; 2002
Henriksson A, Hudson P, Öhlen J, Thomas K, Holm M, Carlander I, et al. Use of the preparedness for caregiving scale in palliative care: a rasch evaluation study. J Pain Symptom Manage 2015; 50:533-41.
Chambers TL. When Children Die: Improving Palliative and End-of-Life care for Children and their Families. LRSM 2003: 419-20.
Spathis A, Harrop E, Robertshaw C, Elverson J, Lapwood S. Learning from paediatric palliative care: Lessons for adult practice. Palliat Med 212; 26: 777-9.
Forero R, McDonnell G, Gallego B, McCarthy S, Mohsin M, Shanley C, et al. A literature review on care at the end-of-life in the emergency department. Emerg Med Int 2012;2012:486516.
Isaranurag S. Health and family principle. Bangkok: Charerndeekanpim; 1999.
Hexem KR, Mollen CJ, Carroll K, Lanctot DA, Feudtner C. How parents of children receiving pediatric palliative care use religion, spirituality, or life philosophy in tough times. J Palliat Med 2011; 14:39-44.
Scherbring M. Effect of caregiver perception preparedness on burden in an oncology population. Oncol Nurs Forum 2002; 29:E70-6.
Kim Y, Schulz R, Carver CS. Benefit - finding in the cancer caregiving experience. Psychosomatic Med 2007; 69:283-91.
Janze A, Henriksson A. Preparing for palliative caregiving as a transition in the awareness of death: family carer experiences. Int J palliat Nurs 2014; 20:494–501.
Gans D, Hadler MW, Chen X, Wu SH, Dimand R, Abramson JM, et al. Impact of a pediatric palliative care program on the caregiver experience.journal of Hospice & Palliative Nursing 2015; 17: 559-65.
Piyasil V. Introduction in pediatric palliative care. In: Vinadda Piyasil ,Wandee Ningsanon, editors. Pediatric palliative care. 1st. Bangkok: Pentagonadvertising; 2015. p 19-29.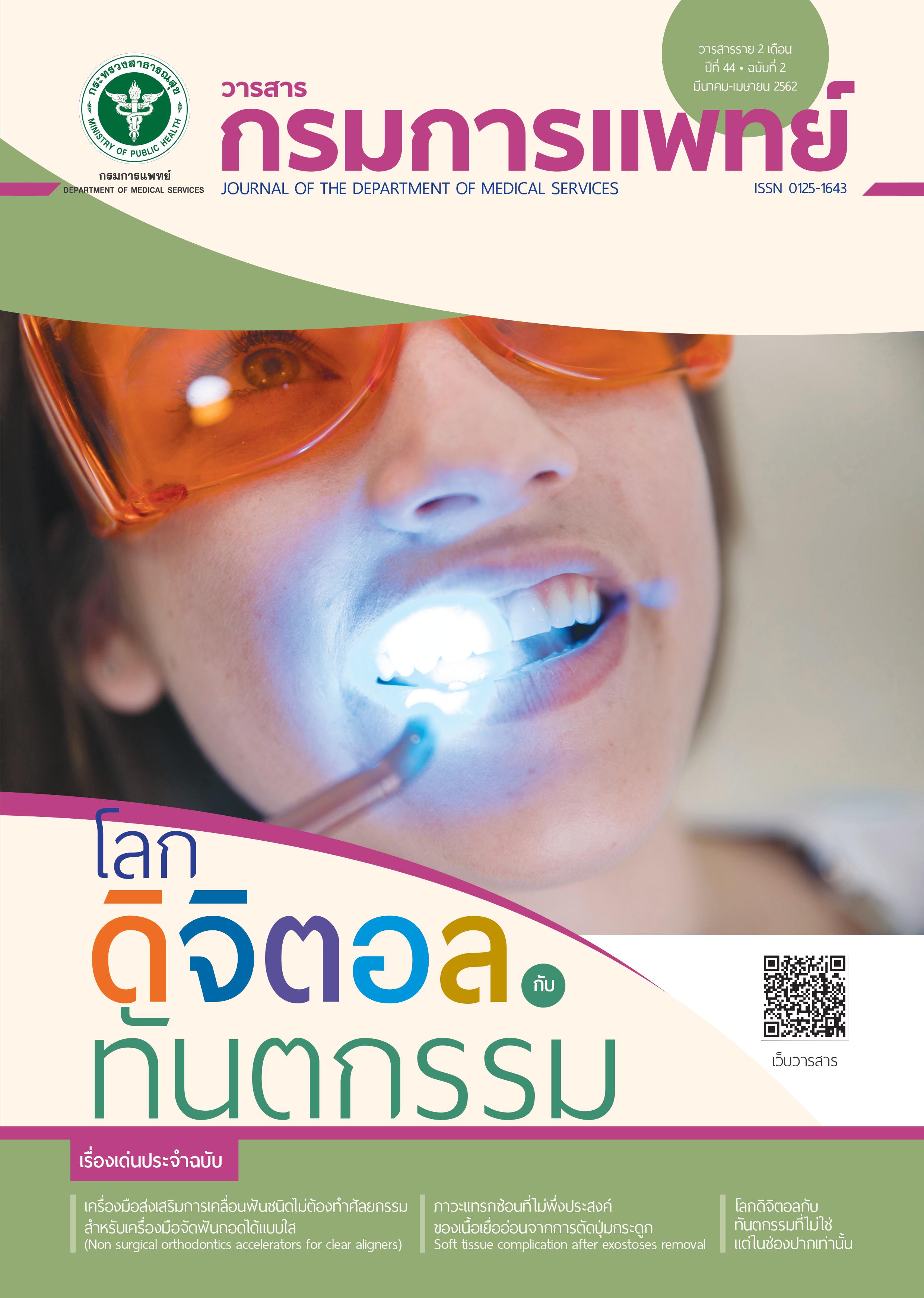 Downloads
How to Cite
1.
Tangjittiporn T, Tankura R, Chaiyamool S, Meesiri S. The Family Preparedness and Associated Factors with Their Preparedness of Caring Pediatric Palliative Patient at Queen Sirikit National Institute of Child Health. j dept med ser [Internet]. 2019 Apr. 1 [cited 2022 Sep. 28];44(2):74-82. Available from: https://he02.tci-thaijo.org/index.php/JDMS/article/view/246844
License
บทความที่ได้รับการตีพิมพ์เป็นลิขสิทธิ์ของกรมการแพทย์ กระทรวงสาธารณสุข
ข้อความและข้อคิดเห็นต่างๆ เป็นของผู้เขียนบทความ ไม่ใช่ความเห็นของกองบรรณาธิการหรือของวารสารกรมการแพทย์