Comparative Study for an Effectiveness of Therapeutic Treatments for Knee Osteoarthritis in Elderly Using Hot Pack Innovation, Acupuncture and Exercise
Keywords:
Knee osteoarthritis, Hot Pack Innovation, Acupuncture, Exercise, Elderly
Downloads
Download data is not yet available.
References
Guillemin F, Rat AC, Mazieres B, Pouchot J, Fautrel B, Euller-Ziegler L, et al. Prevalence of symptomatic hip and knee osteoarthritis: a two-phase population-base survey. Osteo Cart 2011; 19: 1314-22.
Chen D, Shen J, Zhao W, Wang T, Han L, Hamilton JL, Im HJ. Osteoarthritis: toward a comprehensive understanding of pathological mechanism. Bone Res 2017; 5 : 16044.
Forestier R, Francon A, Briole V, Genty C, Chevalier X, Richette P. Prevalence of generalized osteoarthritis in a population with knee osteoarthritis. Joint Bone Spine 2011 ; 78: 275-8.
Osteoarthritis Foundation. Osteoarthritis [Electronic material]. 2017 [cited 2017 September 1]. Available from: http://www.thaiarthritis.org.
Hawker GA, Mian S, Bednis K, Stanaitis I. Osteoarthritis year 2010 in review: non-pharmacologic therapy. Osteoarthr Cartil 2011; 19: 366-74.
Dorsher PT, Mclntosh PM. Acupuncture for chronic pain. Tech Reg Anes Pain Man 2011; 15: 55-63.
Yamaoka K, Mitsunobu F, Hanamoto K, Kataoka T, Tanizaki Y. Effects of radon and thermal therapy on osteoarthritis. Int Con Series 2005; 1276: 249-50.
Jan MH, Lin CH, Lin YF, Lin JJ, Lin DH. Effects of weightbearing versus non weight-bearing exercise on function, walking speed, and position sense in participants with knee osteoarthritis: a randomized controlled trial. Arch Phys Med Rehabil 2009; 90: 897-904.
Bijlsma JWJ, Berenbaum F, Lafeber FP. Osteoarthritis: an update with relevance for clinical practice. Lancet 2011; 37: 2115-26.
Triantafyllou K, Vlachogiannakos J, Ladas SD. Gastrointestinal and liver side effects of drugs in elderly patients. Best Prac Res Clin Gastroenterol 2010; 24: 203–15.
Taechaarpornkul W, Suvapan D, Theppanom C, Chanthipwaree C, Chirawatkul A. Comparison of the effectiveness of six and two acupuncture point regimens in osteoarthritis of the knee: a randomised trial. Acupunct Med 2009; 27: 3-8.
Paungmali A. Pretty Patent: Weight Hotpack Consisted of Pottery and Sand Materials. Department of Intellectual Property, Ministry of Commerce, Thailand: Bangkok; 2011. Lohmander L.S., E.M. R. Clinical update: treating osteoarthritis. Lancet 2007; 370: 2082-4.
Ringdahl E, Pandit S. Treatment of knee osteoarthritis. Am Fam Physician 2011; 83: 1287-92.
Braddom RL, Chan L, Harrast MA, editors. Physical medicine and rehabilitation. Philadelphia: Saunders/Elsevier; 2011.
Suarez-Almazor ME, Looney C, Liu Y, Cox V, Pietz K, Marcus DM, et al. A randomized controlled trial of acupuncture for osteoarthritis of the knee: effects of patient-provider communication. Arthritis Care Res 2010; 62: 1229-36.
Berman BM, Singh BB, Lao L, Langenberg P, Li H, Hadhazy V, et al. A randomized trial of acupuncture as an adjunctive therapy in osteoarthritis of the knee. Rheumatol (Oxford) 1999; 38: 346-54.
Hafez AR, Al-Johani AH, Zakaria AR, Al-Ahaideb A, Buragadda S, Melam GR, et al. Treatment of knee osteoarthritis in relation to hamstring and quadriceps strength. J Phys Ther Sci 2013; 25: 1401-5.
Page CJ, Hinman RS, Bennell KL. Physiotherapy management of knee osteoarthritis. Int J Rheum Dis 2011; 14: 145-51.
Roddy E, Zhang W, Doherty M, Arden NK, Barlow J, Birrell F, et al. Evidence-based recommendations for the role of exercise in the management of osteoarthritis of the hip or knee - the move consensus. Rheumatol (Oxford) 2005; 44: 67-73.
Medical Academic Development Office, Department of Medical Services, Ministry of Public Health. Clinical Practice Guideline for Diagnosis and Treatment of Knee Osteoarthritis. Bangkok: Co-Opthai Press; 2005.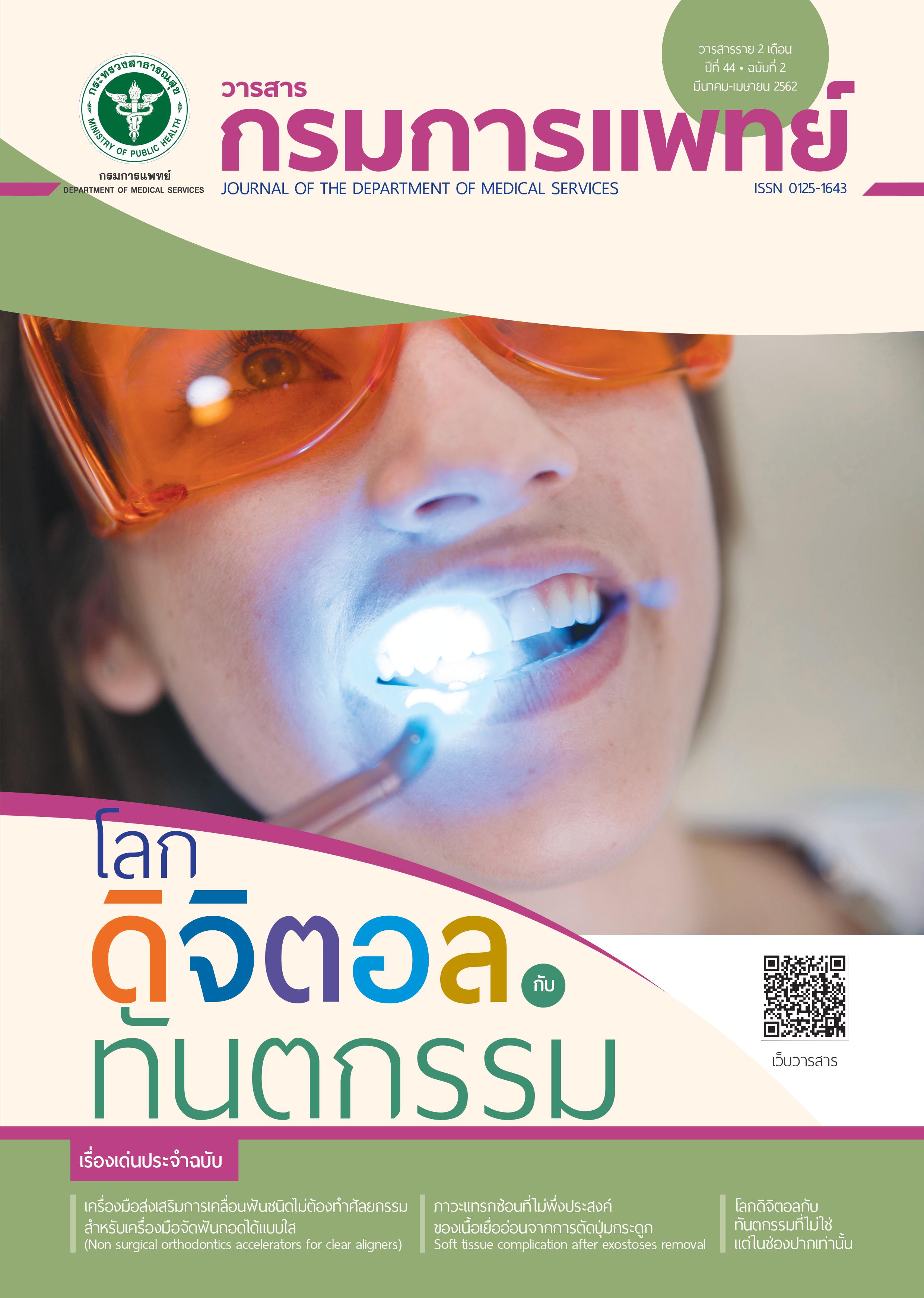 Downloads
How to Cite
1.
Thiravitayokom S, Paungmali A, Ongsantiphap P, Tanakietpinyo S, Wuttisomwongkul K, Sutthathummaruk A, Puipanichsiri P. Comparative Study for an Effectiveness of Therapeutic Treatments for Knee Osteoarthritis in Elderly Using Hot Pack Innovation, Acupuncture and Exercise. j dept med ser [Internet]. 2019 Apr. 1 [cited 2022 Oct. 7];44(2):83-9. Available from: https://he02.tci-thaijo.org/index.php/JDMS/article/view/246845
License
บทความที่ได้รับการตีพิมพ์เป็นลิขสิทธิ์ของกรมการแพทย์ กระทรวงสาธารณสุข
ข้อความและข้อคิดเห็นต่างๆ เป็นของผู้เขียนบทความ ไม่ใช่ความเห็นของกองบรรณาธิการหรือของวารสารกรมการแพทย์