The Study of Interface Pressure between Wheelchair Patients and Dental Platform Prototype
Keywords:
Interface pressure, Dental platform, Wheelchair patient
Downloads
Download data is not yet available.
References
Rashid-Kandvani F, Nicolau B, Bedos C. Access to dental services for people using a wheelchair. American Journal of Public Health 2015; 105: 2312-7.
Chen D, Apple DF Jr, Hudson LM, Bode R. Medical complications during acute rehabilitation following spinal cord injury–current experience of the model systems. Arch Phys Med Rehabil 1999; 80:1397–1401.
Krause JS, Broderick L. Patterns of recurrent pressure ulcers after spinal cord injury: identification of risk and protective factors 5 or more years after onset. Arch Phys Med Rehabil 2004; 85:1257–64.
Raghavan P, Raza WA, Ahmed YS, Chamberlain MA. Prevalence of pressure sores in a community sample of spinal injury patients. Clin Rehabil 2003; 17:879–84.
Salzberg CA, Byrne DW, Cayten CG, van Niewerburgh P, Murphy JG, Viehbeck M. A new pressure ulcer risk assessment scale for individuals with spinal cord injury. Am J Phys Med Rehabil 1996; 75:96–104.
Kosiak M. Etiology and pathology of ischemic ulcers. Arch Phys Med Rehabil 1959; 40:62-9.
Reswick JB, Rogers JE. Experience at Rancho Los Amigos Hospital with devices and techniques to prevent pressure sores. In: Kenedi RM, Cowden JM, Scales JT, editors. Bedsore Biomechanics, Baltimore: University Park Press; 1976.
Regan M, Teasell RW, Keast D, Mortenson WB, Aubut J. Pressure ulcers following spinal cord injury. In: Eng JJ, Teasell RW, Miller WC, Wolfe DL, Townson AF, Aubut J, Abramson C, Hsieh JTC, Connolly S, editors. Spinal Cord Injury Rehabilitation Evidence, Vancouver; 2006.
Alverzo JP, Rosenberg JH, Sorensen CA, Deleon SS. Nursing care and education for patients with spinal cord injury. In: Sisto SA, Druin E, Sliwinski MM, editors. Spinal Cord Injuries: Management and Rehabilitation, 1 Har/DVD edition. Mosby: St. Louis, Missouri; 2006.
Nawoczenski DA. Pressure sores: prevention and management. In: Buchanan LE, Nawoczenski DA, editors. Spinal Cord Injury: Concepts and Management Approaches, Baltimore: Williams & Wilkins; 1987.
Lacoste M, Weiss-Lambrou R, Allard M, Dansereau J. Powered tilt/recline systems: why and how are they used? Assist Technology 2003; 15:58–68.
Sacks AH. Theoretical prediction of a time-at-pressure curve for avoiding pressure sores. J Rehabil Res Dev 1989; 26:27-34.
Hobson DA. Comparative effects of posture on pressure and shear at the body-seat interface. J Rehabil Res Dev 1992; 29:21–31.
Henderson JL, Price SH, Brandstater ME, Mandac BR. Efficacy of three measures to relieve pressure in seated persons with spinal cord injury. Arch Phys Med Rehabil 1994; 75:535–9.
Burns SP, Betz KL. Seating pressures with conventional and dynamic wheelchair cushions in tetraplegia. Arch Phys Med Rehabil 1999; 80:566-71.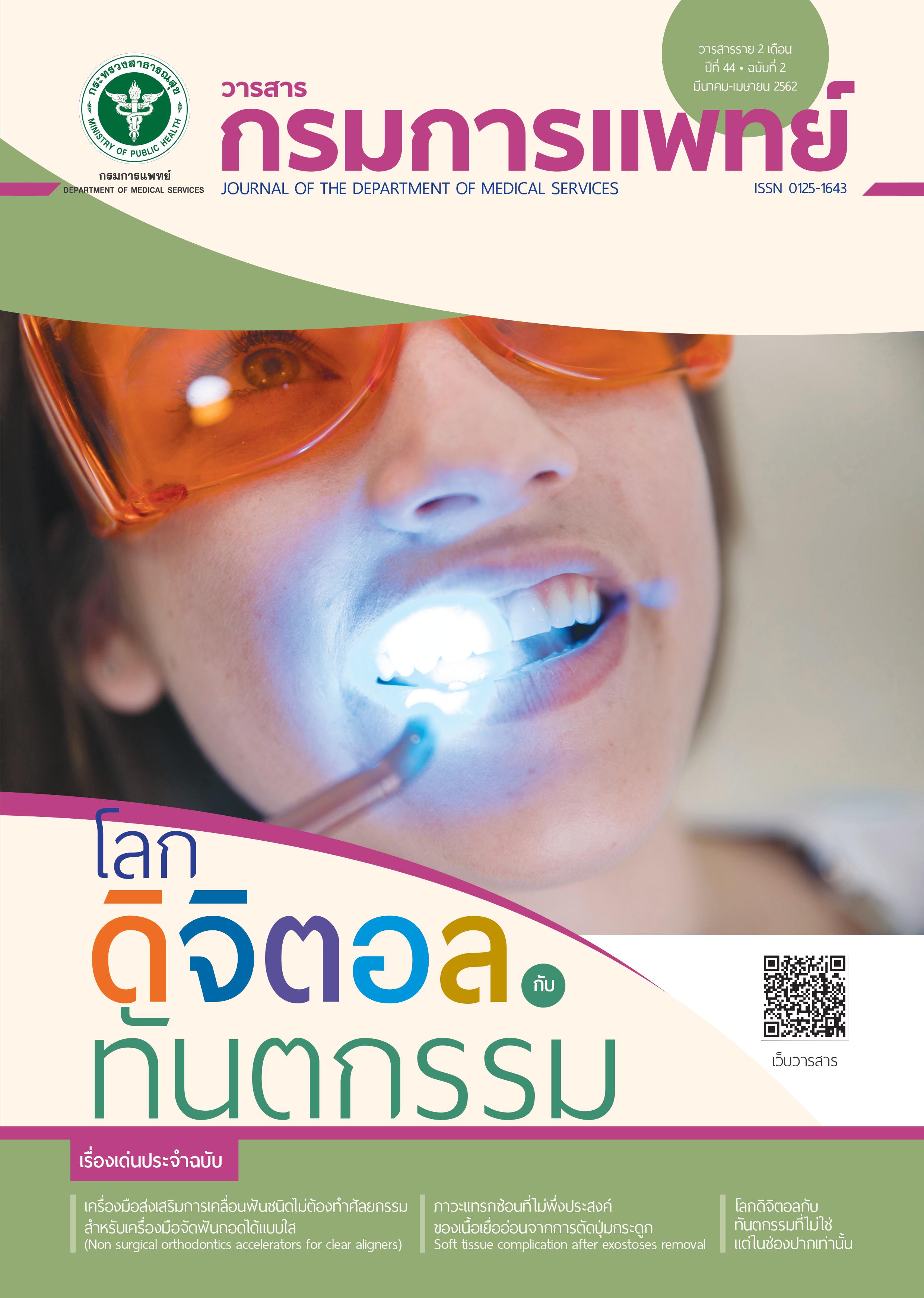 Downloads
How to Cite
1.
วีรนันท์ วิชาไทย ท.บ.,อ.ท.,บุษกร โลหารชุน พ.บ.,ว.ว.,วท.ม.,อุบลวรรณ วัฒนาดิลกกุล พ.บ.,ว.ว.,วท.ม., ณัฐพล ชโยพิทักษ์ ปร.ด., กนกเวทย์ ตั้งพิมลรัตน์ วศ.ด., สมศักดิ์ ศรีพนารัตนกุล ท.บ., สายทิพย์ ลีวรกานต์ ท.บ.,ว.ท. The Study of Interface Pressure between Wheelchair Patients and Dental Platform Prototype. j dept med ser [Internet]. 2019 Apr. 1 [cited 2022 Aug. 15];44(2):101-7. Available from: https://he02.tci-thaijo.org/index.php/JDMS/article/view/246850
License
บทความที่ได้รับการตีพิมพ์เป็นลิขสิทธิ์ของกรมการแพทย์ กระทรวงสาธารณสุข
ข้อความและข้อคิดเห็นต่างๆ เป็นของผู้เขียนบทความ ไม่ใช่ความเห็นของกองบรรณาธิการหรือของวารสารกรมการแพทย์