Effectiveness of Electrical Stimulation for Deglutition Disorder in Stroke: A Systematic Review
Keywords:
Stroke, Dysphagia, Neuromuscular electrical stimulation
Downloads
Download data is not yet available.
References
World Health Organization Collaborative study of cardiovascular disease and steroid hormone contraception. haemorrhagic stroke, overall stroke risk and combined oral contraceptives: results of an international, multicentre, case-controlled study. Lancet1996; 348:505-10.
สุจิตราบุญหยง, กายภาพบำบัดเบื้องต้นสำหรับการเยี่ยมบ้านผู้ป่วยโรคหลอดเลือดสมอง. ใน: ธิดา นิงสานนท์, ปรีชา มนทกานติกุล, อุษณีย์ วนรรฆมนี, ธนรัตน์ สรวลเสน่ห์ จตุพร ทองอิ่ม (บรรณาธิการ). ตาราเภสัชกรครอบครัว.กรุงเทพมหานคร; 2555.
พรสวรรค์ โพธิ์สว่าง Skoretz SA, Flowers HL, Martino R. The Incidence of dysphagia following endotracheal intubation: a systematic review. Chest 2010; 137: 665-73.
พรสวรรค์ โพธิ์สว่าง. แนวทางปฏิบัติในการให้บริการทางกิจกรรมบำบัดสำหรับผู้ที่มีภาวะกลืนลำบากจากโรคหลอดเลือดสมอง. ศูนย์สิรินธรเพื่อการฟื้นฟูฯ; 2554.
แนวปฏิบัติทางคลินิกกิจกรรมบำบัดสำหรับผู้รับบริการโรคหลอดเลือดสมอง.คณะกรรมการวิชาชีพสาขากิจกรรมบำบัดและสำนักสถานพยาบาลและการประกอบโรคศิลปะกรมสนับสนุนบริการสุขภาพ กระทรวงสาธารณสุข; 2555.
Huang KL, Liu TY, Huang YC, Leong CP, Lin WC, Pong YP. Functional outcome in acute stroke patients with oropharyngeal Dysphagia after swallowing therapy. J Stroke Cerebrovasc Dis 2014; 23:2547-53.
Carnaby Mann GD, Crary MA. Examining the evidence on neuromuscular electrical stimulation for swallowing: a meta-analysis. Arch Otolaryngol Head Neck Surg 2007; 133: 564-71.
Bulow M, Speyer R, Baijens L, Woisard V, Ekberg O. Neuromuscular electrical stimulation (NMES) in stroke patients with oral and pharyngeal dysfunction. Dysphagia 2008; 23:302-9.
Permsirivanich W, Tipchatyotin S, Wongchai M, Leelamanit V, Setthawatcharawanich S, Sathirapanya P, et al. Comparing the effects of rehabilitation swallowing therapy vs. neuromuscular electrical stimulation therapy among stroke patients with persistent pharyngeal dysphagia: a randomized controlled study. J Med Assoc Thai 2009; 92: 259-65.
Xia W, Zheng C, Lei Q, Tang Z, Hua Q, Zhang Y, et al. Treatment of post-stroke dysphagia by vitalstim therapy coupled with conventional swallowing training. Journal of Huazhong Univ Sci Technolog Med Sci 2011; 31:73-6.
Rofes L, Arreola V, Lopez I, Martin A, Sebastian M, Ciurana A, et al. Effect of surface sensory and motor electrical stimulation on chronic poststroke oropharyngeal dysfunction. Neurogastroenterology 2013; 25:888-e701.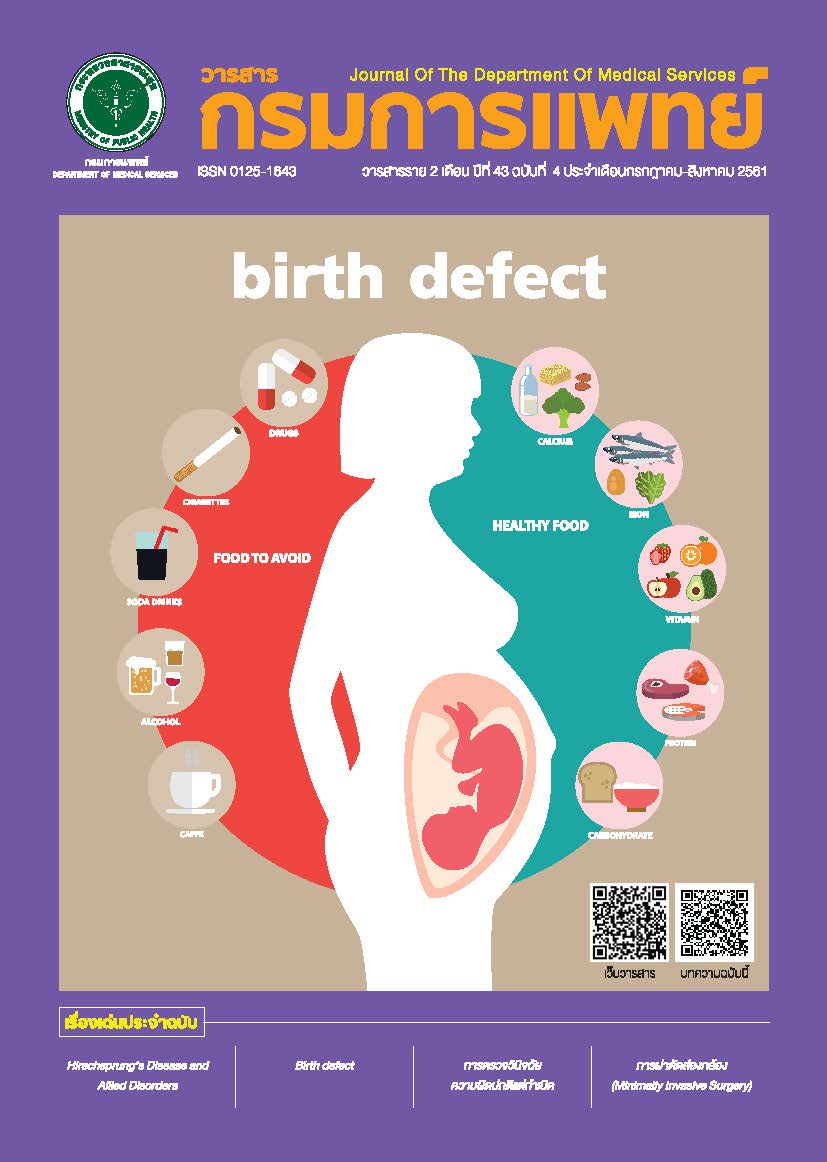 Downloads
How to Cite
1.
พรสวรรค์ โพธิ์สว่าง วท.บ.,ศ.ม., สุภาพร กิติหล้า วท.บ., ยุวดี มณีทอง วท.บ. Effectiveness of Electrical Stimulation for Deglutition Disorder in Stroke: A Systematic Review. j dept med ser [Internet]. 2018 Aug. 1 [cited 2022 Aug. 15];43(4):49-53. Available from: https://he02.tci-thaijo.org/index.php/JDMS/article/view/247879
License
บทความที่ได้รับการตีพิมพ์เป็นลิขสิทธิ์ของกรมการแพทย์ กระทรวงสาธารณสุข
ข้อความและข้อคิดเห็นต่างๆ เป็นของผู้เขียนบทความ ไม่ใช่ความเห็นของกองบรรณาธิการหรือของวารสารกรมการแพทย์