Diabetes Mellitus in Severe Thalassemia Patients
Keywords:
Severe thalassemia, Diabetes mellitus
Downloads
Download data is not yet available.
References
Marengo-Rowe AJ. The thalassemias and related disorders. Proc (Bayl Univ Med Cent) 2007; 20: 27-31.
Borgna-Pignatti C, Gamberini MR. Complications of thalassemia major and their treatment. Expert Rev Hematol 2011; 4: 353-66.
American Diabetes Association. Diagnosis and classification of diabetes mellitus. Diabetes Care 2014; 37 Suppl 1: S81-90.
Kahn SE, Cooper ME, Del Prato S. Pathophysiology and treatment of type 2 diabetes: perspectives on the past, present, and future. Lancet 2014; 383: 1068-83.
Aekplakorn W, Abbott-Klafter J, Premgamone A, Dhanamun B, Chaikittiporn C, Chongsuvivatwong V, et al. Prevalence and management of diabetes and associated risk factors by regions of Thailand: Third National Health Examination Survey2004. Diabetes Care 2007; 30: 2007-12.
วิชัย เทียนถาวร, จินตนา พัฒนพงศ์ธร, สมยศ เจริญศักดิ์, รัตน์ติกา แซ่ตั้ง, พิมพ์ลักษณ์ เจริญขวัญ, ต่อพงษ์ สงวนเสริมศรี. ความชุกของพาหะธาลัสซีเมียในประเทศไทย. วารสารโลหิตวิทยาและเวชศาสตร์บริการโลหิต 2549;16: 307-12.
Chatterjee R, Bajoria R. New concept in natural history and management of diabetes mellitus in thalassemia major. Hemoglobin 2009; 33: S127-30.
American Diabetes Association. Classification and diagnosis of diabetes. Diabetes Care 2016; 39(Supplement 1): S13-S22. http://dx.doi.org/10.2337/dc16-S005
Wajcman H, Moradkhani K. Abnormal haemoglobins: detection and characterization. Indian J Med Res 2011; 134: 538-46.
Ketema EB, Kibret KT. Correlation of fasting and postpandrial plasma glucose with HbA1c in assessing glycemic control; systemic review and meta-analysis. Arch Public Health 2015; 73: 43.
Christiansen R, Rasmussen LM, Nybo H, Steenstrup T, Nybo M. The relationship between HbA1c and fasting plasma glucose in patients with increased plasma liver enzyme measurements. Diabet Med 2012; 29: 742-7.
Hong J, Jalaludin MY, Mohamad Adam B, Fuziah MZ, Wu LL, Rasat R, et al. Diabetic ketoacidosis at diagnosis of type 1 diabetes mellitus in Malaysian children and adolescents. Malays Fam Physician 2015; 10: 11-8.
Oyarzabal Irigoyen M, García Cuartero B, Barrio Castellanos R, Torres Lacruz M, Gómez Gila AL, González Casado I, et al. Ketoacidosis at onset of type 1 diabetes mellitus in pediatric age in Spain and review of the literature. Pediatr Endocrinol Rev 2012; 9: 669-71.
Tan H, Zhou Y, Yu Y. Characteristics of diabetic ketoacidosis in Chinese adults and adolescents - a teaching hospitalbased analysis. Diabetes Res Clin Pract 2012; 97: 306-12.
Gamberini MR, De Sanctis V, Gilli G. Hypogonadism, diabetes mellitus, hypothyroidism, hypoparathyroidism: incidence and prevalence related to iron overload and chelation therapy in patients with thalassaemia major followed from 1980 to 2007 in the Ferrara Centre. Pediatr Endocrinol Rev 2008; 6: 158-69.
Gamberini MR, Fortini M, De Sanctis V, Gilli G, Testa MR. Diabetes mellitus and impaired glucose tolerance in thalassaemia major: incidence, prevalence, risk factors and survival in patients followed in the Ferrara Center. Pediatr Endocrinol Rev 2004; 2: 285-91.
Aekplakorn W, Chariyalertsak S, Kessomboon P, Sangthong R, Inthawong R, Putwatana P, et al. Prevalence and management of diabetes and metabolic risk factors in Thai adults: the Thai National Health Examination Survey IV, 2009. Diabetes Care 2011; 34: 1980-5.
Knovich MA, Storey JA, Coffman LG, Torti SV, Torti FM. Ferritin for the clinician. Blood Rev 2009; 23: 95-104.
Liu BW, Xuan XM, Liu JR, Li FN, Yin FZ. The relationship between serum ferritin and insulin resistance in different glucose metabolism in non-obese Han adults. Int J Endocrinol 2015; 2015:642194.
Jones AG, Hattersley AT. The clinical utility of C-peptide measurement in the care of patients with diabetes. Diabet Med 2013; 30: 803–17.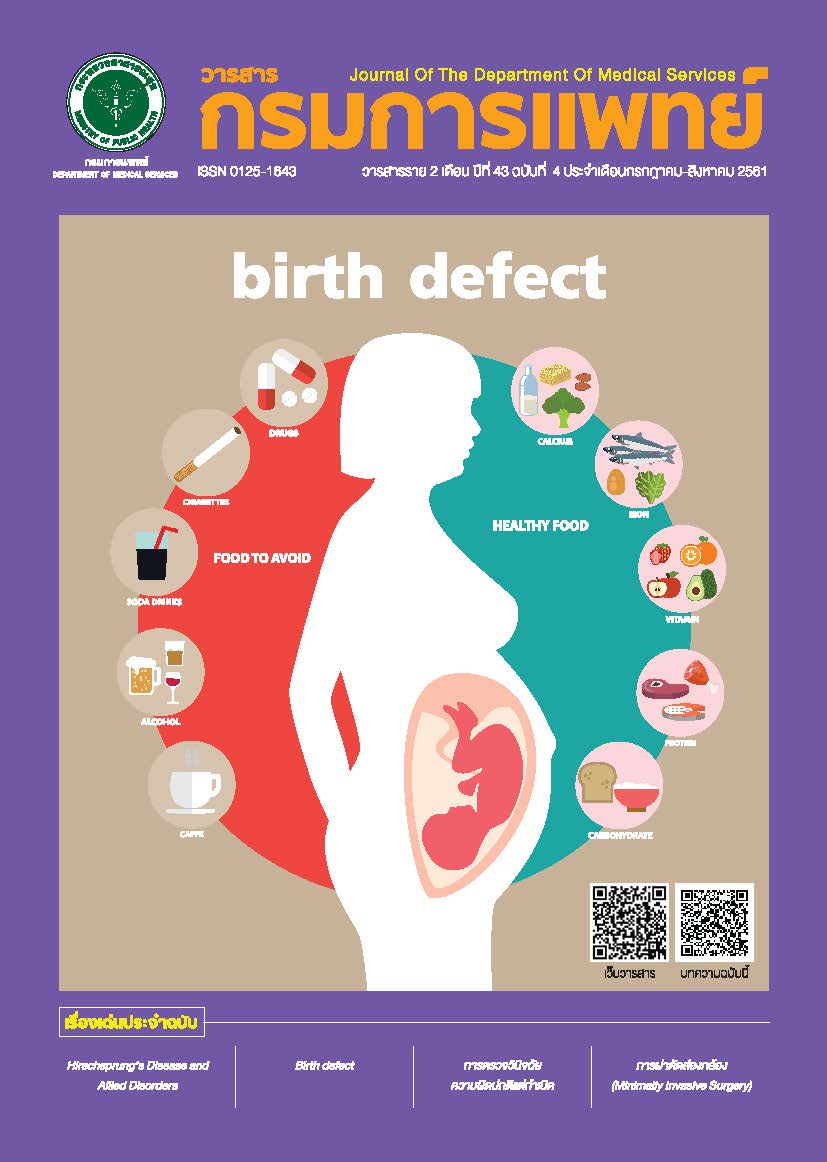 Downloads
How to Cite
1.
Sanglutong L, Insiripong S, Chetthakul T. Diabetes Mellitus in Severe Thalassemia Patients. j dept med ser [Internet]. 2018 Aug. 1 [cited 2022 Sep. 28];43(4):61-4. Available from: https://he02.tci-thaijo.org/index.php/JDMS/article/view/247884
License
บทความที่ได้รับการตีพิมพ์เป็นลิขสิทธิ์ของกรมการแพทย์ กระทรวงสาธารณสุข
ข้อความและข้อคิดเห็นต่างๆ เป็นของผู้เขียนบทความ ไม่ใช่ความเห็นของกองบรรณาธิการหรือของวารสารกรมการแพทย์