Quality of Life after Radical Surgery with Adjuvant Radiation in Early Stage Cervical Cancer Patients
Keywords:
Cervical cancer, Quality of life, Radical surgery, Adjuvant radiation therapy
Downloads
Download data is not yet available.
References
Sr isomb oon J. Cer vic al cance r. In: Sri somb oon J, Kietpeerakul C, editors. Gynecologic Oncology, Bangkok: Pimdee, 2011:124-46.
Miller C, Eklas JC. Cervical and Vaginal Cancer. In: Berek JS, editor. Berek & Novak's Gynecology. 15th ed. Philadelphia: Lippincott Wiliams & Wilkins, 2012: 1304-49.
Ditto A, Martinelli F, Borreani C, Kusamura S, Hanozet F, Brunelli C, et al. Quality of life and sexual, bladder, and intestinal dysfunctions after class III nerve-sparing and class II radical hysterectomies: a questionnaire – based study. Int J Gynecol Cancer 2009; 19: 953-7.
Eluf-Neto J, Booth M, Munoz N, Bosch FX, Meijer CJ, Walboomers JM. Human papillomavirus and invasive cervical cancer in Brazil. Br J Cancer 1994; 69: 114-9.
Frumovitz M, Sun CC, Schover LR, Munsell MF, Jhingran A, Wharton T, et al. Quality of life and sexual functioning in cervical cancer survivors. . J Clin Oncol 2005; 23: 7428-36.
Vistad I. Fossa SD. Dahl AA. A critical review of patientrated quality of life studies of long-term survivors of cervical cancer. Gynecol Oncol. 2006;102:563–72.
Barker CL, Routledge JA, Farnell DJ, Swindell R, Davidson SE. The impact of radiotherapy late effects on quality of life in gynaecological cancer patiens. Br J Cancer 2009; 100: 1558-65.
Kumbhaj P, Sharma R, Bhatnagar A, Saini PK. Sexual functioning & quality of life in cervical cancer survivors after surgery and radiotherapy. Natl J Med res 2014; 4: 116-8.
Carter J, Sonoda Y, Baser RE, Raviv L, Chi DS, Barakat RR, et al. A 2-year prospective study assessing the emotion, sexual, and quality of life concerns of women undergoing radical trachelectomy versus radical hysterectomy for treatment of early-stage cervical cancer. Gynecologic Oncology. 2010; 119: 358–65.
Taneepanichskul S, Lertmaharit S, Pongpanich S, Termrungruanglert W, Havanond P, Khemapech N, et al. Quality of life among Thai women diagnosed with cervical cancer and cervical intraepithelial neoplasia at King Chulalongkorn Memorial Hospital. J Med Assoc Thai 2011; 94: 902-7.
Osann K, Hsieh S, Nelson EL, Monk BJ, Chase D, Cella D, et al. Factors associated with poor quality of life among cervical cancer survivors: implication for clinical care and clinical trials. Gynecol Oncol 2014; 135: 266-72.
Li CC, Chen ML, Chang TC, Chou HH, Chen MY. Social support buffers the effect of self-esteem on quality of life of early-stage cervical cancer survivors in Taiwan. Eur J Oncol Nurs. 2015; 19:486-94.
Yoo SH, Yun YH, Park S, Kim YA, Park SY, Bae DS, et al. The correlates of unemployment and its association with quality of life in cervical cancer survivors. J Gynecol Oncol 2013; 24: 367-75.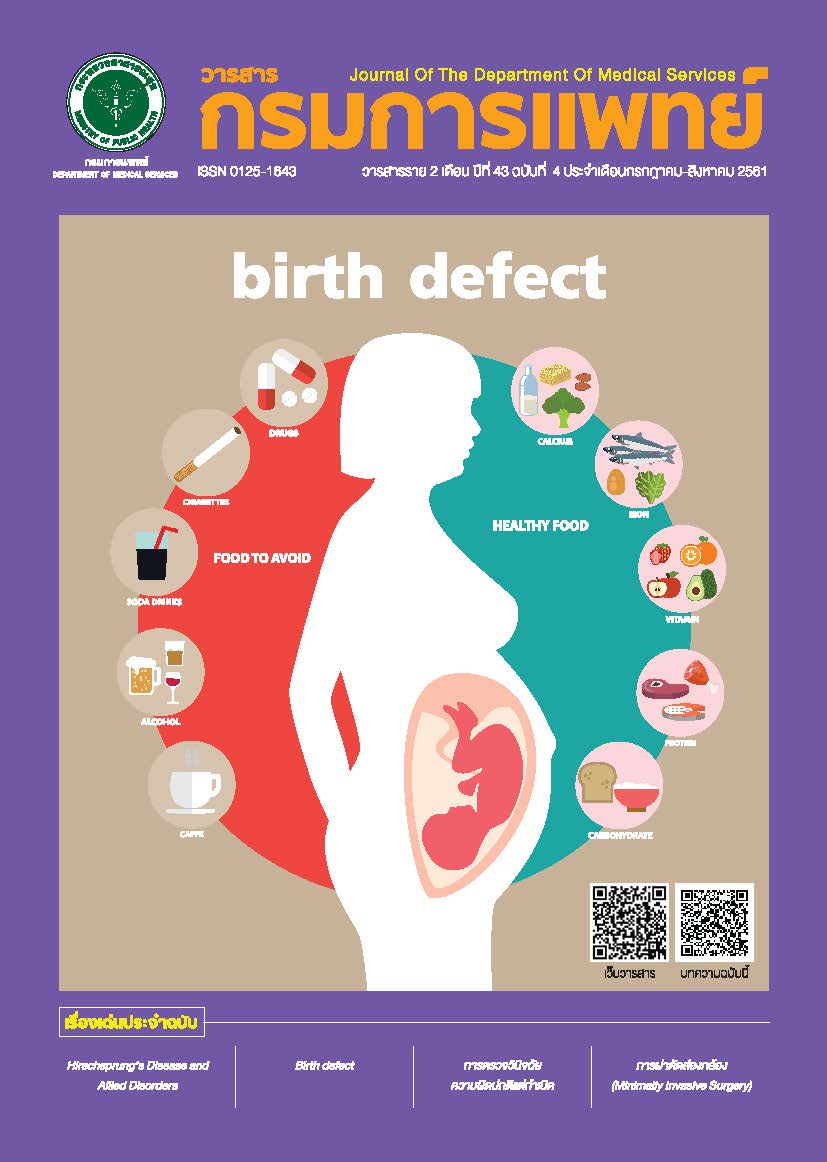 Downloads
How to Cite
1.
Borisut P, Chauyin N. Quality of Life after Radical Surgery with Adjuvant Radiation in Early Stage Cervical Cancer Patients. j dept med ser [Internet]. 2018 Aug. 1 [cited 2022 Oct. 4];43(4):87-93. Available from: https://he02.tci-thaijo.org/index.php/JDMS/article/view/247985
License
บทความที่ได้รับการตีพิมพ์เป็นลิขสิทธิ์ของกรมการแพทย์ กระทรวงสาธารณสุข
ข้อความและข้อคิดเห็นต่างๆ เป็นของผู้เขียนบทความ ไม่ใช่ความเห็นของกองบรรณาธิการหรือของวารสารกรมการแพทย์