Laparoscopic Ovarian Transposition before Pelvic Radiation Therapy for Ovarian and Fertility Preservation in Cancer Patients
Keywords:
Laparoscopic ovarian transposition, Malignancies, Radiation, Fertility preservation, Ovarian preservation
Downloads
Download data is not yet available.
References
สถิติสาธารณสุข Public health statistics A.D.2015. นนทบุรี กระทรวงสาธารณสุข; 2558. p.1-217.
Winarto H, Febia E, Purwoto G, Nuranna L. The need for laparoscopic ovarian transposition in young patients with cervical cancer undergoing radiotherapy. Int J Reprod Med2013;2013:173568.
Gubbala K, Laios A, Gallos I, Pathiraja P, Haldar K, Ind T. Outcomes of ovarian transposition in gynaecological cancers; a systematic review and meta-analysis. J Ovarian Res 2014;7:69.
Shou H, Chen Y, Chen Z, Zhu T, Ni J. Laparoscopic ovarian transposition in young women with cervical squamous cell carcinoma treated by primary pelvic irradiation. Eur J Gynaecol Oncol 2015;36:25-9.
Elizur SE, Tulandi T, Meterissian S, Huang JY, Levin D, Tan SL. Fertility preservation for young women with rectal cancer--a combined approach from one referral center. J Gastrointest Surg 2009;13:1111-5.
Gavrilova-Jordan L, Rowe MS, Ballenger CA, Mersereau JE, Hayslip CC. Emergent Oocyte Cryopreservation with a Novel Ovarian Transposition Technique in a Colorectal Cancer Patient: A Combined Approach for Fertility Preservation. A Case Report. J Reprod Med 2015;60:354-8.
Fernandez-Pineda I, Davidoff AM, Lu L, Rao BN, Wilson CL, Srivastava DK, et al. Impact of ovarian transposition before pelvic irradiation on ovarian function among long-term survivors of childhood Hodgkin lymphoma: A report from the St. Jude Lifetime Cohort Study. Pediatr Blood Cancer 2018:e27232.
Irtan S, Orbach D, Helfre S, Sarnacki S. Ovarian transposition in prepubescent and adolescent girls with cancer. Lancet Oncol 2013;14:e601-8.
von Wolff M, Montag M, Dittrich R, Denschlag D, Nawroth F, Lawrenz B. Fertility preservation in women--a practical guide to preservation techniques and therapeutic strategies in breast cancer, Hodgkin's lymphoma and borderline ovarian tumours by the fertility preservation network FertiPROTEKT. Arch Gynecol Obstet 2011;284:427-35.
Moawad NS, Santamaria E, Rhoton-Vlasak A, Lightsey JL. Laparoscopic Ovarian Transposition Before Pelvic Cancer Treatment: Ovarian Function and Fertility Preservation. J Minim Invasive Gynecol 2017;24:28-35.
Barahmeh S, Al Masri M, Badran O, Masarweh M, El-Ghanem M, Jaradat I, et al. Ovarian transposition before pelvic irradiation: indications and functional outcome. J Obstet Gynaecol Res 2013;39:1533-7.
Huang KG, Lee CL, Tsai CS, Han CM, Hwang LL. A new approach for laparoscopic ovarian transposition before pelvic irradiation. Gynecol Oncol 2007;105:234-7.
Kurt M, Uncu G, Cetintas SK, Kucuk N, Guler S, Ozkan L. Successful spontaneous pregnancy in a patient with rectal carcinoma treated with pelvic radiotherapy and concurrent chemotherapy: the unique role of laparoscopic lateral ovary transposition. Eur J Gynaecol Oncol 2007;28:408-10.
Terenziani M, Piva L, Meazza C, Gandola L, Cefalo G, Merola M. Oophoropexy: a relevant role in preservation of ovarian function after pelvic irradiation. Fertil Steril 2009;91:935.e15-6.
Cordoba O, Gil-Moreno A, de la Torre J, Martinez-Palones JM, Diaz B, Xercavins J. Extraperitoneal laparoscopic para-aortic lymphadenectomy for lymph node recurrence of fallopian tube carcinoma. Int J Gynecol Cancer 2006;16:991-3.
Sicam RV, Huang KG, Lee CL, Chen CY, Ueng SH. Treatment of fallopian tube metastasis in cervical cancer after laparoscopic ovarian transposition. J Minim Invasive Gynecol 2012;19:262-5.
Ben Dhaou M, Zouari M, Jallouli M, Mhiri R. Single-port laparoscopic ovarian transposition in an 11-year-old girl. Arch Pediatr 2015;22:533-5.
Sioulas VD, Jorge S, Chern JY, Schiavone MB, Weiser MR, Kelvin JF, et al. Robotically Assisted Laparoscopic Ovarian Transposition in Women with Lower Gastrointestinal Cancer Undergoing Pelvic Radiotherapy. Ann Surg Oncol 2017;24:251-6.
Al-Badawi I, Al-Aker M, Tulandi T. Robotic-assisted ovarian transposition before radiation. Surg Technol Int 2010;19: 141-3.
Hadar H, Loven D, Herskovitz P, Bairey O, Yagoda A, Levavi H. An evaluation of lateral and medial transposition of the ovaries out of radiation fields. Cancer 1994;74:774-9.
Sola V, Ricci P, Baeza MR, Lema R, Pardo J. Preservation of ovarian function in young woman with hodgkin disease by laparoscopic medial transposition before abdominal irradiation. Surg Laparosc Endosc Percutan Tech 2008;18:423-5.
Scott SM, Schlaff W. Laparoscopic medial oophoropexy prior to radiation therapy in an adolescent with Hodgkin's disease. J Pediatr Adolesc Gynecol 2005;18:355-7.
Chambers SK, Chambers JT, Kier R, Peschel RE. Sequelae of lateral ovarian transposition in irradiated cervical cancer patients. Int J Radiat Oncol Biol Phys 1991;20:1305-8.
Morice P, Juncker L, Rey A, El-Hassan J, Haie-Meder C, Castaigne D. Ovarian transposition for patients with cervical carcinoma treated by radiosurgical combination. Fertil Steril 2000;74:743-8.
Fujiwara K, Mohri H, Yoshida T, Yamauchi H, Kohno I.Subcutaneous transposition of the ovary following hysterectomy. Int J Gynaecol Obstet 1997;58:223-8.
Van Eijkeren MA, Van Der Wijk I, El Sharouni SY, Heintz AP. Benefits and side effects of lateral ovarian transposition (LOT) performed during radical hysterectomy and pelvic lymphadenectomy for early stage cervical cancer. Int J Gynecol Cancer 1999;9:396-400.
Steigrad S, Hacker NF, Kolb B. In vitro fertilization surrogate pregnancy in a patient who underwent radical hysterectomy followed by ovarian transposition, lower abdominal wall radiotherapy, and chemotherapy. Fertil Steril 2005;83:1547-9.
Giacalone PL, Laffargue F, Benos P, Dechaud H, Hedon B. Successful in vitro fertilization-surrogate pregnancy in a patient with ovarian transposition who had undergone chemotherapy and pelvic irradiation. Fertil Steril 2001;76:388-9.
Agorastos T, Zafrakas M, Mastrominas M. Long-term follow-up after cervical cancer treatment and subsequent successful surrogate pregnancy. Reprod Biomed Online 2009;19:250-1.
Zinger M, Liu JH, Husseinzadeh N, Thomas MA. Successful surrogate pregnancy after ovarian transposition, pelvic irradiation and hysterectomy. J Reprod Med 2004;49:573-4.
Azem F, Yovel I, Wagman I, Kapostiansky R, Lessing JB, Amit A. Surrogate pregnancy in a patient who underwent radical hysterectomy and bilateral transposition of ovaries. Fertil Steril 2003;79:1229-30.
Gomez-Hidalgo NR, Darin MC, Dalton H, Jhingran A, Fleming N, Brown J, et al. Ovarian torsion after laparoscopic ovarian transposition in patients with gynecologic cancer: a report of two cases. J Minim Invasive Gynecol 2015;22:687-90.
Nguyen L, Brewer CA, DiSaia PJ. Ovarian metastasis of stage IB1 squamous cell cancer of the cervix after radical parametrectomy and oophoropexy. Gynecol Oncol 1998;68:198-200.
Picone O, Aucouturier JS, Louboutin A, Coscas Y, Camus E. Abdominal wall metastasis of a cervical adenocarcinoma at the laparoscopic trocar insertion site after ovarian transposition: case report and review of the literature. Gynecol Oncol 2003;90:446-9.
Pahisa J, Martinez-Roman S, Martinez-Zamora MA, Torne A, Caparros X, Sanjuan A, et al. Laparoscopic ovarian transposition in patients with early cervical cancer. Int J Gynecol Cancer 2008;18:584-9.
Hodel K, Rich WM, Austin P, DiSaia PJ. The role of ovarian transposition in conservation of ovarian function in radical hysterectomy followed by pelvic radiation. Gynecol Oncol 1982;13:195-202.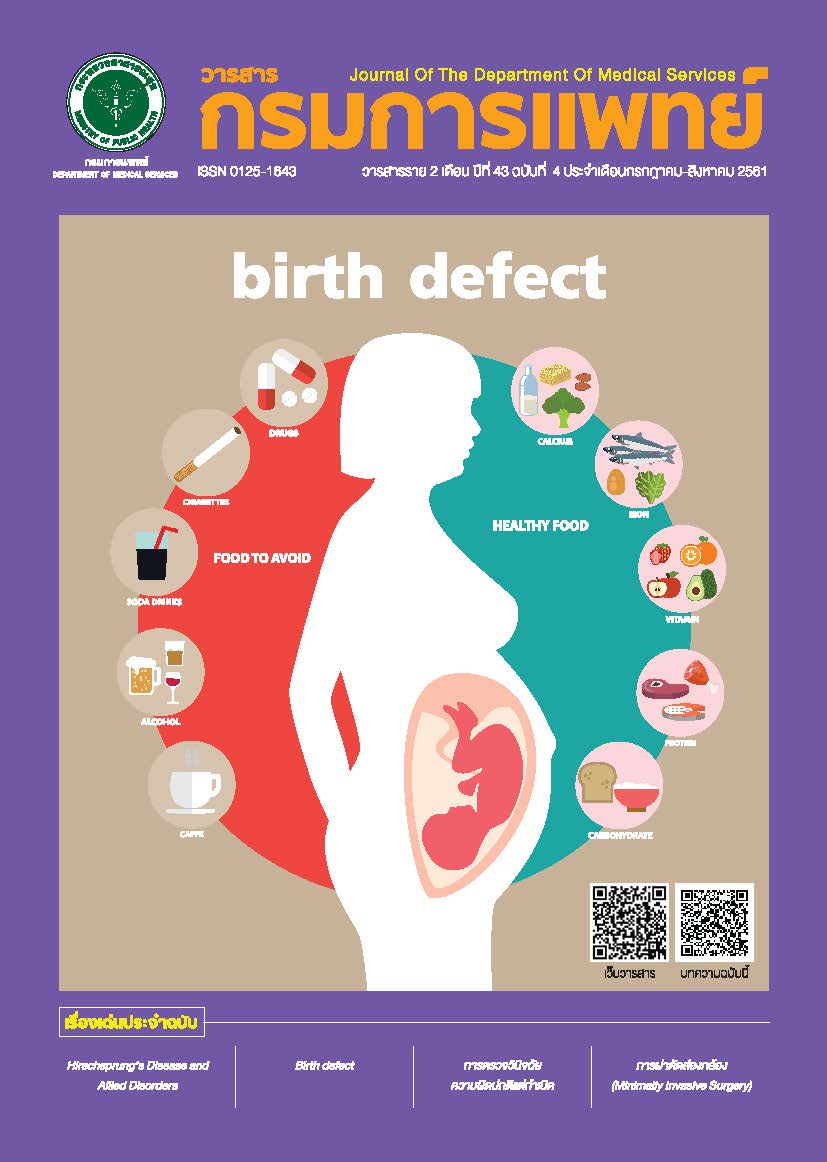 Downloads
How to Cite
1.
ภุชงค์ ลิขิตธนสมบัติ พ.บ., อารีย์พรรณ โสภณสฤษฎ์สุข พ.บ. Laparoscopic Ovarian Transposition before Pelvic Radiation Therapy for Ovarian and Fertility Preservation in Cancer Patients . j dept med ser [Internet]. 2018 Aug. 1 [cited 2022 Aug. 15];43(4):117-21. Available from: https://he02.tci-thaijo.org/index.php/JDMS/article/view/248000
License
บทความที่ได้รับการตีพิมพ์เป็นลิขสิทธิ์ของกรมการแพทย์ กระทรวงสาธารณสุข
ข้อความและข้อคิดเห็นต่างๆ เป็นของผู้เขียนบทความ ไม่ใช่ความเห็นของกองบรรณาธิการหรือของวารสารกรมการแพทย์