Characteristics of Pregnant Women Associated with Abnormal 100 Grams Oral Glucose Tolerance Test
Keywords:
Glucose challenge test, Oral glucose tolerance test, Gestational diabetes mellitus, Elderly pregnancy, indication, Screening
Downloads
Download data is not yet available.
References
Cunningham FG, Leveno KJ, Bloom SL, Spong GY, Dashe JS, Hoffman BL et al, editor. Diabetes mellitus. 24th ed. USA: McGraw-Hill; 2014.
สุชยา ลือวรรณ. โรคเบาหวานในสตรีตั้งครรภ์. ใน: ธีระ ทองสง, บรรณาธิการ. สูติศาสตร์ 5. กรุงเทพ: ลักษมีรุ่ง; 2555. หน้า 425-38.
Dudhbhai M, Lim L, Bombard A, Juliard K, Meenakshi B, Trachelenberg Y, et al. Characteristics of patients with abnormal glucose challenge test and normal oral glucose tolerance test results: comparison with normal and gestational diabetic patients. Am J Obstet Gynecol 2006;194:42-5.
Tabatabaei A, Fallah Z, Haghighi S, Farmani M, Horri N, Eslamian Z, et al . Prevalence and risk factors for gestational diabetes mellitus in pregnant women of Isfahan, Iran. IJEM 2007;9:251-9.
Arjmandi Far M, Ziaei S, Kazemnejad A. The impact of maternal age, pre-pregnancy body mass index, weight gain and parity on glucose challenge test (GCT). Int J Fertil Steril 2012;5:207–2010.
Hackmon R, James R, O'Reilly Green C, Ferber A, Barnhard Y, Divon M. The impact of maternal age body mass index and maternal weight gain on the glucose challenge test in pregnancy. J Matern Fetal Neonatal Med 2007;20:253-7.
England LJ, Levine RJ, Qian C, Soule LM, Schisterman EF, Yu KF, et al. Glucose tolerance and risk of gestational diabetes mellitus in nulliparous women who smoke during pregnancy.Am J Epidemiol 2004;160:1205-13.
Vanamala V G. Gestational diabetes and fetal outcome: a study in tertiary care center. IJRCOG 2017;6:4458-61.
Leng J, Shao P, Zhang C, Tian H, Zhang F, Zhang S, et al. Prevalence of gestational diabetes mellitus and its risk factors in Chinese pregnant women: a prospective populationbased study in Tianjin, China. Plos one 10(3): e0121029. doi:10.1371/journal.pone.0121029.
Herath H M M. Gestational diabetes mellitus: in search of better screening and diagnostic pathway for Sri Lankan women. GMJ 2017;22:15-24.
Erem C, Kuzu UB, Deger O, Can G. Prevalence of gestational diabetes mellitus and associated risk factors in Turkish women: the Trabzon GDM study. Arch Med Sci 2015;11:724-35.
Nuriye B D. Frequency of gestational diabetes mellitus and the associated risk factor. Pak J Med Sci 2015;31:194-7.
American Diabetes Association: Gestational diabetes mellitus.Diabetes Care 2004;27:88-90.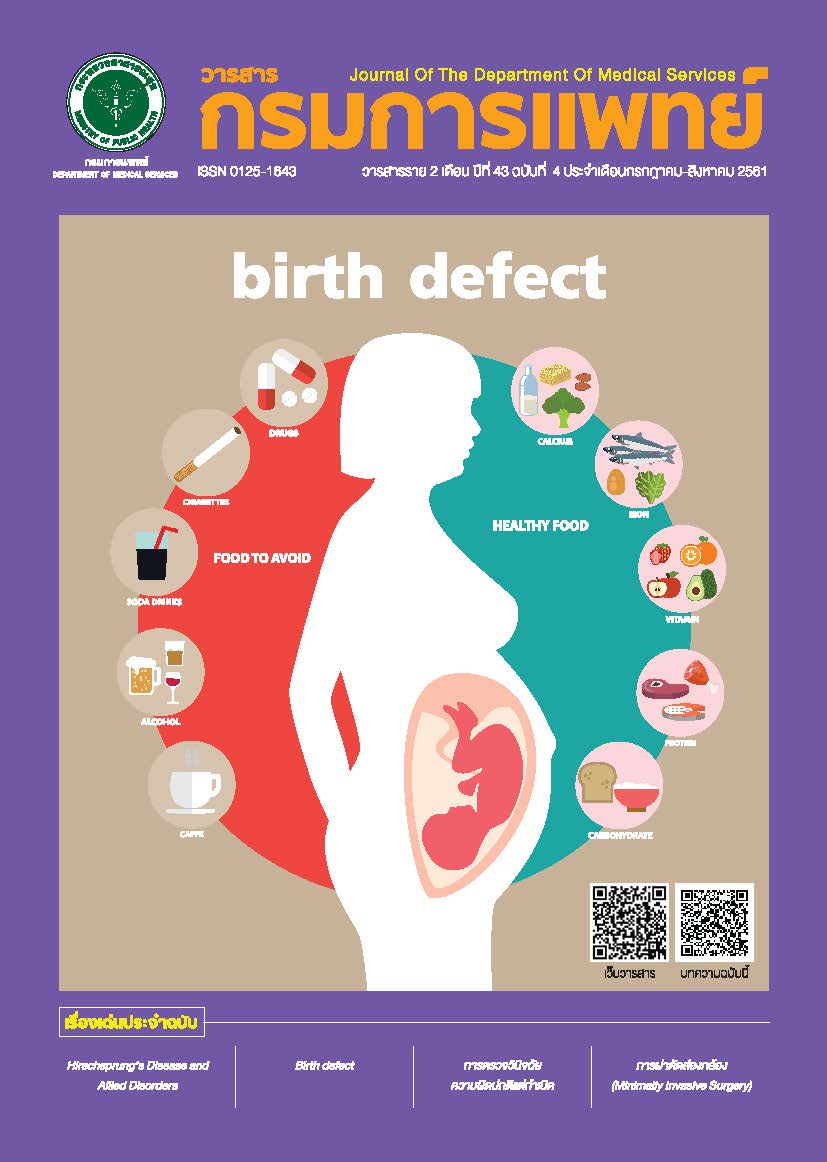 Downloads
How to Cite
1.
Suriyachai P. Characteristics of Pregnant Women Associated with Abnormal 100 Grams Oral Glucose Tolerance Test . j dept med ser [Internet]. 2018 Aug. 1 [cited 2022 Oct. 6];43(4):127-30. Available from: https://he02.tci-thaijo.org/index.php/JDMS/article/view/248005
License
บทความที่ได้รับการตีพิมพ์เป็นลิขสิทธิ์ของกรมการแพทย์ กระทรวงสาธารณสุข
ข้อความและข้อคิดเห็นต่างๆ เป็นของผู้เขียนบทความ ไม่ใช่ความเห็นของกองบรรณาธิการหรือของวารสารกรมการแพทย์