Prognostic Factors in Patients with Primary Pontine Hemorrhage in Mahasarakham Hospital
Keywords:
Prognostic indicators, Primary pontine hemorrhage
Abstract
Background : Primary pontine hemorrhage (PPH) is one of the most common sites of spontaneous intracerebral hemorrhage associated with poor controlled hypertension. An unpredictable prognosis is usually presumed in these cases due to its function as a vital neurological center. 
Objective : To discover the prognostic indicators in PPH patients in the aspect of age, sex, GCS, hematoma volume, and PPH type in Mahasarakham Hospital.
Method : The retrospective study of sixty-seven PPH patients during January 2012 to July 2019 had been conducted; the outcome was divided into two groups based on hospital discharge type, improved and not improved (against advice and dead) group. A Chi-square test was used.
Result : The indicators which help to predict good outcomes were the good level of consciousness presenting on admission, hematoma volume<10 ml, and the small unilateral type of PPH. Age and sex were not predictor of outcome. Although there was no significant difference in the length of hospital stay between the improved and not improved groups, the discharge planning was definitely different because the not improved group was most likely going against advice. Moreover, at 3-month follow up, a small unilateral type showed more significant favorable outcome than other groups.
Conclusion : The prognostic indicators in PPH patients in Mahasarakham Hospital were GCS at the admission time, hematoma volume, and PPH type.
Downloads
Download data is not yet available.
References
Lekic T, Krafft PR, Coats JS, Obenaus A, Tang J, Zhang JH. Infratentorial Strokes for Posterior Circulation Folks: Clinical Correlations for Current Translational Therapeutics. Translational stroke research 2011; 2:144.
van Asch CJ, Luitse MJ, Rinkel GJ, van der Tweel I, Algra A, Klijn CJ. Incidence, case fatality, and functional outcome of intracerebral haemorrhage over time, according to age, sex, and ethnic origin: a systematic review and meta-analysis. Lancet Neurol 2010; 9:167–76.
Chung CS, Park CH. Primary pontine hemorrhage: a new CT classification. Neurology 1992; 42:830–4.
Murata Y, Yamaguchi S, Kajikawa H, Yamamura K, Sumioka S, Nakamura S. Relationship between the clinical manifestations, computed tomographic findings and the outcome in 80 patients with primary pontine hemorrhage. J Neurol Sci 1999; 167:107–11.
Wijdicks EF, St Louis E. Clinical profiles predictive of outcome in pontine hemorrhage. Neurology 1997; 49:1342–6.
Huang K, Ji Z, Sun L, Gao X, Lin S, Liu T, et al. Development and Validation of a Grading Scale for Primary Pontine Hemorrhage. Stroke 2017; 48:63–9.
Broderick J, Connolly S, Feldmann E, Hanley D, Kase C, Krieger D, et al. Guidelines for the management of spontaneous intracerebral hemorrhage in adults: 2007 update: a guideline from the American Heart Association/American Stroke Association Stroke Council, High Blood Pressure Research Council, and the Quality of Care and Outcomes in Research Interdisciplinary Working Group. Circulation 2007; 116:e391-413.
Broderick Joseph P., Adeoye Opeolu, Elm Jordan. Evolution of the Modified Rankin Scale and Its Use in Future Stroke Trials. Stroke 2017; 48:2007–12.
Sahni R, Weinberger J. Management of intracerebral hemorrhage. Vasc Health Risk Manag 2007; 3:701–9.
Wessels T, Möller-Hartmann W, Noth J, Klötzsch C. CT findings and clinical features as markers for patient outcome in primary pontine hemorrhage. AJNR Am J Neuroradiol 2004;25:257–60.
Tao C, Li H, Wang J, You C. Predictors of Surgical Results in Patients with Primary Pontine Hemorrhage. Turkish neurosurgery 2014; 26:77–83.
Dziewas R, Kremer M, Lüdemann P, Nabavi DG, Dräger B, Ringelstein B. The prognostic impact of clinical and CT parameters in patients with pontine hemorrhage. Cerebrovasc Dis 2003; 16:224–9.
Balci K, Asil T, Kerimoglu M, Celik Y, Utku U. Clinical and neuroradiological predictors of mortality in patients with primary pontine hemorrhage. Clin Neurol Neurosurg 2005; 108:36–9.
Jang JH, Song YG, Kim YZ. Predictors of 30-day mortality and 90-day functional recovery after primary pontine hemorrhage. J Korean Med Sci 2011; 26:100–7.
Behrouz R. Prognostic factors in pontine haemorrhage: A systematic review. Eur Stroke J 2018; 3:101–9. 16. Sripontan S. Good outcome in a patient with massive pontine hemorrhage. Asian Journal of Neurosurgery 2019; 14:992.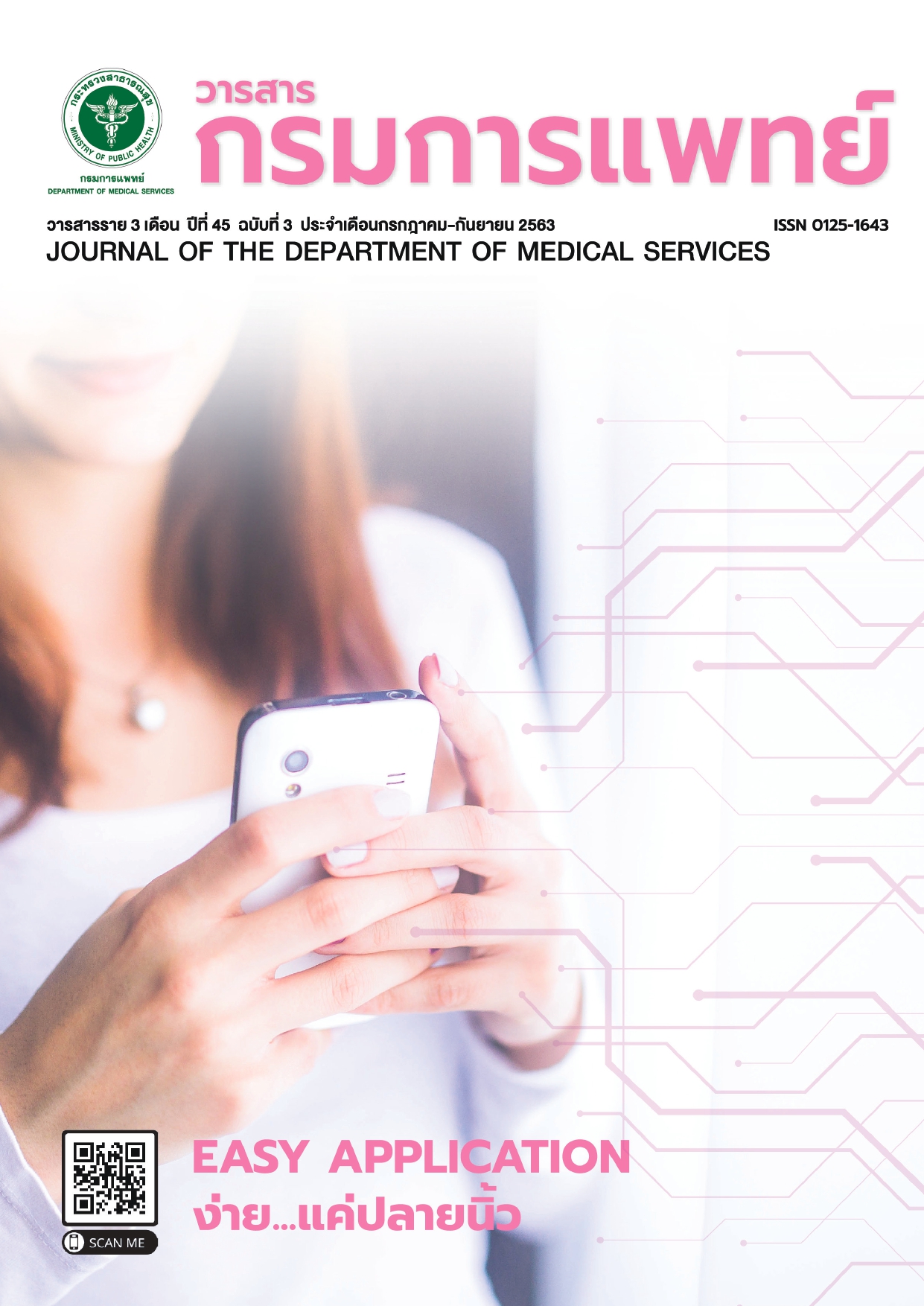 Downloads
How to Cite
1.
สมคริต ศรีพลแท่น พ.บ., จีรพร อินนอก พย.ม., วัฒนา สว่างศรี พย.บ. Prognostic Factors in Patients with Primary Pontine Hemorrhage in Mahasarakham Hospital. j dept med ser [Internet]. 2021 Jan. 4 [cited 2022 Aug. 8];45(3):76-81. Available from: https://he02.tci-thaijo.org/index.php/JDMS/article/view/248601
License
บทความที่ได้รับการตีพิมพ์เป็นลิขสิทธิ์ของกรมการแพทย์ กระทรวงสาธารณสุข
ข้อความและข้อคิดเห็นต่างๆ เป็นของผู้เขียนบทความ ไม่ใช่ความเห็นของกองบรรณาธิการหรือของวารสารกรมการแพทย์