General Anesthesia in Patients Undergoing Surgical Irreversible Electroporation of Hepatocellular Carcinoma: a Case Report
Keywords:
Tumor ablation with irreversible electroporation, Cardiac arrhythmia, ECG-synchronized
Abstract
The irreversible electroporation (IRE) or Nanoknife is a new innovation for tumor resection with a high voltage electric current around the tumor. It is a method that has been developed to reduce the limitations of the others thermal technique such as radiofrequency ablation (RFA) or microwave ablation especially tumors those are adjacent to blood vessels or bile ducts are not exposed to sufficiently high heat, resulting in residual or recurrent tumors. Therefore, this IRE innovation has been developed. The high-voltage current from IRE can increase the risk of cardiac arrhythmia, severe muscle contraction or seizure. It is necessary to perform this procedure under general anesthesia with deep neuromuscular blockade, adequate pain management, controlled hypertension and preparation for cardiac arrhythmia after high-voltage current is released with an ECG-synchronized and defibrillator.Thus understanding the principle of IRE working while discharging electricity that affects other body systems, particularly the cardiovascular system. It will make patients undergoing Surgical Irreversible electroporation of hepatocellular carcinoma safe and efficient.
Downloads
Download data is not yet available.
References
Somrat Thammathornwat. The treatment of liver and pancreatic cancer with a nanoknife [Internet]. Bangkok: Department of Radiology, Faculty of Medicine Siriraj Hospital; 2017 [cited 2020Jan 31]. Available from:https://wwwpre.ntuh.gov.tw/cmio/Fpage.action?muid=2380&fid=2232
Nielsen K, Scheffer HJ, Vieveen JM, van Tilborg AA, Meijer S,van Kuijk C, et al. Anaesthetic management during open and percutaneous irreversible electroporation. Br J Anaesth 2014;113: 985–92.
Irreversible electroporation (IRE) [Internet]. Centre of miniinvasive interventional Oncology:National Taiwan University Hospital; 2019 [cited 2020Jan 31]. Available from: https://wwwpre.ntuh.gov.tw/cmio/Fpage.action?muid=2380&fid=2232
Ball C, Thomson KR, Kavnoudias H. Irreversible electroporation: a new challenge in "out of operating theater anesthesia". Anesth Analg2010;110: 1305–9.
Narayanan G. Irreversible Electroporation. Semin Intervent Radiol2015;32:349–55.
Thomson KR, Cheung W, Ellis SJ, Federman D, Kavnoudias H,Loader-Oliver D, et al. Investigation of the safety of irreversible electroporation in humans. J Vasc Interv Radiol2011; 22:611–21.
Martin RC, Schwartz E, Adams J, Farah I, Derhake BM. Intraoperative Anesthesia Management in Patients Undergoing Surgical Irreversible Electroporation of the Pancreas, Liver,Kidney, and Retroperitoneal Tumors.Anesth Pain Med 2015;5: e22786
Pöpping DM, Elia N, Marret E, Remy C, Tramèr MR. Protective effects of epidural analgesia on pulmonary complications after abdominal and thoracic surgery. Arch Surg 2008;143:990-9.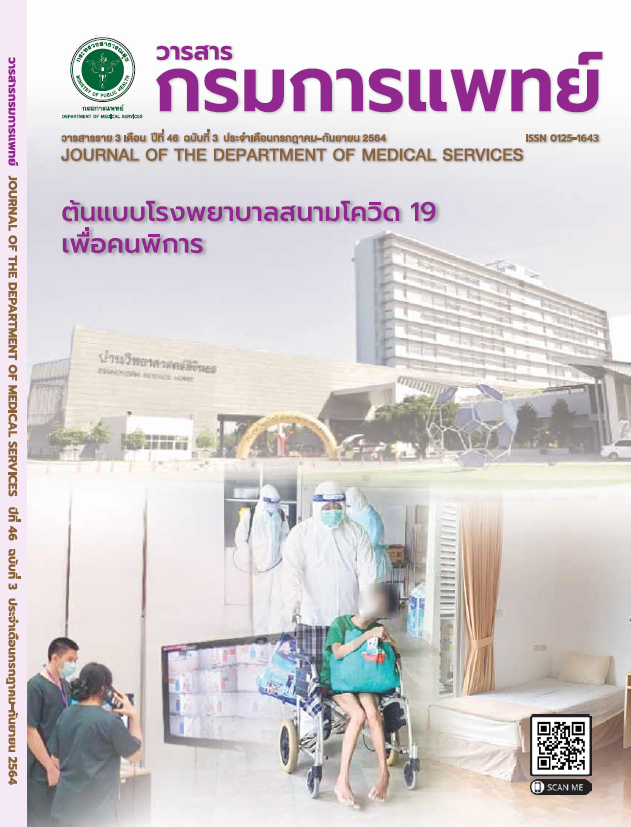 Downloads
How to Cite
1.
Parichatpricha จ. General Anesthesia in Patients Undergoing Surgical Irreversible Electroporation of Hepatocellular Carcinoma: a Case Report. j dept med ser [Internet]. 2021 Dec. 3 [cited 2022 May 18];46(3):133-8. Available from: https://he02.tci-thaijo.org/index.php/JDMS/article/view/250314
License
บทความที่ได้รับการตีพิมพ์เป็นลิขสิทธิ์ของกรมการแพทย์ กระทรวงสาธารณสุข
ข้อความและข้อคิดเห็นต่างๆ เป็นของผู้เขียนบทความ ไม่ใช่ความเห็นของกองบรรณาธิการหรือของวารสารกรมการแพทย์