Characteristic of the Death at First 24 Hours in Referral Patients from Rural Hospital: a Study of Provincial Data Analysis
Keywords:
Death rate, Critically illness transfer, Rural hospital
Abstract
Background: Referral system is an organization that transfers patients from the rural hospitals to the higher capability medical centers. According to safety concerns during transportation, several types of monitoring equipment are used and signs of clinical deterioration are observed and treated by health care personnel. However, adverse events affecting clinical worsened still occurred and leads to the death.Objective: This study aimed to evaluate the 24-hour (24-hr) death rate after referred, and to compare the characteristic between death and survival patient within 24-hr after refer from rural hospital to Khon Kaen hospital.Method: This was a retrospective cohort study, enrolled ESI level 1 patients transferred from the rural hospitals to Khon Kaen hospital from 1st October 2018 to 30th September 2019. The outcomes were the death rate and characteristics of patients who died within 24-hr after transferred.Result: Of the 3,750 critically patients included in this study, the average ± SD age was 61.8±16.6 years; 2,390 (63.7%) were male, 3,333(88.9%) were non-trauma patients, and 3,457(92.2%) were intubated patients. The death rate within 24-hr after transferred patients was 25.3%. Age of 60-79 years, intubated patients, used ventilator, and systolic BP <90mmHg groups were significantly different (p-value < 0.05), the death within 24-hr group was higher than the compared group.Conclusion: One-fourth of ESI level 1 patients developed death within 24-hr. The methods to improve equality of inter-hospital transfer and factors affecting the death outcomes should be evaluated.
Downloads
Download data is not yet available.
References
van Lieshout EJ, Binnekade J, Reussien E, Dongelmans D, Juffermans P N, de Haan RJ, et al. Nurses versus physician-led interhospital critical care transport: a randomized non-inferiority trial. Intensive Care Medicine 2016;42: 1146-54.
Wiegersma JS, Droogh JM, Zijlstra JG, Fokkema J, Ligtenberg JJ. Quality of interhospital transport of the critically ill: impact of a mobile intensive care unit with a specialized retrieval team. Crit Care 2011;15:R75.
Aljerian N, Kimani P. Incidence and predictors of adverse events and outcomes for adult critically ill patients transferred by paramedics to a tertiary care medical facility. Journal of Health Specialties 2017;5: 206-11.
Srithong K, Sindhu S, Wanitkun N, Viwatwongkasem C. Incidence and risk factors of clinical deterioration during inter-facility trans-fer of critically ill patients; a cohort study. Arch Acad Emerg Med [Internet] 2020 [cited 2020 Nov 4];8(1). Available from: https://www.ncbi.nlm.nih.gov/pmc/articles/PMC7587985/
Droogh J, Smit M, Absalom A, Ligtenberg J, Zijlstra J. Transferring the critically ill patient: Are we there yet? Critical care (London, England) 2015;19:749.
ESI [Internet] enaorg [cited 2021 May 5]. Available from: https://www.ena.org/education/esi
โรงพยาบาลขอนแก่น. รายงานสถิติประจำปี ปีงบประมาณ 2562 [Inter-net]. [cited 2021 May 6]. Available from: https://online.pubhtml5.com/pcqh/euys/
Durairaj L, Will JG, Torner JC, Doebbeling BN. Prognostic factors for mortality following interhospital transfers to the medical intensive care unit of a tertiary referral center. Crit Care Med 2003;31:1981–6.
Rishu AH, Aldawood AS, Haddad SH, Tamim HM, Al-Dorzi HM, Al-Jabbary A, et al. Demographics and outcomes of critically illpatients transferred from other hospitals to a tertiary care academicreferral center in Saudi Arabia. Ann Intensive Care 2013;3:26.
Fan E, MacDonald RD, Adhikari NK, Scales DC, Wax RS, Stewart TE, et al. Outcomes of interfacility critical care adult patient transport: a systematic review. Crit Care 2006;10:R6.
Strauch U, Bergmans DC, Winkens B, Roekaerts PM. Short-term outcomes and mortality after interhospital intensive care transportation: an observational prospective cohort study of 368 consecutive transports with a mobile intensive care unit. BMJ Open 2015;5:e006801.
Rosenthal GE, Kaboli PJ, Barnett MJ, Sirio CA. Age and the risk of in-hospital death: insights from a multihospital study of intensive care patients. J Am Geriatr Soc 2002;50:1205–12.
Cereda E, Klersy C, Hiesmayr M, Schindler K, Singer P, Laviano A, et al. Body mass index, age and in-hospital mortality: The NutritionDay multinational survey. Clin Nutr 2017;36:839–47.
Vosylius S, Sipylaite J, Ivaskevicius J. Determinants of outcome in elderly patients admitted to the intensive care unit. Age Ageing 2005; 34:157–62.
Campbell SE, Seymour DG, Primrose WR. A systematic literature review of factors affecting outcome in older medical patients admitted to hospital. Age Ageing 2004;33:110–5.
Ligtenberg JJ, Arnold LG, Stienstra Y, van der Werf TS, Meer-tens JH, Tulleken JE, et al. Quality of interhospital transport ofcritically ill patients: a prospective audit. Crit Care 2005;9:R446–51.
Droogh JM, Smit M, Hut J, de Vos R, Ligtenberg JJ, Zijlstra JG. Inter-hospital transport of critically ill patients; expect surprises. Crit Care 2012;16:R26.
Nigelberg E, Pesce K, Cox L, Thode HC, Jr, J.Singer A. Theimpact of online medical direction on ambulance transport of patients initially refusing medical assistance 2010 [cited 2020 Oct 29]; Available from: https://ir.stonybrook.edu/xmlui/handle/11401/66036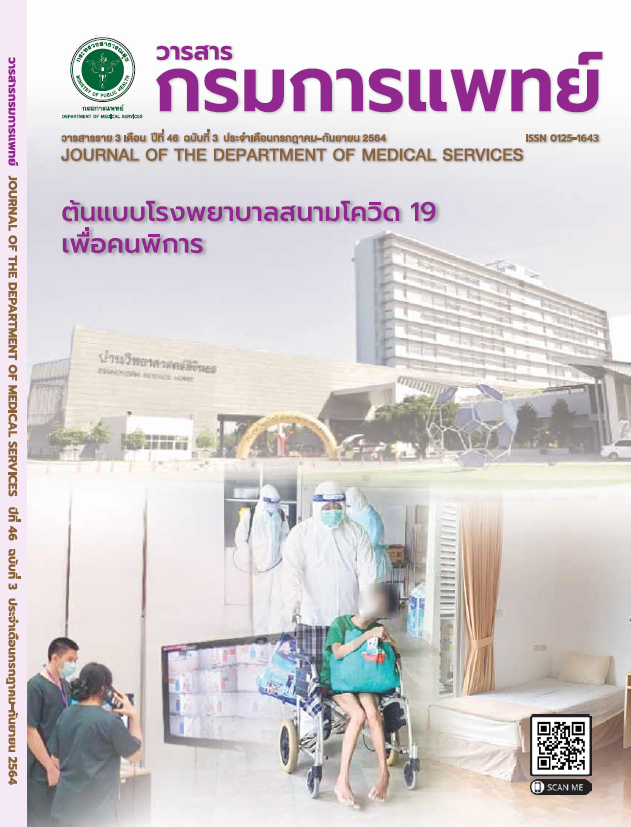 Downloads
How to Cite
1.
Seathapong T, Tantibundit P. Characteristic of the Death at First 24 Hours in Referral Patients from Rural Hospital: a Study of Provincial Data Analysis. j dept med ser [Internet]. 2021 Dec. 2 [cited 2023 Jan. 30];46(3):89-95. Available from: https://he02.tci-thaijo.org/index.php/JDMS/article/view/250411
License
Copyright (c) 2021 Department of Medical Services, Ministry of Public Health
This work is licensed under a Creative Commons Attribution-NonCommercial-NoDerivatives 4.0 International License.
บทความที่ได้รับการตีพิมพ์เป็นลิขสิทธิ์ของกรมการแพทย์ กระทรวงสาธารณสุข
ข้อความและข้อคิดเห็นต่างๆ เป็นของผู้เขียนบทความ ไม่ใช่ความเห็นของกองบรรณาธิการหรือของวารสารกรมการแพทย์