The Development of Nursing Service Model for Patients Undergoing Anesthesia in One Day Surgery (ODS) at Buriram Hospital
Keywords:
Care service model, Anesthesia, One day surgery (ODS)
Abstract
Background: In undergoing One Day Surgery (ODS), patients are required to be provided with anesthesia. Therefore, selection of an appropriate anesthesia practice and surgical procedure are essential.
Objectives: To develop a care service model and to examine the effects of the developed model.
Methods: This research and development study was conducted between December 2018 and September 2020. The study was divided into five steps. The first step, was to study and analyze the problems based on the Six Building Blocks, then the model was developed according to system theory in the second step. The third step involved a trial of the developed model and the fourth step was to evaluate and improve the model. Finally, the model was implemented, followed up, and evaluated. The participants consisted of 40 service providers and 284 One Day Surgery (ODS) patients. The instruments used to collect the data were interview, preoperative evaluation form, Intraoperative evaluation form, postoperative evaluation form, follow-up form within 24 hours after discharge and satisfaction survey form. The data were gathered from the interview, brainstorming and focus group. Quantitative data were analyzed by using descriptive statistics and qualitative data were analyzed by using content analysis.
Results: The developed care service model was a modification of the anesthesia service in which Pre-Anesthesia Care Units (PACU) was established by anesthesiologists and nurse anesthetists as well as One Day Surgery (ODS) ward. Moreover, it was found that the ability to perform One Day Surgery (ODS) increased from 12 to 284 patients with anesthesia complications decreased to 25.70 percent. In addition, patient tracking system within 24 hours after discharge was added and the patients had a very high satisfaction towards the service.
Conclusion: The developed model can be able to control the patients' condition, reduce complications and also allow the patients to be discharged safely.
Downloads
Download data is not yet available.
References
ODS New frontier in THAI Health Care System. [Internet].2018 [cited 2018 Oct 30]. Available from:http://118.174.45.29/hhc/dowload/ แผ่นพับ_ODS/_New_frontier_in_ THAI_Health_Care_System.pdf
Department of Medical Services. Develop a variable health system ODS และ MIS. [Internet].2017 [cited 2018 Oct 30]. Available from:https://siamrath.co.th/n/27967.
Health Care Accreditation Institute, Hospital and Health Service Standards. A Publication for the Sixtieth Anniversary Celebration of His Majesty's Accession to the Throne. Nonthaburi: Health Care Accreditation Institute; 2006.
Department of Medical Services, Ministry of Public Health. Safety in One Day Surgery (ODS). Nonthaburi:Thepphenwanis Printing Factory;2018.
Buriram Provincial Public Health Office. Summary of government inspection; 2020.
Department of Medical Services, Ministry of Public Health. Recommendations on the development of a one-day surgical service system.Nonthaburi: Publishing House. Veterans Welfare Organization under the Royal Patronage; 2017.
Jeong Han Lee. Anesthesia for ambulatory surgery. Korean J Anesthesiol 2017; 70: 398-406.
Smith I, Cooke T, Jackson I, Fitzpatrick R. Rising to the challenges of achieving day surgery targets. Anaesthesia 2006; 61: 1191-9.
Fleisher LA, Mythen M. Preoperative evaluation. In: Miller RD, Eriksson LI, Fleisher LA,Wiener-Kronish JP, Cohen NH, Young WL, editors. Miller's Anesthesia. 8th ed. Philadelphia: Elsevier Health Sciences; 2014.
Chandee T, Sriparkdee C. Anesthesia for ambulatory surgery. Thammasat Med J 2019; 19 Suppl: S197-208.
Sriyakun S. The Incidence of Postoperative Complications in New Born-12 Years in Indirect Inguinal Hernia and Hydrocele Who Received Anesthesia as One Day Surgery at Nakhonpathom Hospital 2011-2015.Journal of the Department of Medical Services 2017; 42:32-9.
Russon K, Thomas A. Anesthesia for day surgery.[Internet]. 2007 [cited 2020 Nov 22. Available from:https://journals.sagepub.com/doi/pdf/10.1177/ 17504589070 1700702.
Shnaider I, Chung F. Outcomes in day surgery. Curr Opin Anaesthesiol 2006; 19: 622.
McGrath B, Chung F. Postoperative recovery and discharge. Anesthesiol Clin North America 2003; 21: 367-86.
Gan TJ, Habib AS, Miller TE, White W, Apfelbaum JL. Incidence, patient satisfaction, and perceptions of post-surgical pain: results from a US national survey. Curr Med Res Opin 2014; 30:149–60.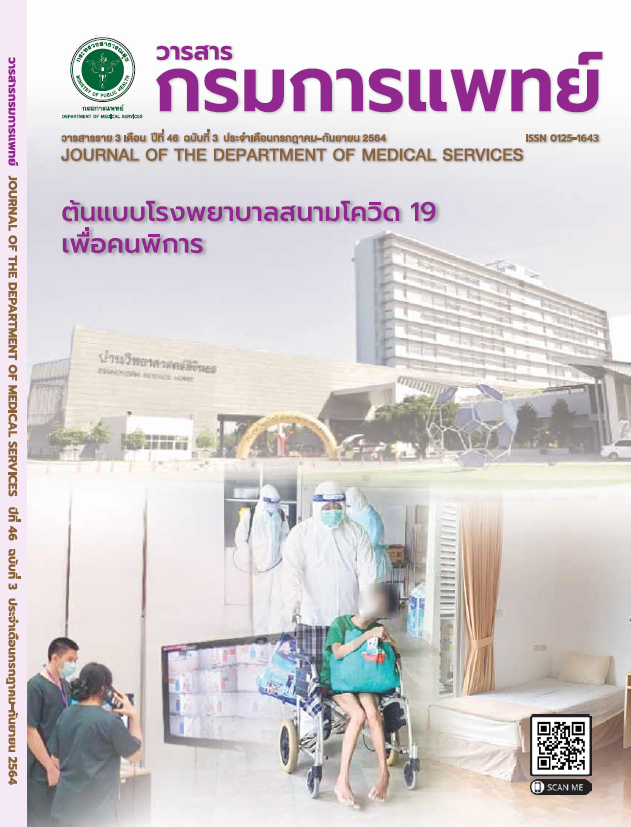 Downloads
How to Cite
1.
Asawasudsakorn ว, Chenphanitsub ม, Kaewampai ส, Pimratana เ. The Development of Nursing Service Model for Patients Undergoing Anesthesia in One Day Surgery (ODS) at Buriram Hospital. j dept med ser [Internet]. 2021 Dec. 2 [cited 2022 May 18];46(3):118-25. Available from: https://he02.tci-thaijo.org/index.php/JDMS/article/view/253720
License
บทความที่ได้รับการตีพิมพ์เป็นลิขสิทธิ์ของกรมการแพทย์ กระทรวงสาธารณสุข
ข้อความและข้อคิดเห็นต่างๆ เป็นของผู้เขียนบทความ ไม่ใช่ความเห็นของกองบรรณาธิการหรือของวารสารกรมการแพทย์