Co-abuse Substances in Kratom Dependent Patients
Keywords:
Kratom, Mitragynine, Drug dependence
Abstract
Background: Thai teenagers like to boil kratom leaves as a base for a cocktail pattern including cough syrup, cola and other substance. These kratom decoction can produce addictive effect in addition to kratom leaves and also cause harms from other substances in the decoction.Objective: This research aimed to identify the types of drugs or substances found in kratom decoction and kratom dependent patients' urine.Method: The samples were 69 kratom addicts who met the DSM-IV-TR and they are treated at Princess Mother National Institute on Drug Abuse Treatment (PMNIDAT), Thanyarak Songkhla Hospital, and Thanyarak Pattani Hospital. Age of samples were 18 years and older and they had willing to participate in the research. The data were collected by kratom use questionnaire which consisting of demographic data , drug use information and urine test record form. The validity kratom use questionnaire, each item has the Index of Item-Objective Congruence between 0.67-1.00. The data were analyzed by descriptive statistics such as frequency, percentage, mean and standard deviation.Result: Most kratom dependent patients put substances other than kratom leaves in kratom decoction. They mixed cola and cough syrup in kratom decoction. The top 5 substances that found in the kratom dependent patients' urine were nicotine, mitragynine, caffeine, methamphetamine, and diphenhydramine ranging 86.95, 85.51, 62.32, 56.52 and 42.03 percent respectively.Conclusion: The substances that found in the urine were either substances that are mixed or use with kratom and contamination from food and other. Some substances may be able to cause more danger to the health of the Kratom addicts
Downloads
Download data is not yet available.
References
Babu KM, McCurdy CR, Boyer EM. Opioid receptors and legal highs : Salvia divinorum and kratom. Clin Toxicol (Phila) 2008;46:146-52.
Watanabe K, Yano S, Horie S, Yamamoto LT. Inhibitory effect of Mitragynine, an alkaloid with analgesic effect from thai medicinal plant Mitragyna specinosa, on electrically stimulated contraction of isolated guinea-pig ileum through the opioid receptor. Life Sci 1997; 60:933-42.
Suwanalert S. A study of kratom eaters in Thailand. Bull Narc 1975; 27:21-7.
Verachai V, Nilaban S. Clinical Symptoms of Kratom Dependence.Bull Dept Med Serv 2005; 30:310-13.
Assanangkornchai S. Using, addiction and impact to health. In: Assanangkornchai S, Siriwong Na Ayutthaya editors. Kratom plants in society of Thailand : culture, behaviour, health, sciencs,and law. Bangkok : (NAS); 2005.
Princess Mother National Institute on Drug Abuse Treatment.Annual report 2012-2016. Patumthani; 2017.
Theanwitee C, Sinpai N, Kaewsod P. The treatment of kratom addicted patients at out patient department Thanyarak institute (thesis). Patumthani : Rangsit University; 2006.
Office of the Narcotics Control Board. Situation of kratom plants (Internet). (cite 2020 May 3). Available from :https://www.msociety.go.th/article_attach/11977/16236.pdf
Office of the Narcotics Control Board. Situation of drug problem 1st trimester 2015. 2015 (cite 2020 May 3).Available from :https://www.oncb.go.th/ONCB_OR7/publishingImages/pages/event/situation of drug problem1st trimester 2015.pdf
Phutiprawan T. Drug and drug testing laboratory. In: Verachai V,Lukanapichonchut L, Patarkorn A,Kimsungnoun N, Panchabuse C, editors. Textbook of addiction medicine. Bangkok: The war veterans organization; 2005.
Raymond E. An introduction to quadrupole ion trap mass spectrometry. J Mass Spectrom 1997; 32:351-69.
Bangphichet A, The distressing withdrawal symptoms of kratom dependent patients in the psychiatric clinic of Takuapa hospital, Phang-nga province, Thailand. Journal of Mental Health of Thailand 2563; 28:30-42.
Eaimchaloay S. Physical, psychological and behavior outcomes of kratom users at a substance abuse treatment center(dissertation). Bangkok : Chulalongkorn University; 2017.
Kaw-in P. Personal factor, social factor and knowledge level related to causes and behaviors of taking 4x100 drug type,among children and youth in the venue of youth observation and protection in zone 8 zone 9(dissertation). Samutprakarn:Huachiew Chalermprakiet University; 2017.
Junsirimongkol B, Singkhorn O, Thipnurauk B, Puanglod D. The study of symptoms of clinical effects in kratom abusers at the outpatient clinic, Suansaranrom hospital. Journal of Somdet Chaopraya Institute of Psychiatry 2009; 3:41-53.
Kaewlue K. The addiction of kratom plants among rubberplantation's farmers in southern province in Thailand (dissertation). Bangkok : Mahidol University; 2004.
Bulaed S. Experience of addiction 4x100 the teenagers in the sub disteict of Krabi province (dissertation).Suratthani : Suratthani Rajabhat University; 2015.
Wikipedia. Caffeine (Internet). (cite 2020 May 5). Available from:https://th.wikipedia.org/wiki
HD editor. Benadryl (Diphenhydramine) (Internet). (cite 2020 May 5). Available from :https://www.honestdocs.co/benadryl
Singh D, Muller CP, Vicknasingam BK. Kratom (Mitragyna speciosa)dependence, withdrawal symptoms and craving in regular users.Drug Alcohol Depend 2014; 139:132-7.
Specht A, Rodenbach J, Baumruck A, Duttine B. Yohimbin(Internet). (2020 May 7). Available from :https://www.chemie.tu-darmstadt.de/media/ak_fessner/damocles_pdf/2010_1/Histry_Yohombin_Ende.pdf
Agency for toxic substance and disease registry. Public health statement DEET (n-n -diethyl-meta-toluamide)(Internet). 2015(cite 2020 May 7). Available from : https://www.atsdr.cdc.gov/toxprofiles/tp185-c1-b.pdf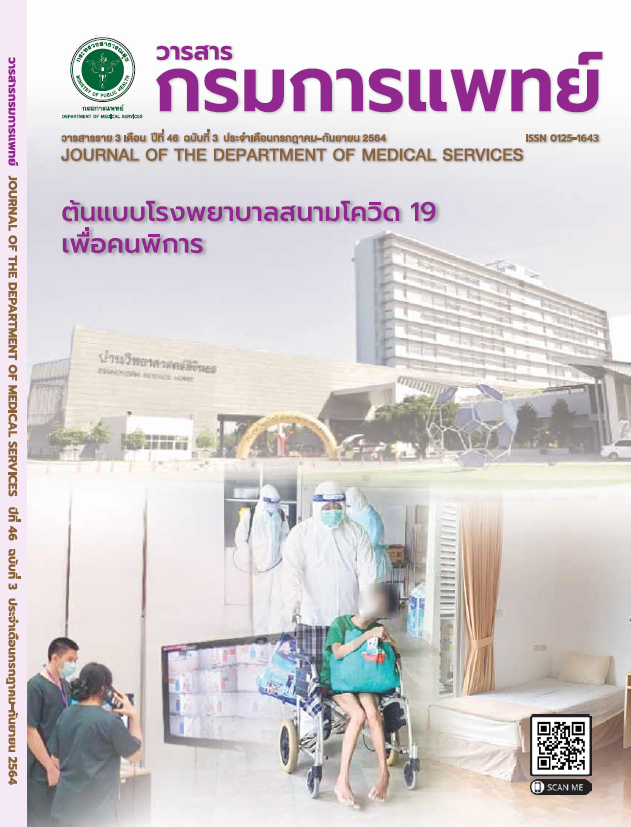 Downloads
How to Cite
1.
Lukanapichonchat L, Verachai V, Nilaban S, Thanateerabunjong R, Ratanaphan K. Co-abuse Substances in Kratom Dependent Patients. j dept med ser [Internet]. 2021 Nov. 30 [cited 2023 Feb. 5];46(3):96-104. Available from: https://he02.tci-thaijo.org/index.php/JDMS/article/view/255170
License
This work is licensed under a Creative Commons Attribution-NonCommercial-NoDerivatives 4.0 International License.
บทความที่ได้รับการตีพิมพ์เป็นลิขสิทธิ์ของกรมการแพทย์ กระทรวงสาธารณสุข
ข้อความและข้อคิดเห็นต่างๆ เป็นของผู้เขียนบทความ ไม่ใช่ความเห็นของกองบรรณาธิการหรือของวารสารกรมการแพทย์