Endotracheal Metastasis and Superior Vena Cava Obstruction from Hepatocellular Carcinoma: a Case Report
Keywords:
Endotracheal metastasis, Hepatocellular carcinoma metastasis, Superior vena cava obstruction
Abstract
Endotracheal metastasis from hepatocellular carcinoma are very rare. A 49-years-old man was admitted to the hospital with a 1-month history of cough, blood streak sputum and swelling of upper part of body. The patient had no underlying disease. Radiological findings were huge mediastinal lymphadenopathy at lower paratrachea with direct invasion to endotracheal and complete compress superior vena cava (SVC). Bronchoscopic with endotracheal lesion biopsy was done and the tissue pathology positive staining for hepatocyte paraffin 1 (Specific immunohistochemistry for HCC). Final diagnosis was advanced hepatocellular carcinomas with mediastinal lymph node and endotracheal metastasis and SVC obstruction. The patient received immediated radiation for life threatening conditions and sorafenib for specific treatment in advanced stage HCC. He died at 8 months after received sorafenib.
Downloads
Download data is not yet available.
References
Katsimbri PP, Bamias AT, Froudarakis ME, Peponis IA, Constantopoulos SH, Pavlidis NA. Endobronchial metastases secondary to solid tumors: report of eight cases and review of the literature. Lung Cancer2000; 28:163-70.
Braman SS, Whitecomb ME. Endobronchialmetastasis. Arch Intern Med 1975; 135:543–7.
King DS, Castleman B. Bronchial involvement in metastatic pulmonary malignancy. J Thorac Surg 1943; 12:305-15.
Shepherd MP. Endobronchial metastatic disease. Thorax 1982;37:362–5.
Heitmiller RF, Marasco WJ, Hruban RH, Marsh BR. Endobronchial metastasis. J Thorac Cardiovasc Surg 1993;106: 537-42.
El-Badrawy A, Gadelhak B, El-Badrawy MK, El-Etreby SA, Emarah Z.Hepatocellular Carcinoma with Endobronchia Metastasis: A Case Report. Research Journal of Oncology2018;2:1-3.
Szumera-Ciećkiewicz A, Olszewski WT, Piech K, Głogowski M,Prochorec-Sobieszek M. Endobronchial metastasis from hepatocellular carcinoma - a case description with literature review.Int J Clin Exp Pathol 2013;6:1942-7.
Lee KY, Ryu SJ, Joo M. Endobronchial metastasis of hepatocellular carcinoma. Yonsei Med J 2003; 44:544-7.
Schraufnagel DE, Hill R, Leech JA, Pare JAP. Superior vena caval obstruction. Is it a medical emergency?. Am J Med 1981; 70: 1169-74.
Wilson LD, Detterbeck FC, Yahalom J. Clinical practice. Superior vena cava syndrome with malignant causes. N Engl J Med 2007;356: 1862-9.
Koetters KT. Superior vena cava syndrome. J Emerg Nurs2012;38:135–8.
Rice TW, Rodriguez RM, Light RW. The superior vena cava syndrome: clinical characteristics and evolving etiology. Medicine 2006; 85:37–42.
Uberoi R. Quality assurance guidelines for superior vena cava stenting in malignant disease. Cardiovasc Intervent Radiol 2006;29:319–22.
Kim HJ, Kim HS, Chung SH. CT diagnosis of superior vena cava syndrome: importance of collateral vessels. AJR Am J Roentgenol 1993; 161:539–42.
Yu JB, Wilson LD, Detterbeck FC. Superior vena cava syndrome: a proposed classification system and algorithm for management. J Thorac Oncol2008; 3:811–4
Sofue K, Takeuchi Y, Arai Y, Sugimura K. Life threatening cerebral edema caused by acute occlusion of a superior vena cava stent. Cardiovasc Intervent Radiol2013; 36:272–5.
Nicholson AA, Ettles DF, Arnold A, Greenstone M, Dyet JF.Treatment of malignant superior vena cava obstruction: metal stents or radiation therapy. J Vasc Interv Radiol1997; 8:781–8.
Ampil F, Caldito G, Previgliano C. Palliative radiotherapy for superior vena caval obstruction by lung cancer: a major issue about timing and a minor issue about efficacy. Ann Thorac Med2012; 7:170–1.
Davenport D, Ferree C, Blake D, Raben M. Response of superior vena cava syndrome to radiation therapy.Cancer1976; 38:1577-80.
Cheng S. Superior vena cava syndrome: a contemporary review of a historic disease. Cardiol Rev2009; 17:16-23.
Armstrong BA, Perez CA, Simpson JR, Hederman MA. Role of irradiation in the management of superior vena cava syndrome.Int J Radiat Oncol Biol Phys 1987;13:531-9.
Rowell NP, Gleeson FV. Steroids, radiotherapy, chemotherapy and stents for superior vena caval obstruction in carcinoma of the bronchus: a systematic review. Clin Oncol (R Coll Radiol) 2002;14:338-51.
Öztürk A, Aktaş Z, Yilmaz A. Endobronchial metastasis of mixed germ cell tumors: two cases. Tuberk Toraks 2016;64: 175-8.
Kiryu T, Hoshi H, Matsui E, Iwata H, Kokubo M, Shimokawa K, et al.Endotracheal/endobronchial metastases:clinicopathologic study with special reference to developmental modes. Chest 2001; 119:768-75.
Ghinassi G, Imitazione P, Pecoraro A, Montella LBG, Martucci P,Giacobbe R, et al. Endotracheal metastasis of hepatocellular carcinoma: a case report. Multidiscip Respir Med 2019; 14:19.
Chen WH, Wang YH, Lu YC, Huang CC, Wong SL. Endobronchial metastasis from an occult papillary thyroid carcinoma: a case report. Changgeng Yi Xue Za Zhi 1998; 21: 200-5.
Kushwaha RA, Verma SK, Mahajan SV. Endobronchial metastasis of follicular thyroid carcinoma presenting as hemoptysis: a case report. J Cancer Res Ther 2008; 4: 44-5.
Marchioni A, Lasagni A, Busca A, Cavazza A, Agostini L, Migaldi M, et al.Endobronchial metastasis: an epidemiologic and clinicopathologic study of 174 consecutive cases. Lung Cancer 2014; 84: 222-8.
Akoglu S, Uçan ES, Celik G, Sener G, Sevinç C, Kilinç O, et al.Endobronchial metastases from extrathoracic malignancies.Clin Exp Metastasis2005; 22: 587-91.
Herold CJ, Bankier AA, Fleischmann D. Lung metastases. Eur Radiol 1996; 6: 596-606.
Clinical Practice Guidelines. EASL Clinical Practice Guidelines:Management of hepatocellular carcinoma.Journal of Hepatology 2018; 69: 182-236.
Chiou SR, Lin TL, Bora D, Lu HI, Chen CL, Wang SH, et al . Metastatic hepatocellular carcinoma mimicking a solitary mediastinal tumor.J Cancer Res Pract 2010;26:257-62.
El-Serag HB. Hepatocellular carcinoma. N Engl J Med 2011;365:1118–27.
Yang Y, Nagano H, Ota H, Morimoto O, Nakamura M, Wada H, et al.Patterns and clinicopathologic features of extrahepatic recurrence of hepatocellular carcinoma after curative resection. Surgery. 2007;141:196–202.
Kim K, Chie EK, Kim W, Kim YJ, Yoon JH, Lee HS, et al. Absence of symptom and intact liver function are positive prognosticators for patients undergoing radiotherapy for lymph node metastasis from hepatocellular carcinoma.Int J Radiat Oncol Biol Phys 2010;78:729–34.
Yoon SM, Kim JH, Choi EK, Ahn SD, Lee SW, Yi BY, et al.Radioresponse of hepatocellular carcinoma-treatment of lymph node metastasis. Cancer Res Treat 2004; 36:79–84.
Thailand Guideline for Management of Hepatocellular Carcinoma;2019
Llovet JM, Ricci S, Mazzaferro V, Hilgard P, Gane E, Blanc JF, de Oliveira AC, et al. Sorafenib in advanced hepatocellular carcinoma.N Engl J Med 2008; 359:378–90.
Raoul JL, Bruix J, Greten TF, Sherman M, Mazzaferro V, Hilgard P,et al. Relationship between baseline hepatic status and outcome,and effect of sorafenib on liver function: SHARP trial subanalyses.J Hepatol 2012; 56:1080–8.
Johnson PJ, Qin S, Park JW, Poon RT, Raoul JL, Philip PA, et al.Brivanib versus sorafenib as first-line therapy in patients with unresectable, advanced hepatocellular carcinoma: Results from the randomized phase III BRISK-FL study. J Clin Oncol 2013; 31:3517-24.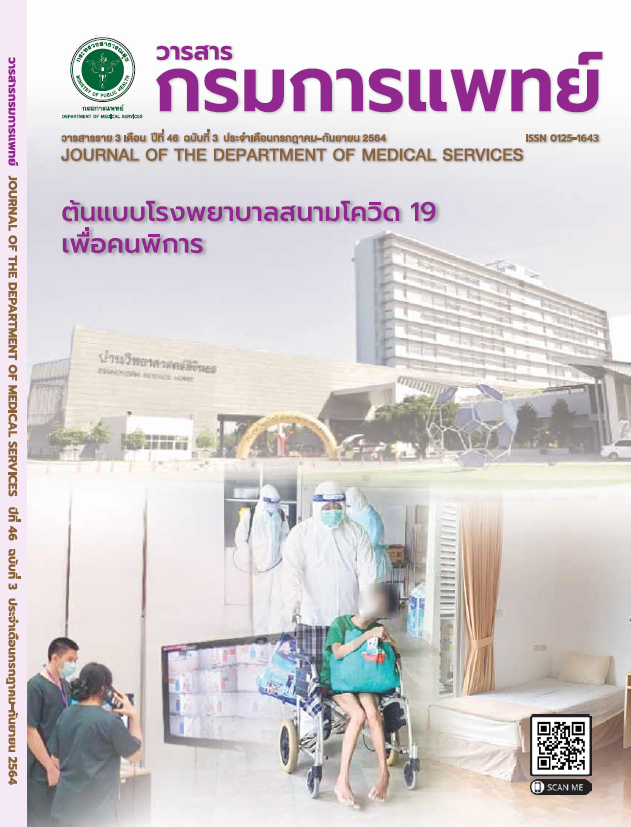 Downloads
How to Cite
1.
Inkaew S. Endotracheal Metastasis and Superior Vena Cava Obstruction from Hepatocellular Carcinoma: a Case Report. j dept med ser [Internet]. 2021 Nov. 30 [cited 2023 Feb. 5];46(3):126-32. Available from: https://he02.tci-thaijo.org/index.php/JDMS/article/view/255193
License
This work is licensed under a Creative Commons Attribution-NonCommercial-NoDerivatives 4.0 International License.
บทความที่ได้รับการตีพิมพ์เป็นลิขสิทธิ์ของกรมการแพทย์ กระทรวงสาธารณสุข
ข้อความและข้อคิดเห็นต่างๆ เป็นของผู้เขียนบทความ ไม่ใช่ความเห็นของกองบรรณาธิการหรือของวารสารกรมการแพทย์