The Grammar of Science: How "Good" is Your Instrument?
Downloads
Download data is not yet available.
References
Oosterveld P, Vorst HCM, Smits N. Methods for questionnaire design: a taxonomy linking procedures to test goals. Qual Life Res. 2019 Sep;28(9):2501–12.
National Cancer Institute. NCI's dictionary of cancer terms: laboratory study [Internet]. Bethesda (MA): National Institutes of Health, U.S. Department of Health and Human Services; [cited 2023 Feb 15]. <https://www.cancer.gov/publications/dictionaries/cancer-terms/def/laboratory-test>
Middleton F. Reliability vs. validity in research: difference, types and examples. Amsterdam: Scribbr; 2019 Jul 3 [updated 2023 Jan 30, cited cited 2023 Feb 15]. <https://www.scribbr.com/methodology/reliability-vs-validity>
Tang W, Cui Y, Babenko O. Internal consistency: do we really know what it is and how to assess it? Journal of Psychology and Behavioral Science. 2014 Jun;2(2):205–20.
Frost J. Content validity: definition, examples & measuring [Internet]. [place unknown]: Jim Frost; c2023 [cited 2023 Feb 15]. <https://statisticsbyjim.com/basics/content-validity/>
Shuttleworth M. Internal consistency reliability [Internet]. [place unknown]: Explorable.com; 2009 Apr 26 [cited 2023 Feb 15]. <https://explorable.com/internal-consistency-reliability>
Zamanzadeh V, Ghahramanian A, Rassouli M, Abbaszadeh A, Alavi-Majd H, Nikanfar AR. Design and implementation content validity study: development of an instrument for measuring patient-centered communication. J Caring Sci. 2015 Jun 1;4(2):165–178. doi:10.15171/jcs.2015.017.
Goforth C. Using and interpreting Cronbach's alpha [Internet]. Charlottesville (VA): Statistical Consulting Associate, University of Virginia Library; 2015 Nov 16 [cited 2023 Feb 15]. <https://data.library.virginia.edu/using-and-interpreting-cronbachs-alpha/>
Rubio DM, Berg-Weger M, Tebb SS, Lee ES, Rauch S. Objectifying content validity: Conducting a content validity study in social work research. Social Work Research. 2003 June:27(2);94–104. doi:10.1093/swr/27.2.94.
Zeraati M, Alavi NM. Designing and validity evaluation of quality of nursing care scale in intensive care units. J Nurs Meas. 2014;22(3): 461–71. doi:10.1891/1061-3749.22.3.461.
Yusoff MSB. ABC of content validation and content validity index calculation. Education in Medicine Journal. 2019;11(2):49–54. <https://doi.org/10.21315/eimj2019.11.2.6>
Boateng GO, Neilands TB, Frongillo EA, Melgar-Quinonez HR, Young SL. Best practices for developing and validating scales for health, social, and behavioral research: a primer. Front. Public Health. 2018 Jun 11; 6:149. doi:10.3389/fpubh.2018.00149.
Division of Mental Health and Prevention of Substance Abuse, World Health Organization. Programme on mental health: WHOQOL user manual [Internet]. Geneva: World Health Organization; 1998 [cited 2023 Feb 15]. 106 p. <https://apps.who.int/iris/handle/10665/77932>
Koller I, Levenson MR, Gluck J. What do you think you are measuring? a mixed-methods procedure for assessing the content validity of test items and theory-based scaling. Front. Psychol. 2017 Feb 21; 8:126. doi:10.3389/fpsyg.2017.00126.
Barrett D, Heale R. What are Delphi studies? Evidence-Based Nursing. 2020;23(3):68–9. doi:10.1136/ebnurs-2020-103303.
Polit DF, Beck CT, Owen SV. Is the CVI an acceptable indicator of content validity? appraisal and recommendations. Res Nurs Health. 2007 Aug;30(4):459–67. doi:10.1002/nur.20199.
Lawshe CH. A quantitative approach to content validity. Personnel Psychology. 1975; 28(4):563–75. doi:10.1111/j.1744-6570. 1975.tb01393.x.
Bujang MA, Omar ED, Baharum NA. A review on sample size determination for Cronbach's alpha test: a simple guide for researchers. Malays J Med Sci. 2018;25(6):85–99. doi:10.21315/mjms2018.25.6.9.
Nunnally JC. Psychometric theory. 2nd ed. New York: McGraw-Hill; 1967.
Cronbach LJ. Coefficient alpha and the internal structure of tests. Psychometrika. 1951;16(3):297–334.
Nunnally JC, Bernstein IH. Psychometric theory. 3rd ed. New York: McGraw-Hill; 1994.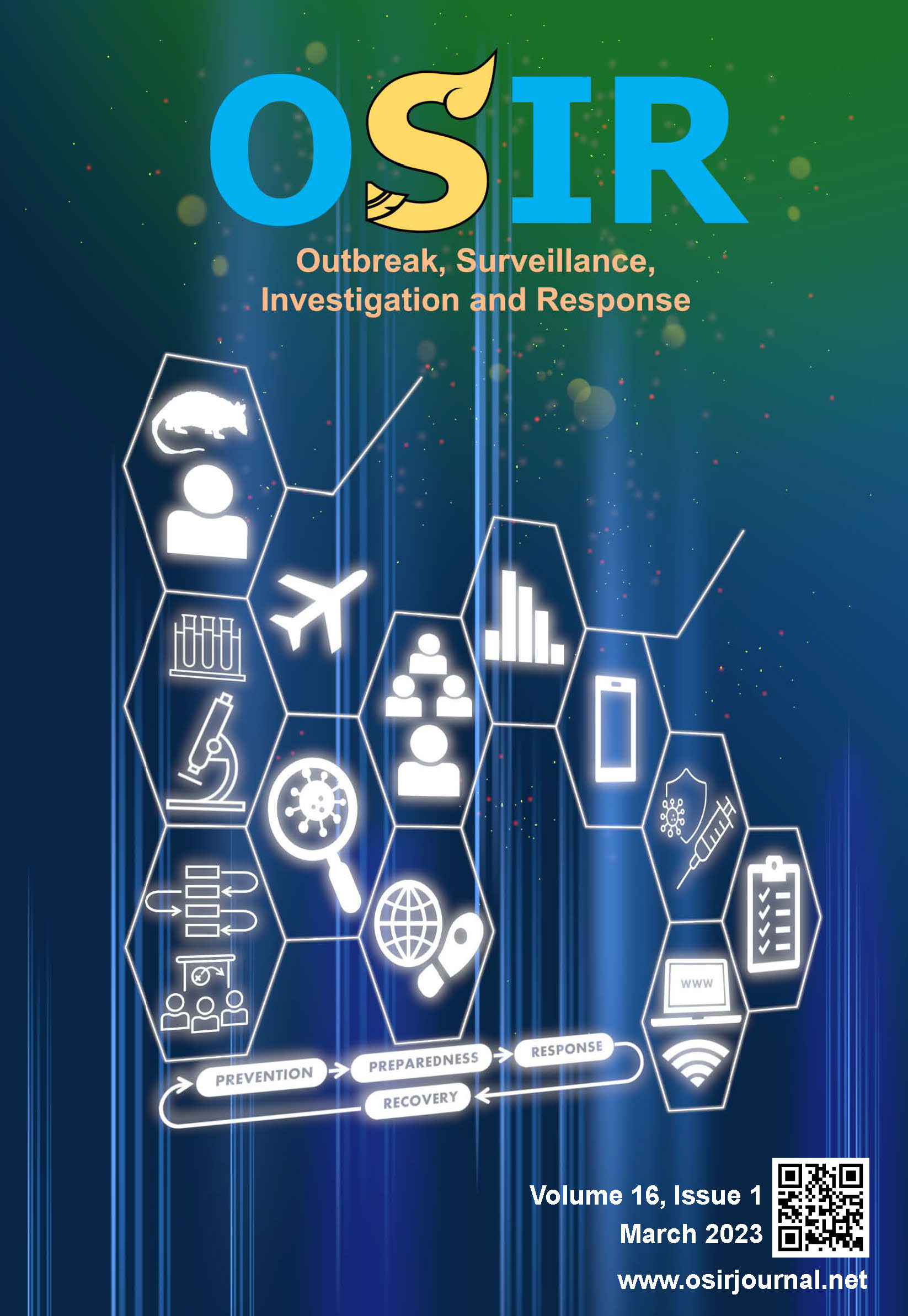 Downloads
How to Cite
Kaewkungwal, J. (2023). The Grammar of Science: How "Good" is Your Instrument?. Outbreak, Surveillance, Investigation & Response (OSIR) Journal, 16(1), 40–45. https://doi.org/10.59096/osir.v16i1.262097
License
Copyright (c) 2023 Outbreak, Surveillance, Investigation & Response (OSIR) Journal
This work is licensed under a Creative Commons Attribution-NonCommercial-NoDerivatives 4.0 International License.