Incidence and Severity of Hypothermia in Unplanned Out-of-hospital Birth
Keywords:
hypothermia, neonate, Unplanned Out-of-hospital Birth
Abstract
Introduction : Hypothermia in the newborn resulting in multiple body systems; cardiopulmonary(bradycardia, tachypnea), central nervous system (lethargy, poor feeding), and vascular system (peripheral vasoconstriction) and considered to be a significant contributing factor to neonatal morbidity and mortality. Despite a recommendation of maintaining temperature in neonatal resuscitation and newborn care, hypothermia is a common neonatal problem that has remained under-recognized, under-document, and poorly managed. We aim to identify hypothermia in out-of-hospital birth.
Objectives : to identify incidence and severity of hypothermia in the infant born before arrival at the hospital
Method : Data were collected retrospectively from all infants born before arrival at Nopparat Rajathani hospital from 1st January 2018 to 31st December 2020
Results : eighty-three cases were analyzed. This study reveals that the incidence of hypothermia is 51.8%. Mild hypothermia is 26.5%, and moderate hypothermia is 25.396. The mild hypothermic group had transportation time around 60 minutes and need 41.1 minutes to reach normal temperature. The moderate hypothermic group had a transportation time of around 90 minutes and need 82.2 minutes to reach normal temperature. There is no mortality in this study.
Conclusion : Half of the cases had a hypothermic condition, and all cases can be treated to normal temperature in about 1 hour. The moderate hypothermic group had more transportation time than the mild hypothermic group. Therefore, rewarming methods used during pre-hospital management are essential to reduce hypothermia incidence and meet the best outcome.
Downloads
Download data is not yet available.
References
Autchareeya P, Sureeporn K, Jariya W. Factors related to hypothermia in premature infants rooming in with their mother. Rama Nurs J.2004;10(3):228-38
Vilinsky-Redmond A. & Sheridan A. Hypo-thermia in the Newborn: An exploration of its cause, effect and prevention. Br J Mid-wifery..2014; 22(8): 557-62.
Korakot S, Vitaya T, Somboon R.Morbidity and mortality from birth before arrival at Slriraj hospital. J Med Assoc Thai.2002.;85(12):1258-63
Beletew B, Mengesha A, Wudu M, Abate M. Prevalence of neonatal hypothermia and its associated factors in East Africa: a systematic review and meta-analysis. BMC Pediatr. 2020 Apr 3;20(1):148.
Mathur NB, Krishnamurthy S,Mishra TK. Eval-uation of WHO classification of hypothermia in sick extramural neonates as predictor of fatality. J Trop Pediatr. 2005 Dec;51(6):341-5.
Onalo R. Neonatal hypothermia in sub-Saha-ran Africa: a review. Niger J Clin Pract. 2013 Apr-Jun;16(2):129-38.
Manji KP, Massawe AW, Mgone JM. Birthweight and neonatal outcome at the Muhimbili Medical Centre, Dar es Salaam, Tanzania. East Afr Med J. 1998;75:382- 7.
Gunnarsson,B,Fasting,S,Skogvoll,E,Smra-son, AK, Salvesen, KA. Why babies die in un-planned out-of-institution births: an enquiry into perinatal deaths in Norway 1999-2013.Acta Obstet Gynecol Scand 2017; 96: 326-333.
Hiraizumi Y, Suzuki S. Birth before arrival at a hospital in eastern Tokyo, Japan. J Nippon Med Sch. 2011;78(5):334-5.
Javaudin F, Roche M, Trutt L, Bunker I, Hamel V, Goddet S, et al. Assessment of rewarming methods in unplanned out-of-hospital births from a prospective cohort. Scand J Trauma Resusc Emerg Med. 2020 Jun 3;28(1):50.
Lunze K, Bloom DE, Jamison DT, Hamer DH. The global burden of neonatal hypother-mia: systematic review of a major challenge for newborn survival. BMC Med. 2013 Jan 31;11:24.
Zayeri F, Kazemnejad A, Ganjali M, Babaei G, Khanafshar N, Nayeri F. Hypothermia in Iranian newborns. Incidence, risk factors and related complications. Saudi Med J. 2005 Sep;26(9):1367-71.
Manji KP, Kisenge R. Neonatal hypothermia on admission to a special care unit in Dar-es-Salaam, Tanzania: a cause for concern. Cent Afr J Med. 2003 Mar-Apr;49(3-4):23-7.
Kasemsis K. Birth before arrival at Faculty of Medicine Vajira hospital. Vajira Med J. 2018;62(4): 267-8
Javaudin F, Hamel V, Legrand A, Goddet S, Templier F, Potiron Cet al. Unplanned out-of-hospital birth and risk factors of adverse perinatal outcome: findings from a prospective cohort. Scand J Trauma Resusc Emerg Med. 2019 Mar 2;27(1):26
Di Benedetto MR, Piazze JJ, Unfer V, Ouatu D, Pollastrini L, Vozzi G, et al. An obstetric and neonatal study on unplanned deliveries before arrival at hospital. Clin Exp Obstet Gynecol. 1996;23(2):108-11.
Girsen AI, Mayo JA, Lyell DJ, Blumenfeld YJ, Stevenson DK, El-Sayed YY, Shaw GM, Druzin ML. Out-of-hospital births in California 1991-2011. J Perinatol. 2018 Jan;38(1):41-45.
Pasternak Y, Wintner EM, Shechter-Maor G, Pasternak Y, Miller N, Biron-Shental T. Perina-tal outcomes of unplanned out-of-hospital deliveries: a case-control study. Arch Gynecol Obstet. 2018 Apr;297(4):871-875.
Diana L, Glaucia L, Adriana C, Israel F Jr. Out-of-hospital deliveries: A case-control study. Turk Pediatri Ars. 2018 Jun 1;53(2):87-95.
Ovaskainen K, Ojala R, Tihtonen K, Gissler M, Luukkaala T, Tammela O. Unplanned out-of-hospital deliveries in Finland: A national register study on incidence, char-acteristics and maternal and infant out-comes. Acta Obstet Gynecol Scand. 2020 Dec:99(12):1691-1699.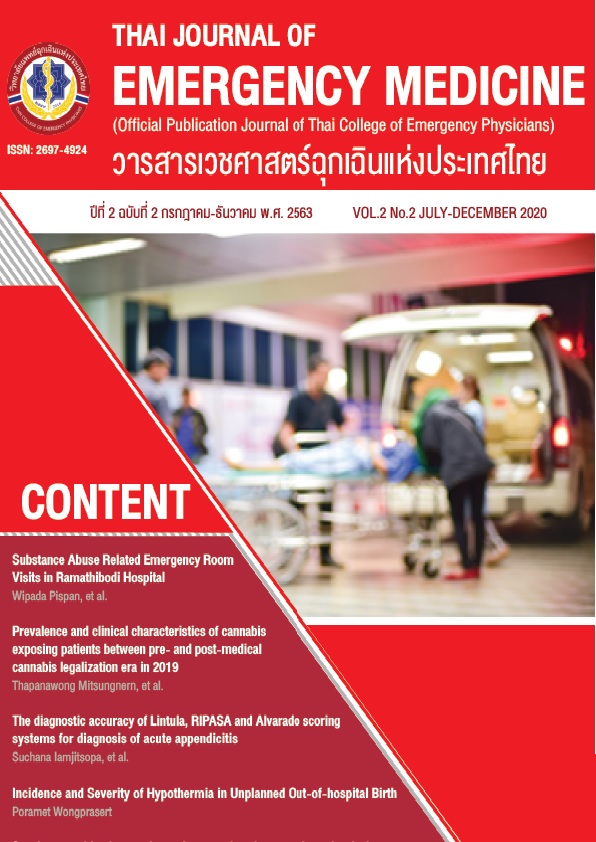 Downloads
How to Cite
1.
Wongprasert P. Incidence and Severity of Hypothermia in Unplanned Out-of-hospital Birth . TJEM [Internet]. 2021 Jul. 1 [cited 2023 Feb. 3];2(2):51-63. Available from: https://he02.tci-thaijo.org/index.php/TJEM/article/view/251127
License
บทความที่ได้รับตีพิมพ์ในวารสารเวชศาสตร์ฉุกเฉินแห่งประเทศไทย ถือเป็นเป็นลิขสิทธิ์ของ วิทยาลัยแพทย์เวชศาสตร์ฉุกเฉินแห่งประเทศไทย
กรณีที่บทความได้รับการตีพิมพ์ในวารสารเวชศาสตร์ฉุกเฉินแห่งประเทศไทยแล้ว จะตีพิมพ์ในรูปแบบอิเล็กทรอนิกส์ ไม่มีสำเนาการพิมพ์ภายหลังหนังสือเผยแพร่เรียบร้อยแล้ว ผู้นิพนธ์ไม่สามารถนำบทความดังกล่าวไปนำเสนอหรือตีพิมพ์ในรูปแบบใดๆ ที่อื่นได้ หากมิได้รับคำอนุญาตจากวารสารเวชศาสตร์ฉุกเฉินแห่งประเทศไทย