Do you remember ? Autonomic dysreflexia: Emergency situation
Keywords:
Autonomic dysreflexia, emergency situation
Abstract
Autonomic dysreflexia is common emergency situation that urologist and general practice must confront. Dangerous sign is severe hypertension that can make mortality if wrong management is chosen and some sings can bring physicians to miss diagnosis and treatment. This topic will review you about incidence, pathophysiology and initial management for good practice for your patients.
Downloads
Download data is not yet available.
References
1. Head H, Riddoch G. The autonomic bladder, excessive sweating and some other reflex conditions in gross injuries of the spinal cord. Brain 1917;40:188-263.
2. Guttmann L, Whitteridge D. Effects of bladder distension on automatic mechanisms after spinal cord injury. Brain 1947;70:361-404.
3. Snow JC, SH, Kripke BJ, Freed MM, et al. Autonomic hyperreflexia during cystoscopy in patients with high spinal cord injuries. Paraplegia 1978;15:327-332.
4. Braddom RL, RJ. Autonomic dysreflexia. A survey of current treatment. Am J Phys Med Rehabil 1991;70:234-241.
5. Shergill IS, Arya M, Hamid R, et al. The importance of autonomic dysreflexia to the urologist. BJU Int 2004;93:923-926.
6. Blackmer J. Rehabilitation medicine: autonomic dysreflexia. CMAJ 2003;28:169:931-935.
7. Dietz V. Querschnittlähmung: Physiopathologie, Klinik und Therapie von Blasenfunktionen, Bewegung und Vegetativum. 1996, Stuttgart: Verlag W. Kohlhammer.
8. Consortium for Spinal Cord Medicine. Acute management of autonomic dysreflexia: individuals with spinal cord injury presenting to health care facilities. J Spinal Cord Med 2002;25 Suppl 1:S67-88.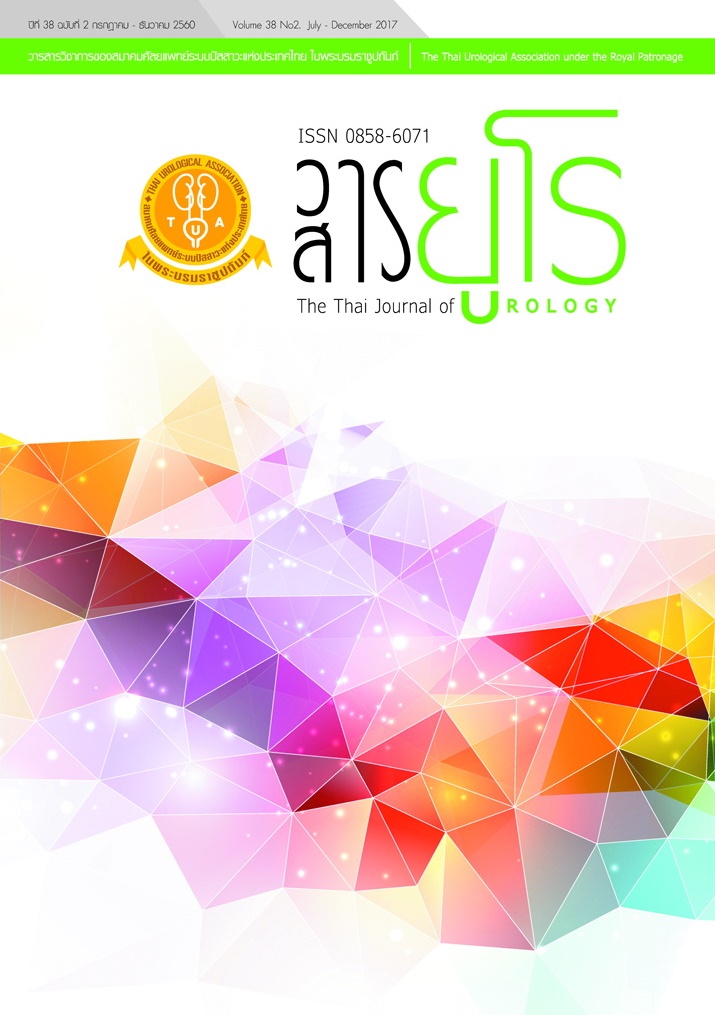 Downloads
How to Cite
Siriboonrid, S. (2017). Do you remember ? Autonomic dysreflexia: Emergency situation. Insight Urology, 38(2), 36–41. Retrieved from https://he02.tci-thaijo.org/index.php/TJU/article/view/106407