Is the amount of resected prostate tissue from transurethral prostatectomy related to outcome?
Abstract
Objective: To evaluate the amount of resected prostatic tissue from transurethral prostatectomy and improvement of lower urinary tract symptoms (LUTS) in patient with benign prostatic hyperplasia
Material and Method: The study included a prospective analysis of 36 men with benign prostatic hyperplasia. Patients were divided in two groups according to the mean percentage of resected tissue: Group 1; less than mean percentage, Group 2; more than mean percentage. Each patient was evaluated with international prostatic symptom score (IPSS) and Quality of life (QoL) before surgery, at 1 and 3 month after surgery.
Result: Mean percentage of resected prostate tissue was 28%. IPSS was decreased by 17.72 at 1 month and 18.05 at 3 month. Patients in group 2 had more IPSS decrease than group 1 by 2.33 (P =0.02). QoL score was decreased 3.56 at 1 month and 3.47 at 3 month (p < 0.001). Patients in 2 group had more QoL decrease than 1 group by 0.45 (P = 0.03).
Conclusion: The amount of resected prostate tissue influenced slightly on deference of LUTS and QoL after TURP.
Downloads
Download data is not yet available.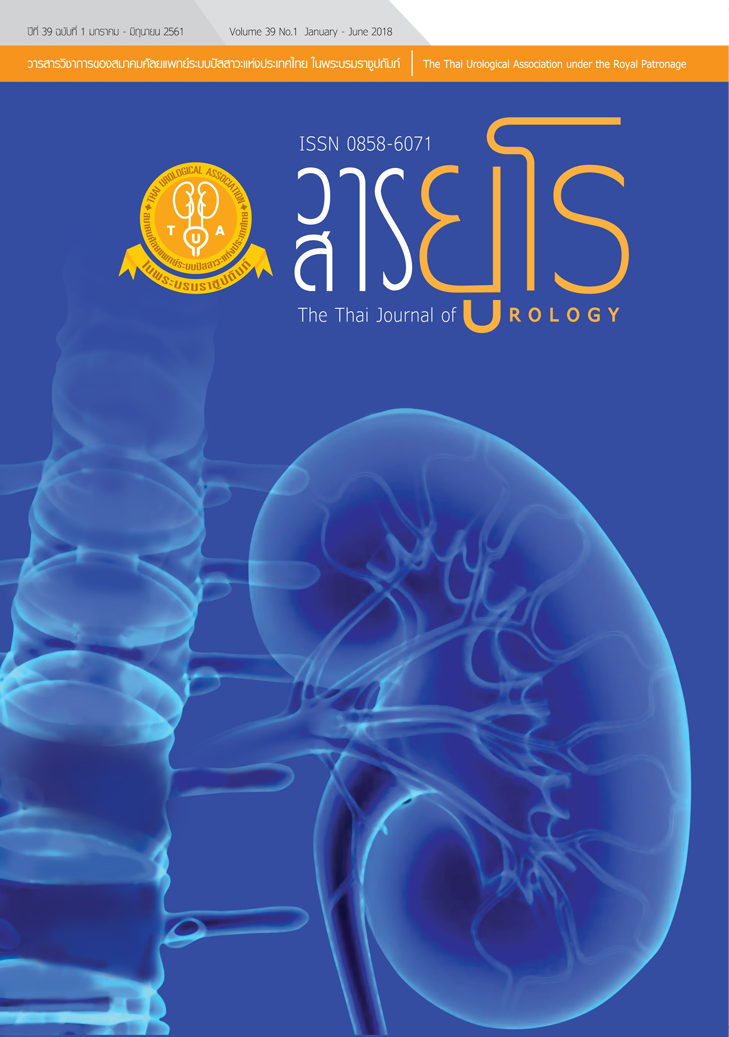 How to Cite
อังสุรักษ์ ช. (2020). Is the amount of resected prostate tissue from transurethral prostatectomy related to outcome?. Insight Urology, 39(1), 9–16. Retrieved from https://he02.tci-thaijo.org/index.php/TJU/article/view/116171
Section
Surgical technique