The study of incidence of prostate cancer in transurethral resection of the prostate (TURP) specimens
Keywords:
incidence, prostate cancer, transurethral resection of the prostate
Abstract
Objective: To study the incidence of prostate cancer in TURP specimens in Phramongkutklao Hospital.
Material and Method: A retrospective database included TURP specimens (2008-2016) in Phramongkutklao Hospital. The pathologic reports from 1,494 patients were investigated. There were 293 patients who did not meet the inclusion criteria. The cohorts were categorized into 2 groups according to age: men < 65 years (254 patients) and > 65 years (1001 patients).
Result: According to the final pathological report for TURP specimens, BPH was detected in1203 specimens (95.9%) BPH and prostate cancer in 51 specimens (4.1%). In men < 65years with cancer, tumors were identified in 3.9% of specimens (T1a=10%, T1b=90%), and in men > 65 years in 4.1 % of specimens (T1a=22.5%, T1b=77.5%). Following the diagnosis in men < 65years with cancer: 1/10 radical prostatectomy, 1/10 RT only, 3/10 ADT+RT, 5/10 ADT only and 1/10 brachytherapy. In men > 65 years with cancer, treatments were classified: 3/41 observation, 3/41 active surveillance, 1/41 RT only, 10/41 ADT+RT, 21/41 ADT only and 2/41 brachytherapy.
Conclusion: The incidence of incidental findings of prostate cancer in TURP is not uncommon in older patients. Our results suggest that careful investigations should be undertaken before surgery. In addition, prostatic specimens from TURP are essential and should be sent for pathological examination. Undiagnosed cancer may result from other procedures without tissue specimens, such as PVP, and finally loss of specimen for pathological examination.
Downloads
Download data is not yet available.
References
A. Jemal., Ram C. Tiwari, et al: Cancer Statistics, 2004. CA Cancer J Clin 2004;54:8.
Bostwick D, Cheng L. Urologic Surgical Pathology. 2nd ed. Bostwick D, editor. Portland: Mosby Elsevier; 2008.
Bill-Axelson A, Holmberg L, Garmo H, Rider JR, Taari K, Busch C, et al. Radical prostatectomy or watchful waiting in early prostate cancer. N Engl J Med 2014;370:932-942.
American Joint Committee on Cancer. Staging, <https://cancerstaging .org/Pages/default.aspx>; 2010 [accessed 31.05.13].
Endrizzi J, Optenberg S, Byers R, Thompson IM. Disappearance of well-differentiated carcinoma of the prostate: effect of transurethral resection of the prostate, prostate-specific antigen, and prostate biopsy. Urology 2001;57:733-736.
Ornstein DK, Rao GS, Smith DS, Andriole GL. The impact of systematic prostate biopsy on prostate cancer incidence in men with symptomatic benign prostatic hyperplasia undergoing transurethral resection of the prostate. J Urol 1997;157:880-883.
Erbersdobler A, Augustin H, Schlomm T, Henke RP. Prostate cancers in the transition zone: Part 1; pathological aspects. BJU Int 2004;94:1221-1225.
Ahmad S, O'Kelly F, Manecksha RP, Cullen IM, Flynn RJ, McDermott TE, et al. Survival after incidental prostate cancer diagnosis at transurethral resection of prostate: 10-year outcomes. Ir J Med Sci 2012;181:27-31.
Augustin H, Erbersdobler A, Graefen M, Fernandez S, Palisaar J, Huland H, et al. Biochemical recurrence following radical prostatectomy: a comparison between prostate cancers located in different anatomical zones. Prostate 2003;55:48-54.
Biers SM, Oliver HC, King AJ, Adamson AS. Does laser ablation prostatectomy lead to oncological compromise? BJU Int 2009;103: 454-457.
KT Mai, PA Isotalo, J Green, DG Perkins, C Morash, and JP Collins, "Incidental prostatic adenocarcinomas and putative premalignant lesions in TURP specimens collected before and after the introduction of prostrate-specific antigen screening," Archives of Pathology and Laboratory Medicine, vol. 124, no. 10, pp. 1454-1456, 2000.
S Voigt, FH¨ uttig, R. Koch et al., "Risk factors for incidental prostate cancer who should not undergo vaporization of the prostate for benign prostate hyperplasia?" Prostate, vol. 71, no. 12, pp. 1325-1331, 2011.
K Trpkov, JT hompson, A Kulaga, and A Yilmaz, "How much tissue sampling is required when unsuspected minimal prostate carcinoma is identified on transurethral resection?" Archives of Pathology and Laboratory Medicine, vol.132, no.8, pp. 1313-1316, 2008.
T Dellavedova, R Ponzano, L Racca, F Minuzzi, and M. Dominguez, "Prostate cancer as incidental finding in transurethral resection," Archivos Espanoles de Urologia, vol. 63, no. 10, pp. 855-861, 2010.
JI Epstein, G Paull, JC Eggleston, and PC Walsh,"Prognosis of untreated stage A1 prostatic carcinoma: a study of 94 cases with extended followup," Journal of Urology, vol. 136, no. 4, pp. 837-839, 1986.
A Descazeaud, M Peyromaure, A. Salin et al., "Predictive factors for progression in patients with clinical stage T1a prostate cancer in the PSA era," European Urology, vol.53, no.2, pp. 355-361, 2008.
Melchior S, Hadaschik B, Thuroff S, et al (2008). Outcome of radical prostatectomy for incidental carcinoma of the prostate. BJU International, 103, 1478-1481.
C Yoo, C Oh, S Kim et al., "Preoperative clinical factors for diagnosis of incidental prostate cancer in the era of tissue-ablative surgery for benign prostatic hyperplasia: a korean multi-center review," Korean Journal of Urology, vol. 53, no. 6, pp. 391-395, 2012.
J Varghese 1, P Mariam Kuruvilla, Nisarg Mehta et al., "Incidentally Detected Adenocarcinoma Prostate in Transurethral Resection of Prostate Specimens: a Hospital Based Study from India," Asian Pacific Journal of Cancer Prevention, Vol 17(4), 2255-2258, 2016.
JS Jones, HW Follis and JR Johnson, "Probability of finding T1a and T1b (Incidental) prostate cancer during TURP has decreased in the PSA era," Prostate Cancer and Prostatic Diseases 12, 57-60, 2009.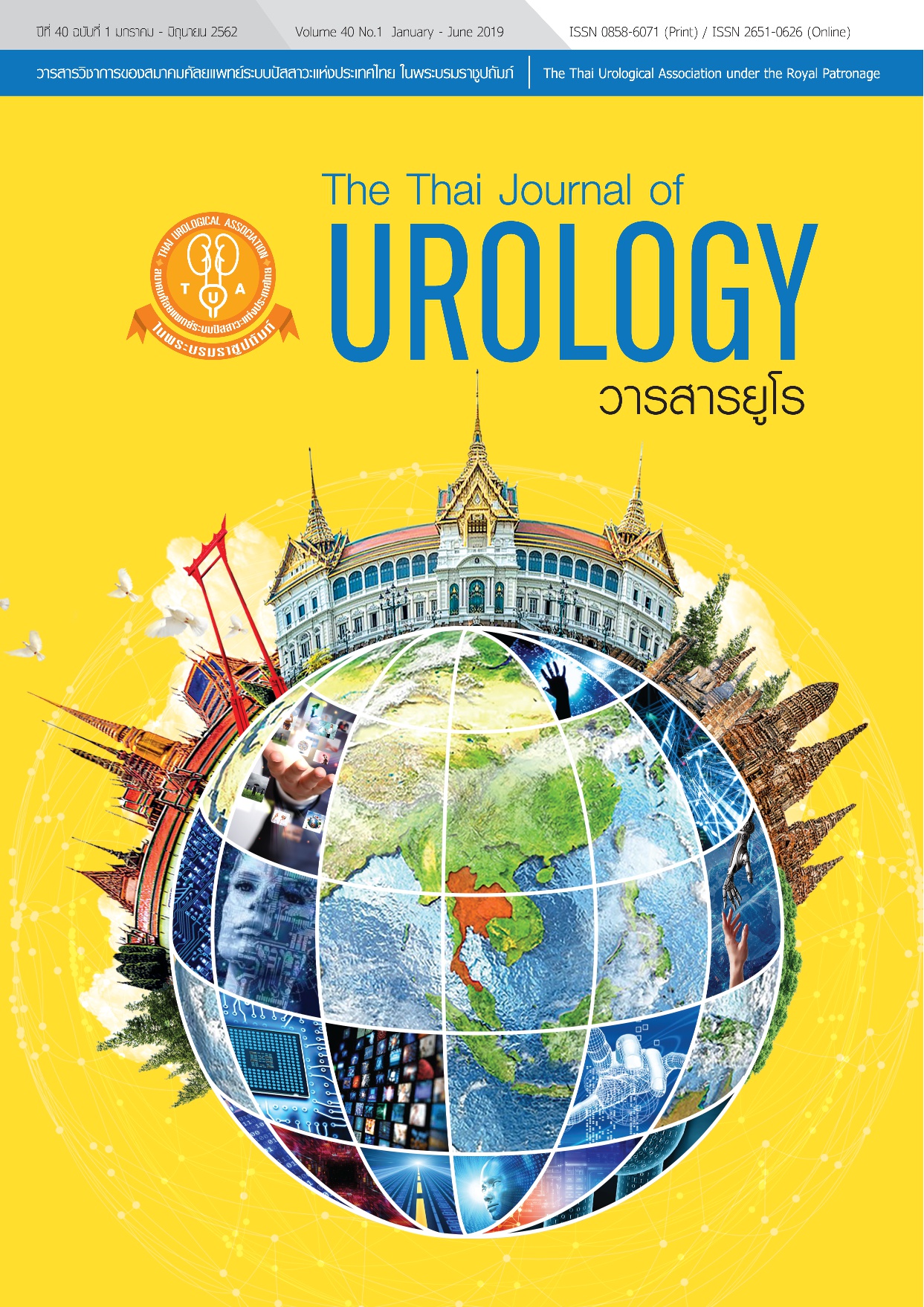 Downloads
How to Cite
Kongsanoon, S., & Lerdpraiwan, W. (2019). The study of incidence of prostate cancer in transurethral resection of the prostate (TURP) specimens. Insight Urology, 40(1), 1–8. Retrieved from https://he02.tci-thaijo.org/index.php/TJU/article/view/119467