Feeding tube or Foley catheter for urethral drainage in hypospadias repair: A randomized controlled trial
Keywords:
early complications, fistula, obstruction, bladder spasm, hematuria
Abstract
Objective: To compare the early complications occurring between indwelling use of a feeding tube and Foley catheter for urethral drainage after hypospadias repair.
Material and Method: Sixty boys with proximal or distal hypospadias were included in this prospective study. The patients were randomly divided into 2 groups. In group I a feeding tube was used as a urethral stent and in group II a Foley catheter was used. All patients underwent hypospadias repair by the same surgeon using the bilateral external skin tube (BEST) technique. The patients were followed up at 1-month after surgery for clinical evaluation.
Result: There were no statistically significant differences between group I and group II in catheter obstruction, kinking, dislodgment, bladder spasm, hematuria, urinary tract infection, and pain score. At the 1-month follow-up, there were no statistically significant differences between the groups in urethrocutaneous fistula, glans dehiscence, repair breakdown, flap necrosis, hematoma, and wound infection. Five patients in group I (16%) and 1 patient (3%) in group II had catheter dislodgment (p=0.19). Seven patients in group I (23%) and 3 patients (10%) in group II had bladder spasm (p=0.30).
Conclusion: The use of a Foley catheter appears to lead to lower bladder spasm and catheter dislodgment rates than the use of a feeding tube. A larger sample size is required for a future randomized controlled study in order to add weight to these findings.
Downloads
Download data is not yet available.
References
1. Daher P, Khoury A, Riachy E. Three-week or one week bladder catheterization for hypospadias repair? A retrospective-prospective observational study of 189 patients. J Pediatr Urol 2015;50:1063-6.
2. Chen C, Gong C, Zhang W. Effects of oral testosterone undecanoate treatment for severe hypospadias. Int Urol Nephrol 2015;47:875-80.
3. Hollowell JG, Keating MA, Snyder HM, Duckett JW. Preservation of the urethral plate in hypospadias repair: extended applications and further experience with the onlay island flap urethroplasty. J Urol 1990;143:98–100.
4. Demirbilek S, Kanmaz T, Aydin G, Yucesan S. Outcomes of one-stage techniques for proximal hypospadias repair. Urology 2001;58:267-70.
5. Emir L, Germiyanoglu C, Erol D. Onlay island flap urethroplasty: a comparative analysis of primary versus reoperative cases. Urology 2003;61:216-9.
6. Mahawong P. Hypospadias reoperation. Thai J Urol 2012;33:98-113.
7. Gupta A, Gupta R, Srivastav P, Gupta A. Comparison of interrupted- and continuous-suture urethroplasty in tubularised incised-plate hypospadias repair: a prospective study. Arab J Urol 2017;15:312-8.
8. Bernie JE, Alagiri M. Tubeless Barcat: a patient-friendly hypospadias procedure. Urology 2003;61:1230-2.
9. Aslan AR, Yucebas E, Tekin A. Short-term catheterization after TIP repair in distal hypospadias: who are the best candidates? Pediatr Sure Int 2007;23:265-9.
10. El-Sherbiny MT. Tubularized incised plate repair of distal hypospadias in toilet-trained children: should a stent be left? BJU Int 2003;92:1003-5.
11. Sujijantararat P. Intravesical knotting of a feeding tube used as a urinary catheter. J Med Assoc Thai 2007;90:1231-3.
12. Hardwicke J, Jones E, Wilson-Jones N. Optimization of silicone urinary catheters for hypospadias repair. J Pediatr Urol 2010;6:385-8.
13. Macedo A, Rondon A, Ortiz V. Hypospadias. Curr Opin Urol 2012;22:447-52.
14. Buson H, Smiley D, Reinberg Y, Gonzalez R. Distal hypospadias repair without stents: is it better? J Urol 1994;151:1059-60.
15. Minevich E, Pecha BR, Wacksman J, Sheldon CA. Mathieu hypospadias repair: experience in 202 patients. J Urol 1999;162: 2141-2.
16. Demirbilek S.Atayurt HF. One stage hypospadias repair with stent or suprapubic diversion: which is better? J Pediatr Surg 1997;32:1711-2.
17. Saleh AM, Wesam A. Amr A, Salah M. Urinary drainage after hypospadias repair: Urethral stent or bladder catheter. Ann Pediatr Surg 2009;5:101-3.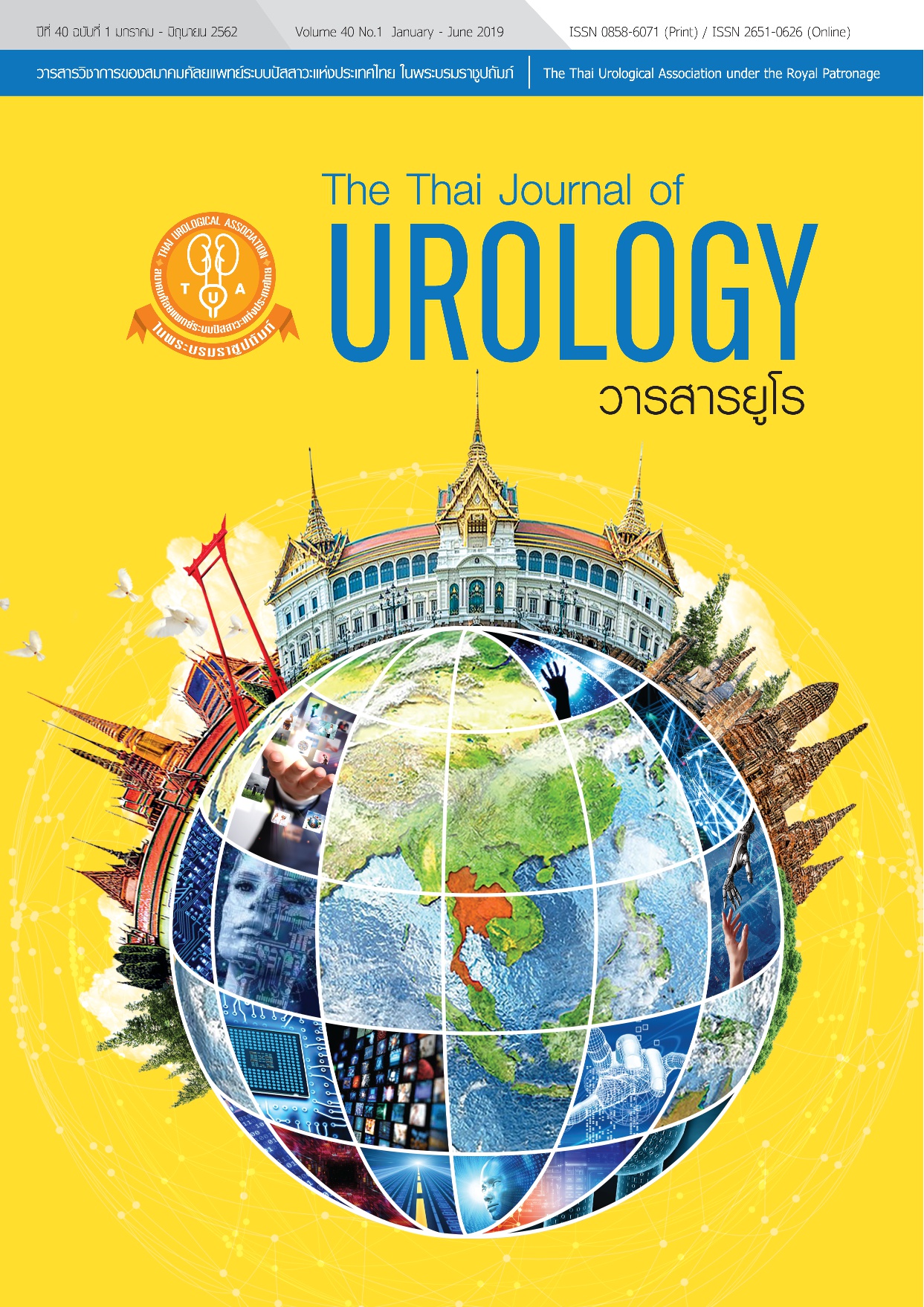 Downloads
How to Cite
Vuthiwong, J., Mahawong, P., & Chongruksut, W. (2019). Feeding tube or Foley catheter for urethral drainage in hypospadias repair: A randomized controlled trial. Insight Urology, 40(1), 15–21. Retrieved from https://he02.tci-thaijo.org/index.php/TJU/article/view/119546