Scrotal island pedicle flap in post-excisional paraffinoma with middle to distal penile skin defect
Abstract
Objective: To demonstrate the new technique for penile paraffinoma surgery
Material and method: The patients were enrolled from the Out-patient of Urological unit of Trad Hospital from 1 June 2016 to 31 December 2017. The data were collected from the genital examination, to assess the problem site, severity and the depth of lesion, post-injection complications such as chronic wounds and infection. After Scrotal Skin Island Pedicle Flap (SSIPF) surgery, we evaluate the shape, contour, and the intercourse performance at 2 weeks, 1 month, 3 months, 6 months.
Result: During study period, 6 cases matched the inclusion criteria. Most of them complained of complication of the granuloma from the substance injected and the spreading of granuloma such as it involve whole penile skin and scrotum. After excision of total penile skin, 2 cases had flap necrosis at the distal end. All of the patients had satisfied intercourse at 2-3 months post operation without lost of penile length .
Conclusion: Scrotal Skin Island Pedicle Flap (SSIPF) is regarded as the ones technique to solve the problem of the paraffinoma at the prepuce and 1/3 distal penile skin. Surgeons need to be careful and concern in dissection technique. In addition, selecting the right patient is also important in achieving success.
Downloads
Download data is not yet available.
References
1. GH, J. Scrotal and perineal flaps for anterior urethral reconstruction. Urol Clin North Am 2002; 29:411-416.
2. Jeong, H. J. Perineum-based Pediculated Scrotal Flap for Reconstructive Urethral Surgery. Int neurourol J 2012;16:96-99.
3. Provet JA, Surya BV, Grunberger I, et al. Scrotal island flap urethroplasty in the management of urethral strictures. J Urol 1989;142:1455-1457.
4. Karim RB, Ahmed KJ, Westerga J,et al. Pedicled scrotal island skin flap in the treatment of anal basal cell carcinoma. Br J Plast Surg 2001;54:173-176.
5. Sakai S, Soeda S, Yoshii S. Scrotal Septocutaneous island flap for the recontruction of the urethral fistula. Ann Plast Surg 1990;24:49-52.
6. Yachia, D. (1986;136(1)). A New, One-Stage Pedicled Scrotal Skin Graft Urethroplasty. J Urol 1986;136:589-592.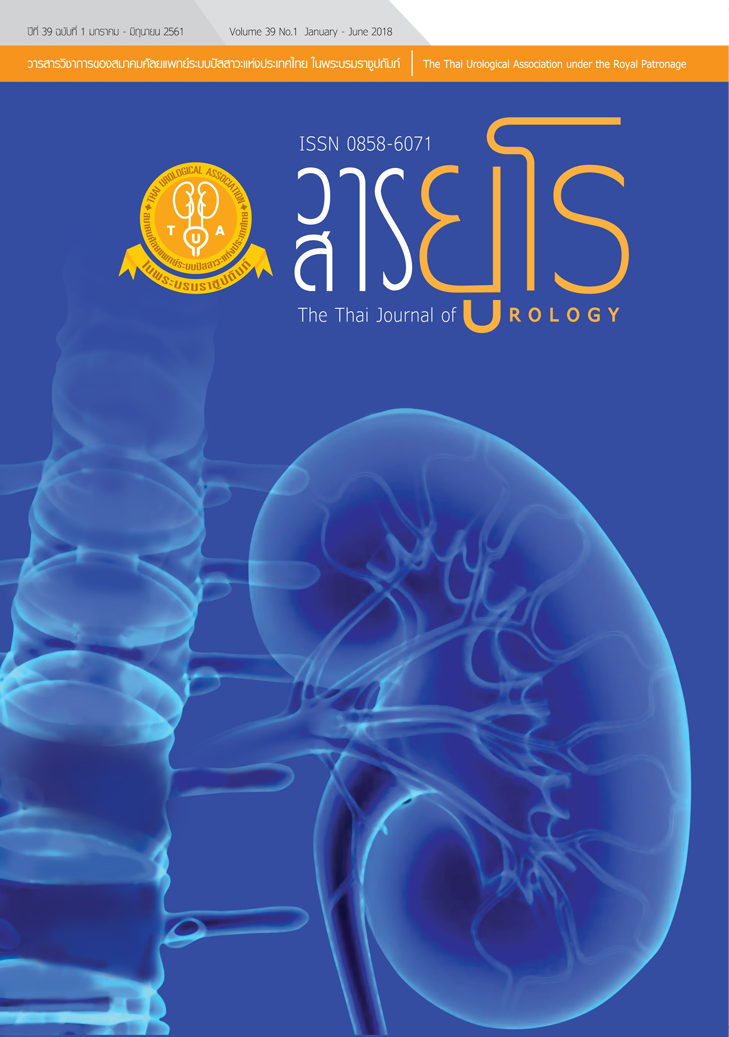 Downloads
How to Cite
Pumsup, J. (2018). Scrotal island pedicle flap in post-excisional paraffinoma with middle to distal penile skin defect. Insight Urology, 39(1), 42–47. Retrieved from https://he02.tci-thaijo.org/index.php/TJU/article/view/125736
Section
Surgical technique