Traumatic testicular dislocation
Santichai Krilad-o-larn

Section of Urology, Unit of Surgery, Nakornping Hospital, Chiang Mai, Thailand
Keywords:
Testicular dislocation
Abstract
Traumatic testicular dislocation was rare and sometimes may be overlooked due to serious associated injuries. In this report there were 2 case of traumatic testicular dislocation which presented in different situation.
Downloads
Download data is not yet available.
References
1. Zavras N, Siatelis A, Misiakos E, Bagias G, Papachristos V, Machairas A. Testicular Dislocation After Scrotal Trauma: A Case Report and BriefLiterature Review. Urology Case Reports. 2014;2:101-4.

2. Kochakarn W, Choonhaklai V, Hotrapawanond P, Muangman V. Traumatictesticular dislocation: a review of 36 cases. J Med Assoc Thai 2000;83:208-12.

3. Muhammad Z. Aslam, Ali Thwaini M, Sundaram SK. Testicular dislocation: a rare consequence of blunt scrotal injuryCanadian Urological Association Journal. 2009;3(3):E1-E3.

4. Meena S, Barwar N, Chowdhury B. Double trouble: Testicular dislocation associated with hip dislocation. J Emerg Trauma Shock. 2014;7(1):58-9.

5. Tai Y-S, Chen Y-S, Tsai P-K, Wong W-J. Traumatic testicular dislocation: A rare occurrence of blunt scrotal injury. Urological Science. 2014;25:158-60.

6. Boudissa M, Ruatti S, Maisse N, Arvin-Berod A, Trilling B, Long JA, et al. Bilateral testicular dislocation with pelvic ringfracture: A case report and literature review. Orthopaedics& Traumatology: Surgery & Research 2013;99:485-7.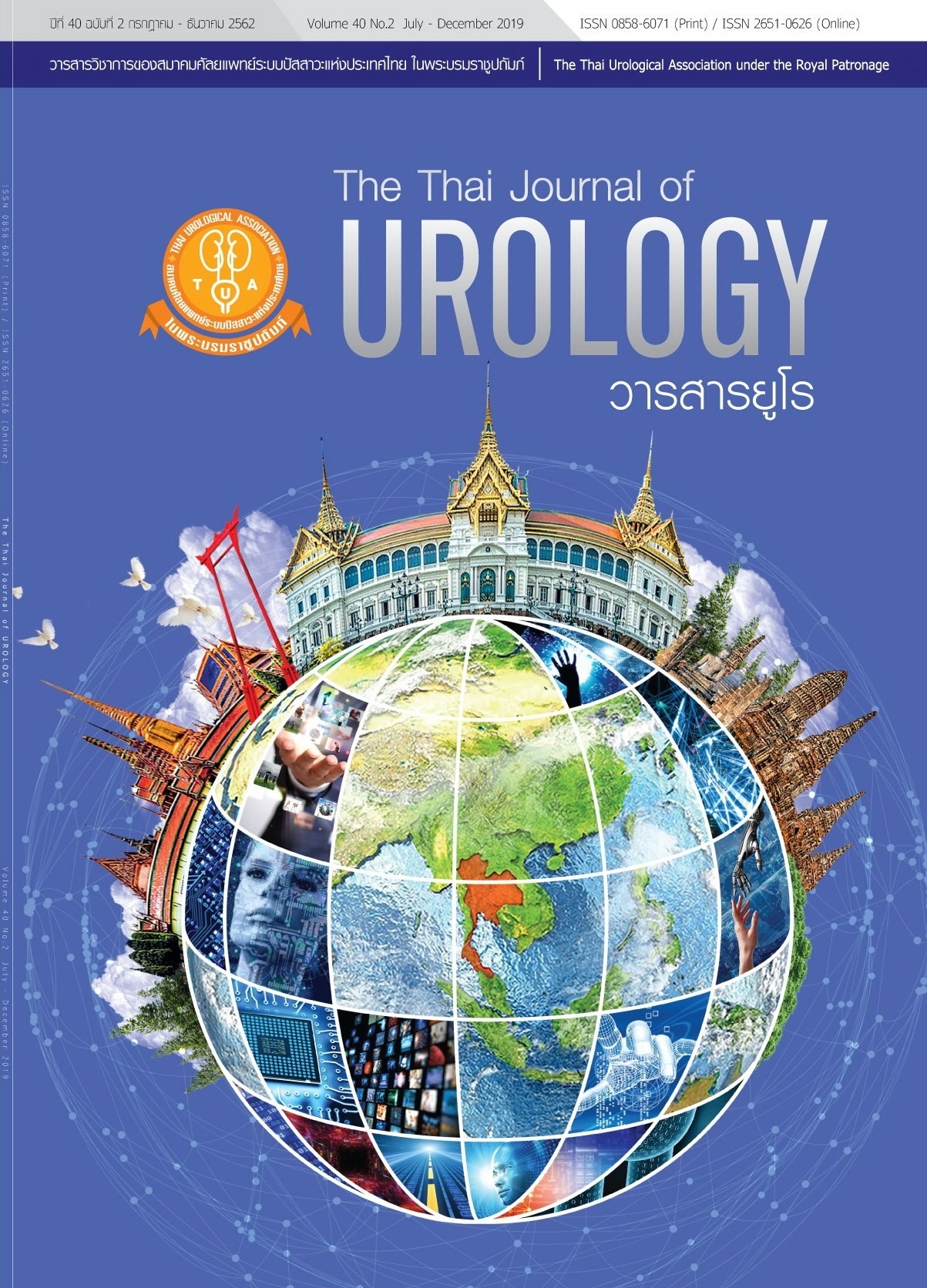 How to Cite
Krilad-o-larn, S. (2019). Traumatic testicular dislocation. Insight Urology, 40(2), 61-65. Retrieved from https://he02.tci-thaijo.org/index.php/TJU/article/view/157472
Copyright (c) 2019 The Thai Journal of Urology
This work is licensed under a Creative Commons Attribution-NonCommercial-NoDerivatives 4.0 International License.