the optimal length of follow up after successful pediatric pyeloplasty
supang srithong

division of urology, department of surgery, chulalongkorn hospital

Manint Usawachintachit

Division of Urology, Department of Surgery, Faculty of Medicine, Chulalongkorn University, Bangkok, Thailand

Chanatee Bunyaratavej

Division of Urology, Department of Surgery, Faculty of Medicine, Chulalongkorn University, Bangkok, Thailand
Keywords:
Ureteropelvic junction obstruction (UPJO), Follow up, Pyeloplasty
Abstract
Purpose: Ureteropelvic junction obstruction (UPJO) is a common congenital anomaly, and dismembered pyeloplasty is a standard treatment. However, following surgery, the appropriate duration of follow up has not been well described. We conducted this study to investigate the optimal length of follow-up after a successful operation.
Method: This is a retrospective study performed in all pediatric patients undergoing pyeloplasty at King Chulalongkorn Memorial Hospital from January 2007 to December 2016. The inclusion criterias were patients who demonstrated improvement in a degree of hydronephrosis from postoperative ultrasound, became asymptomatic and required no further operation. We excluded patients who had bilateral disease, solitary kidney or other associated KUB anomalies. All patients underwent periodic KUB ultrasound to identify the degree of hydronephrosis classified by the Society of Fetal Ultrasound (SFU) system. We assessed the optimal duration of follow up until the degree of hydronephrosis was stable.
Results: A total of 42 UPJO patients was included in the study (36 males and 6 females). The median age at surgery was one year, and disease on the left side was slightly predominated (57.1%). Preoperative imaging revealed SFU Grade III hydronephrosis in 4 patients (9.5%) and grade IV in 38 patients (90.5%). The median duration of follow-up was 36 months. Following pyeloplasty, the degree of hydronephrosis stabilized in 73% at 24 months, 80.4% at 36 months, 85.3% at 48 months, 90.2% at 60 months, 97.6% at 72 months, and 100% at 84 months.
Conclusion: After successful pyeloplasty, a reduction in the degree of hydronephrosis correlates well with the follow-up duration and stabilizes at seven years. Results from this study may be useful for establishing a guideline for follow-up in the future.
Keywords: Ureteropelvic junction obstruction (UPJO), Follow up, Pyeloplasty
Downloads
Download data is not yet available.
References
1. Williams DI, Karlaftis CM. Hydronephrosis due to pelvi-ureteric obstruction in the newborn. Br J Urol 1966;38:138–44.
2. Robson WJ, Rudy SM, Johnston JH. Pelviureteric obstruction in infancy. J Pediatr Surg 1976;11:57–61.
3. Nixon HH. Hydronephrosis in children: a clinical study of seventy-eight cases with special reference to the role of aberrant renal vessels and the results of conservative operations. Br J Surg 1953;40:601–9.
4. Uson AC, Cox LA, Lattimer JK. Hydronephrosis in infants and children. I. Some clinical and pathological aspects. JAMA 1968;205:323–6.
5. Kolon TF, Gray CL, Sutherland RW, et  al. Upper urinary tract manifestations of the VACTERL association. J Urol 2000;163:1949–51.
6. Williams DI, Kenawi MM. The prognosis of pelviureteric obstruction in childhood: a review of 190 cases. Eur Urol 1976;2:57–63.
7. Dhillon HK. Prenatally diagnosed hydronephrosis: the Great Ormond Street experience. Br J Urol 1998;81(Suppl. 2):39–44.
8. Anderson JC, Hynes W. Retrocaval ureter: a case diagnosed pre-operatively and treated successfully by a plastic operation. Br J Urol 1949;21: 209–14.
9. Fernbach SK, Maizels M, Conway JJ. Ultrasound grading of hydronephrosis: introduction to the system used by the Society for Fetal Urology. Pediatr Radiol. 1994;23 (6): 478-80.
10. Keays MA, Guerra LA, Mihill J et-al. Reliability assessment of Society for Fetal Urology ultrasound grading system for hydronephrosis. J. Urol. 2008;180 (4): 1680-2.
11. Konda R, Sakai K, Ota S et-al. Ultrasound grade of hydronephrosis and severity of renal cortical damage on 99m technetium dimercaptosuccinic acid renal scan in infants with unilateral hydronephrosis during followup and after pyeloplasty. J. Urol. 2002;167 (5): 2159-63
12. Bansal Utsav K., Dangle Pankaj P., Stephany Heidi, Durrani Asad, Cannon Glenn, Schneck Francis X., Ost Michael C. Optimal Length of Follow-up for the Detection of Unsuccessful Pediatric Pyeloplasty: A Single-Center Experience. Frontiers in Pediatrics,2017; VOLUME=5:126
13. Polok M, Apoznański W. Anderson-Hynes pyeloplasty in children – long-term outcomes, how long follow up is necessary? Cent European J Urol. 2017; 70: 434-438.
14. Oliveira Reis, Leonardo & Ikari, Osamu & Zani, Emerson & Costa Moretti, Tomás Bernardo & Gugliotta, Antonio. Long-Term Results of Anderson-Hynes Pyeloplasty in Children: How Long Follow-Up Is Necessary? European Journal of Pediatric Surgery. .2014. 25. 10.1055/s-0034-1390018.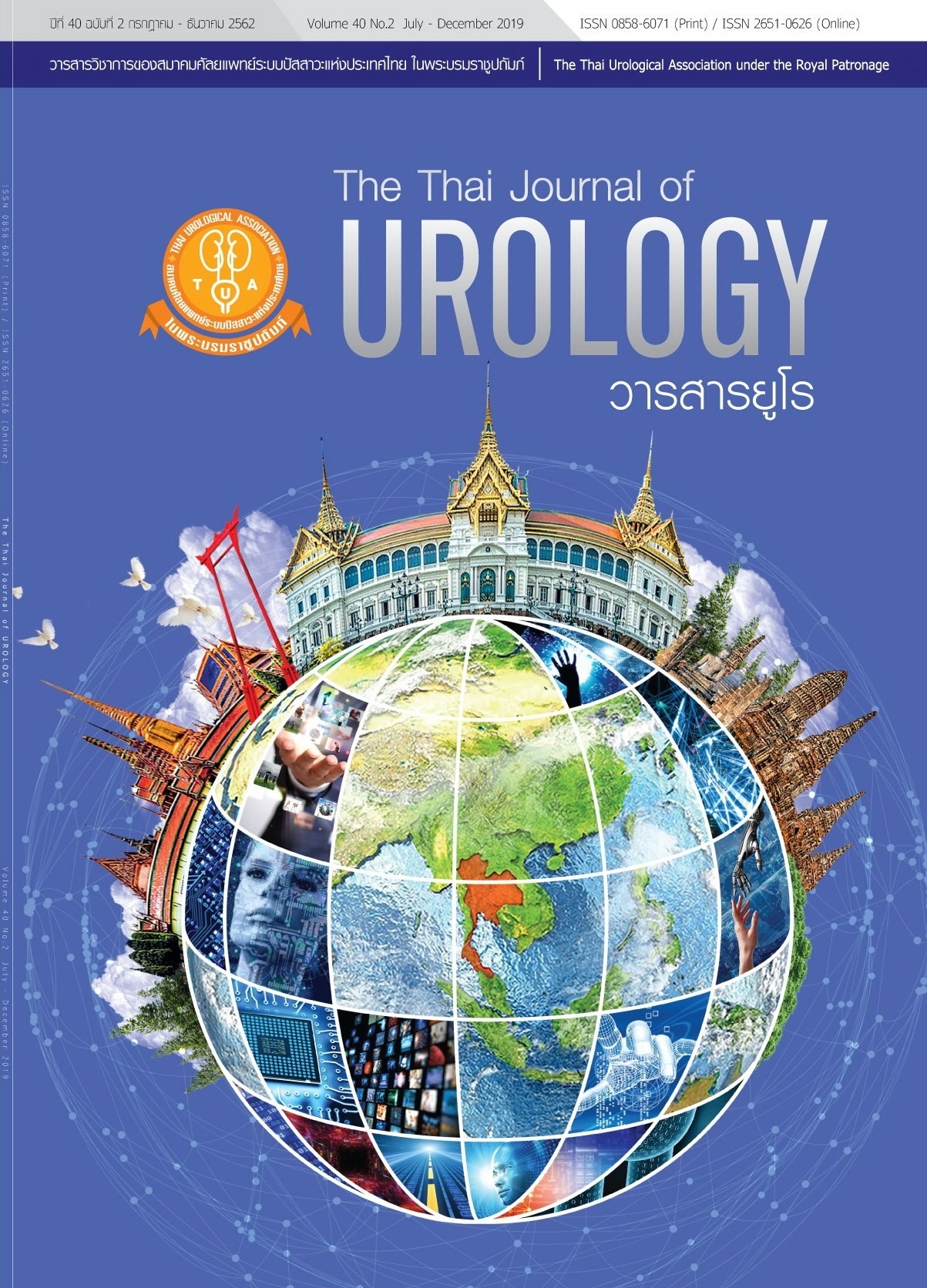 How to Cite
srithong, supang, Usawachintachit, M., & Bunyaratavej, C. (2019). the optimal length of follow up after successful pediatric pyeloplasty. Insight Urology, 40(2), 29-34. Retrieved from https://he02.tci-thaijo.org/index.php/TJU/article/view/183429
Copyright (c) 2019 The Thai Journal of Urology
This work is licensed under a Creative Commons Attribution-NonCommercial-NoDerivatives 4.0 International License.