Comparison of the outcomes for retrograde intrarenal surgery (RIRS) and percutaneous nephrolithotomy (PCNL) in the treatment of renal stones more than 2 centimeters
Keywords:
RIRS, FURS, PCNL, PNL, Renal calculi, large renal stone
Abstract
Objective: Comparison of the treatment of large renal stone outcomes between PCNL and RIRS.
Material and Method: Retrospective study of patients with large renal calculi who underwent stone treatment at Siriraj Hospital between July 2012 and September 2016. Patients were reviewed and divided into group I (PCNL, n=73) and group II (RIRS, n=67). The outcomes, including operating time, length of hospital stay, complications, stone-free rates and retreatment rates, were collected and compared.
Result: Stone-free rates were 79.4% in group I and 74.6% in group II (p=0.497). Retreatment rates were 53.3% in group I and 47% in group II (p=0.723), while operative time (p=0.001), length of hospital stays (p<0.001), and complications (p<0.001) were statistically different. Main stone compositions were calcium oxalate monohydrate (38%) and calcium phosphate (23%).
Conclusion: Treatment of kidney stones 2-4 centimeters in size with PCNL or RIRS was comparable with satisfactory outcomes.
Downloads
Download data is not yet available.
References
1. Breda A, Angerri O. Retrograde intrarenal surgery for kidney stones larger than 2.5 cm. Curr Opin Urol 2014;24:179-183.
2. De S, Autorino R, Kim FJ, et al. Percutaneous nephrolithotomy versus retrograde intrarenal surgery: a systematic review and meta-analysis. Eur Urol 2015;67:125-137.
3. Resorlu B, Unsal A, Gulec H, et al. A new scoring system for predicting stone-free rate after retrograde intrarenal surgery: the "resorluunsal stone score". Urology 2012;80:512-518.
4. Osman MM, Alfano Y, Kamp S, et al. 5-yearfollow-up of patients with clinically insignificant residual fragments after extracorporeal shockwave lithotripsy. Eur Urol 2005;47:860-864.
5. Bryniarski P, Paradysz A, Zyczkowski M, et al. A randomized controlled study to analyze the safety and efficacy of percutaneous nephrolithotripsy and retrograde intrarenal surgery in the management of renal stones more than 2 cm in diameter. J Endourol 2012; 26:52-57.
6. Tefekli A, Ali Karadag M, Tepeler K, et al., Classification of percutaneous nephrolithotomy complications using the modified clavien grading system: looking for a standard. Eur Urol 2008;53:184-190.
7. Oguz U, Resorlu B, Ozyuvali E, et al., Categorizing intraoperative complications of retrograde intrarenal surgery. Urol Int 2014;92:164-168.
8. Inoue T, Okada S, Hamamoto S, et al., Current trends and pitfalls in endoscopic treatment of urolithiasis. Int J Urol 2018;25:121-133.
9. Pradere B, Doizi S, Proiette S, et al. Evaluation of Guidelines for Surgical Management of Urolithiasis. J Urol 2018;199:1267-1271.
10. Sanguedolce F, Bozzini G, Chew B, et al. The Evolving Role of Retrograde Intrarenal Surgery in the Treatment of Urolithiasis. European Urology Focus 2017;3:46-55.
11. Kirac M, Bozkurt Of, Tunc L, et al., Comparison of retrograde intrarenal surgery and minipercutaneous nephrolithotomy in management of lower-pole renal stones with a diameter of smaller than 15 mm. Urolithiasis 2013;41:241- 246.
12. Akman T, Binbay M, Ozgor F, et al., Comparison of percutaneous nephrolithotomy and retrograde flexible nephrolithotripsy for the management of 2-4 cm stones: a matched-pair analysis. BJU Int 2012;109:1384-1389.
13. Gutierrez J, Smith A, Geavlete P, et al. Urinary tract infections and post-operative fever in percutaneous nephrolithotomy. World J Urol 2013;31:1135-1140.
14. Palmero Marti JL, Ganau Ituren A, Valls Gonzalez L. [Current results of RIRS and comparison with PCNL.]. Arch Esp Urol 2017;70:147-154.
15. Cindolo L, Castellan P, Scoffone CM, et al. Mortality and flexible ureteroscopy: analysis of six cases. World J Urol 2016;34:305-310.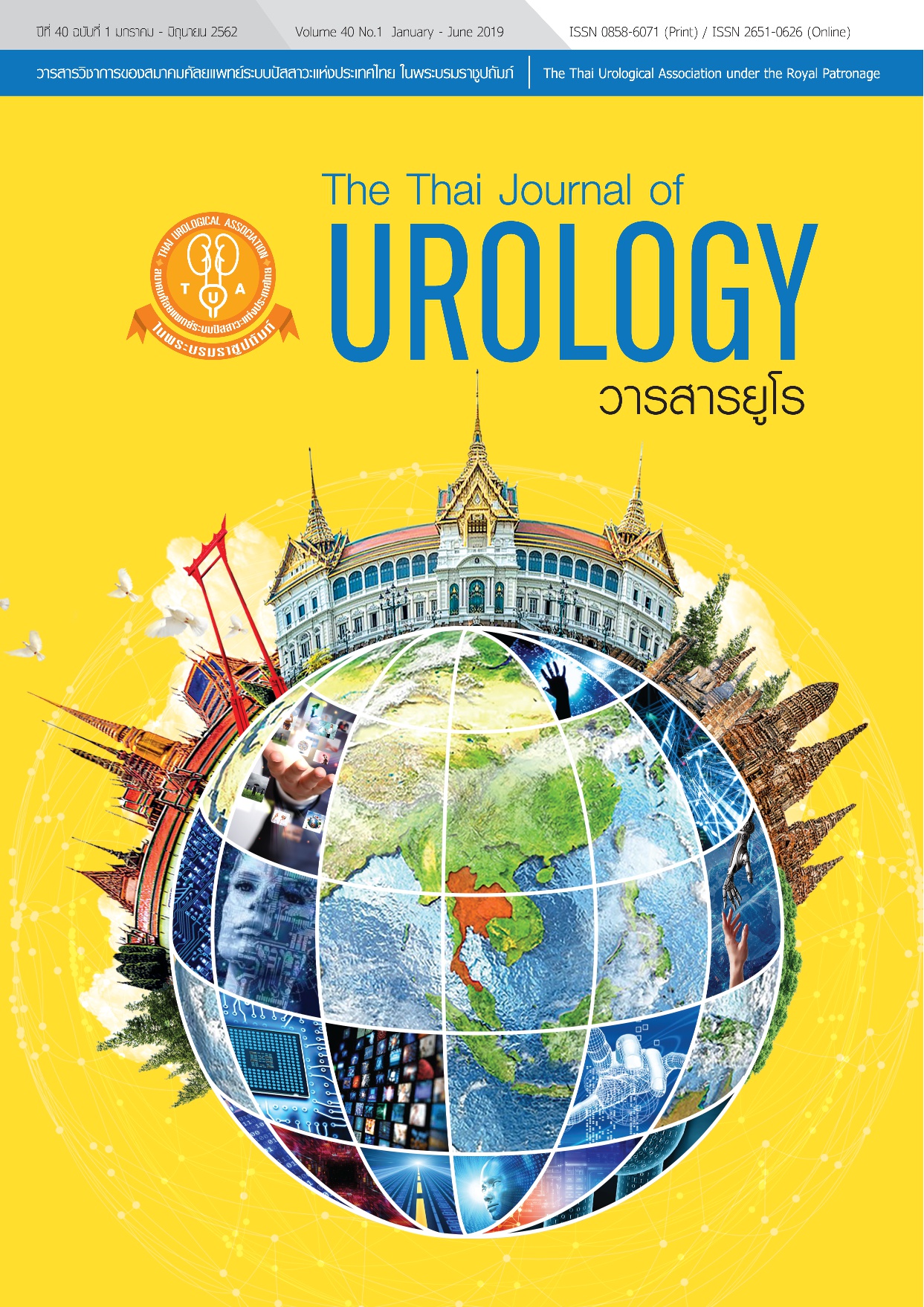 Downloads
How to Cite
Nualyong, C., Sathidmangkang, S., Woranisarakul, V., Taweemonkongsap, T., & Chotikawanich, E. (2019). Comparison of the outcomes for retrograde intrarenal surgery (RIRS) and percutaneous nephrolithotomy (PCNL) in the treatment of renal stones more than 2 centimeters. Insight Urology, 40(1), 9–14. Retrieved from https://he02.tci-thaijo.org/index.php/TJU/article/view/192206