Health Related Quality of Life after Urinary Diversion: Comparison between continent and incontinent urinary diversion
Keywords:
radical cystectomy, urinary diversion
Abstract
Objective: Compare quality of life (QOL) in Patients with continent and incontinent urinary diversion. After radical cystectomy or non-used native bladder from any disease.
Method: Sixty patients who had urinary diversion were interviewed by Physicians. Using SF-36 and FACT-G for assess quality of life in the patient who had operated at least one year in our institution.
Result: Four categories (physical, social/familial, emotional and functional well being) in FACT-G were equally favorable in these groups. Two categories (physical and mental) in SF-36 had no any differrent quality of life in both group of urinary diversions.
Conclusion: No significant difference in QOL between incontinent and continent urinary diversion after surgery at least one years. The patients can adapt their life style for selected type of urinary diversion.  The type of urinary diversion can depend on the indications, condition of the patient and experience of surgeons.
Downloads
Download data is not yet available.
References
Hardt J, Filipas D, Hohemfellner R, Egle UT. Quality of life in patients with bladder carcinoma after cystectomy: first results of a propective study. Qual Life Res 2000; 9: 1-12.
McDougal SW. Use of intestinal segments and urinary diversions. In: Retil AB, Vaughan ED, Wein AJ, eds. Campbell's Urology. 8th ed. Philadelphia, PA: Saunders, 2002: page 3745-88.
Haumann RE, Abol-Enein H, Hafez K, Haro I, Mansson W, Mills RD, et al. Urinary Diversion, Urology 2007; 69(1): 17-49.
boyd SD, Feinberg SM, Skinner DG, Lieskovsky G, Baron D, Richchardson J. Quality of life survey of urinary diversion patients: comparison of ileal conduits continent Kock ileal reservoirs. J Urol 1987; 138: 1386-9.
Mansson A, Johnson G, Mansson W. Quality of life after cystectomy. Comparison between patients with conduit and those with continent caecal reservoir urinary diversion. Br J Urol 1988; 62: 240-5.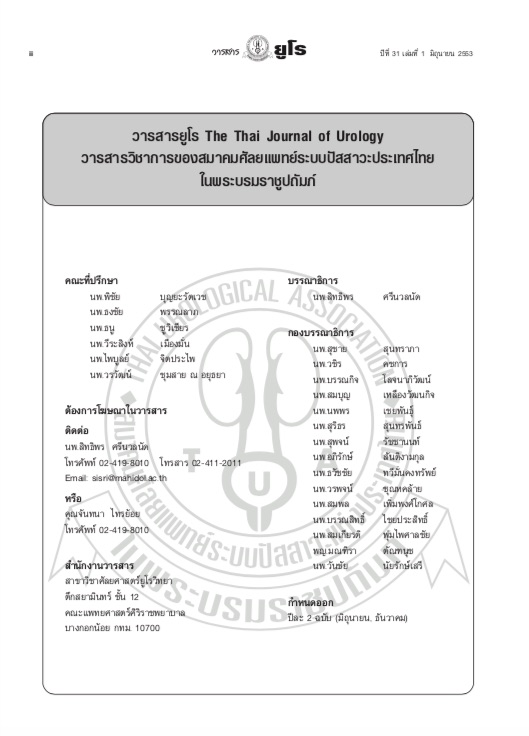 Downloads
How to Cite
SriparaKij, S., & Takang, P. (2010). Health Related Quality of Life after Urinary Diversion: Comparison between continent and incontinent urinary diversion. Insight Urology, 31(1), 11–14. Retrieved from https://he02.tci-thaijo.org/index.php/TJU/article/view/242656